Note: I'm a HostGator affiliate so links in this post contain affiliate commission but my opinions about HostGator are 100% true and not influenced by any means.
HostGator Review  (Note: use CRAVINGTECH25OFF coupon code to get 25% off at HostGator!) – Most of you here already know that I switched from Lunarpages to HostGator about a week ago. In short, my account was warned (and suspended for a while) because this blog created CPU spikes on the server (high CPU usage). I decided to move to HostGator (after doing some research on other possible web hosting) and really glad that I made the move (except that I couldn't get a refund on my old hosting – I've paid for 5 years :( ).
In this HostGator review post, you'll find out about:
Why I hesitated with HostGator at first
Why I finally decided to migrate to HostGator
Whether there were problems during the migration
Whether the CPU usage problem appears on HostGator just like in Lunarpages
How bad/good HostGator customer support is
Overall impression on HostGator web hosting
HostGator Review – Why I hesitated to move to HostGator at first

Well at first, I sort of got turned off by their logo. I mean, the alligator is kinda cute and all but I didn't find it quite professional. I know this was not a good excuse or a very bad judgement but hey, how many of you got turned off by an online shopping site because it doesn't look professional enough/dodgy? After I became a part of HostGator family though, I didn't bother at the logo as much as before :D Actually, the site looks professional as a whole so there is no dodgy feeling when you are browsing their site. I'm being biased because I kinda like the logo now, lol.
The second reason why I hesitated was because HostGator doesn't seem to provide a Virtual Private Server solution. If you look at HostGator hosting plans, it only offers a dedicated hosting. So if you are outgrowing your blog/site, then you may have to go somewhere else for a VPS unless you want to pay the dollars to jump to a dedicated service.

The last one I guess, is the price. They are quite mediocre but they are not the cheapest. However, I'm done with going for a cheap hosting. I mean, cheap is good but it doesn't necessarily rhyme with "good service". HostGator is not too cheap but it's not too expensive either. The price on the home page is kinda misleading because it's the price that you pay if you go for a 3 years straight. It's more expensive than that if you go for a year plan. Nevertheless, there's always the 20% coupon code (that seems to be valid forever) that you can use to bring the whole price down.
HostGator Review – Why I finally decided to migrate to HostGator
HostGator has a very few negative feedback on the web when I did some research on some web hosting (which is good). There is no perfect world so there will always be someone who's not happy with the service that you provide. But it can be a good indicator how well the service is by reading genuine opinions from its customers.
My hesitation completely disappeared with HostGator though, because:
HostGator has a 45 day money back guarantee (as most hosting nowadays do).
HostGator allows you to store your site's backup on its unlimited storage (Lunarpages doesn't! How can they expect me to transfer gigabytes of backup date to my computer every month??)
HostGator provides a free service to migrate everything from your old host to HostGator. This includes all files and databases. HostGator will mirror exactly to what you had previously on the old host.
HostGator displays the CPU usage, number of processes used, and memory usage of your account on your cPanel, in REAL TIME! That's right! Tired of getting the high cpu usage warnings from your host? Check your control panel at HostGator. See it for yourself. Make a change bit by bit and check it yourself whether it works or not! This is the best feature that made me switch to HostGator!
HostGator provides an SSH even on shared accounts for free! This is a bonus especially for those technical enough to play around with Linux commands. You can request this on the control panel.
HostGator Review – Problems during the migration to HostGator
There were NONE. I applied on the weekend (Saturday evening, Australian time. So probably around 5 a.m in the U.S) and my account was setup instantaneously (within 5 minutes).
I then requested the free migration service to mirror what I had on my old host to HostGator. A support team responded within 15 minutes and the whole migration was done in less than an hour during the weekend! I had a few gigabytes of data needed to be transferred and I didn't need to break a sweat because the HostGator team did it for me. The WordPress blog, PHP Menalto Gallery (my photo gallery), databases, mail accounts (+current mails in inbox), cPanel statistics, and other files were successfully migrated without a hitch. I was extremely pleased with the service.
HostGator Review – HostGator CPU Usage problem?
Nope, nada! When I look at my cPanel CPU usage, it only shows 0.1%! Beat that, Lunarpages. They claimed that my blog's usage was:
CPU 4.13% ,  memory 1.35 % ,  mysql 0.3%

Top Process %CPU 73.0 /usr/bin/php /blogs/index.php
Top Process %CPU 64.0 /usr/bin/php /blogs/index.php
Top Process %CPU 56.0 /usr/bin/php /blogs/index.php
How about HostGator? Have a look at this screenshot of my account's control panel at HostGator now (You need to switch to HostGator style on the cPanel to be able to see the CPU usage meter at HostGator):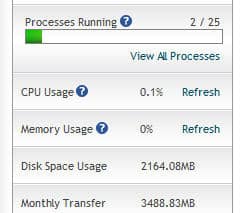 The tooltip of the CPU usage suggests that my account doesn't consume more than 25% of CPU usage more than 90 seconds. Given that I've only been using 0.1% of a CPU usage, I can't see how I can get to 25% :D Only once I saw that my CPU went to 0.2% and it's gone after I clicked on refresh.
So if you've been having problems with your current host in regards to a high CPU usage, move to HostGator! I'm not promising that your problem will disappear but at least you can have a look at yourself and test your changes real time! Or you can even apply to HostGator just to test and ask for a refund after 45 days (although you may find that you've already fallen in love with HostGator :)). Don't be fooled by your old host! (You don't know how many times I was asked to upgrade to a dedicated hosting on my old host).
I even raised a support ticked asking them about their CPU usage policy and whether my account is giving a hard time on the server. This is one of the support team's reply:
As of right now you are using no CPU at all. This can vary at different times depending on how many people you have on your site. The 25% for 90 seconds is a general rule and is not followed strictly. What really counts is if you are affecting other users on the server and their ability to view their sites. From what I can see this should not be a problem at all on your account.
This blog, "no CPU at all???" Need I say more, ladies and gents? :)
HostGator Review – How bad/good HostGator customer support is
I tried submitting 2 support tickets (for testing and also real issues :D) to check on their technical support service. All tickets were answered professionally within 15 minutes! If you are not happy with the reply, you can rate the reply to the lowest which should trigger an alarm to HostGator support managers :D Just do this wisely. I actually gave a rating 10 (highest) to the migration support request earlier because I was so happy with the service.
I also noticed that the technical support was the same person after a few replies which is a big plus for me. Previously on Lunarpages, every ticket reply was a different person and often I had to repeat myself over and over (and they were repeating their scripts over and over as well) which frustrated me. I asked the HostGator support person and he said that a ticket was assigned to a particular person until his/her shift is over on the day. The ticket will then go to a pool and someone else will pick it up to avoid having to wait too long in the queue. Brilliant!

There is even a live chat customer support which only takes seconds most of the time before someone helps you in the chatroom. It's quick and easy.
HostGator Review Conclusion
This is the easiest review ever (it took me a lot of time to write but it's easy because I'm totally satisfied with HostGator). HostGator seems to use pretty powerful servers to power the accounts as you can see from my CPU & memory usage. All of my high CPU usage problems were gone and now I can focus more on writing and tweaking this blog for productivity, rather than tweaking it to make the servers happy!
If you are considering moving to another web host, HostGator will also migrate your files and database for free from your old web host to HostGator. All your blog files, documents, or web files will be transferred by the support team (just put a request after you register).
Sign up at HostGator and use the coupon code CRAVINGTECH25OFF to get a 25% off (Note: I'm a HostGator affiliate). If you are not happy, there's always the 45 days money back guarantee, so you can just give them a try (for speed, support, etc) and cancel before the end of the 45 days. You've got nothing to lose and so much to gain
HostGator Review – Pros
+ Great reliability
+ Great customer support
+ Best web hosting so far!
+ Powerful servers for shared web hosting
+ Unlimited data, unlimited bandwidth
HostGator Review – Cons
– Not the cheapest solution
– No free bundle with domain name
If you are happy with HostGator, please add your valuable comments on this HostGator Review's post comment form below.