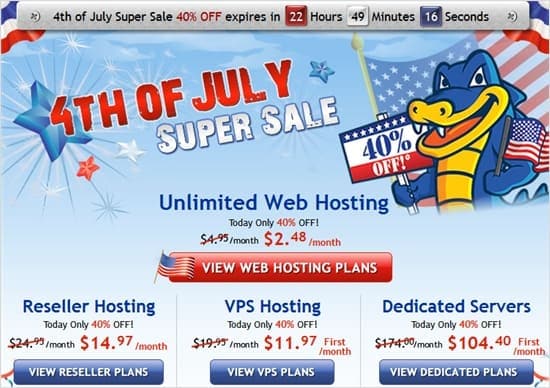 Bloggers, wanna-be bloggers, webmasters, this is your chance! HostGator is having a 4th of July sale (one day only) – get 40% OFF for all hosting plans including shared unlimited webhosting, reseller hosting, vps hosting, and also dedicated servers hosting!
Craving Tech is proudly hosted at HostGator and I'm really happy with their service and instant support so far (check Craving Tech's HostGator Review).
At a rate of less than $3 a month, there is no excuse not to get yourself a new site or a blog.
Some terms and conditions about HostGator 4th of July sale (40% OFF offer):
1 Day only (Ends at 11:59PM CST)
So you might want to check that main page to see whether you have missed it (check my screenshot above). If you have missed this, don't worry, you can still use the HostGator coupon code CRAVINGTECH25OFF to get 25% off).
40% Off the FIRST INVOICE of all plans and all terms lengths. Please note VPS and Dedicated are only available for 1 month so the discount will apply to only the first month (first invoice).
Existing clients CAN take advantage of this offer. They will be required to add a new/additional hosting account and keep both the non-discounted plan (current/old plan) + this new, discounted plan active for the length of the term selected on the new plan in order to continue to receive the discounted rate.
To take advantage of this offer, just go to HostGator and apply – no coupon is necessary.