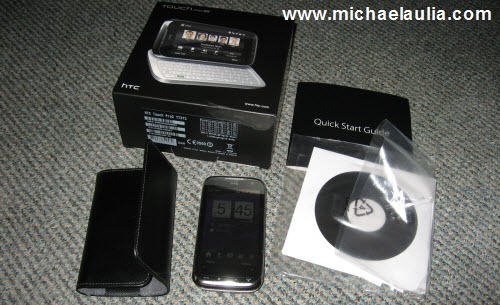 This is my first impression on the new HTC Touch Pro 2 that I got yesterday. This post is not a full review on HTC Touch Pro 2 but I've played around with it for hours (yes, in one day lol) so hopefully this can be an early insight for you if you want to decide to buy the HTC Touch Pro 2. Subscribe to my blog via an RSS Feed or delivered to your email inbox to be notified when my full review of the device is published :)
I was upgrading from HTC P3600i to HTC Touch Pro 2 and as far as I can say, it's like upgrading your old mouse with the tracking ball to a laser mouse. Or if you know a bit about computer hardware, it's like upgrading from a GeForce FX to a GeForce GTX.
HTC Touch Pro II Specifications
HTC Touch Pro II vs HTC P3600i main specifications:
Qualcomm® MSM7200A™ 528 MHz processor vs 500 MHz Samsung processor
A bit more power although I'm not sure whether the Qualcomm has a better performance than the Samsung. If you are an expert in this area, please share your thoughts with us.
512 MB ROM with 288 MB RAM vs 256 MB ROM with 64 MB RAM
Double everything! No more "Out of memory" problem so far :D
480×800 WVGA vs 240×320 QVGA
Again, double quality in pixels and crispiness! Yum! It's like comparing to a 22″ LCD with the good old 15″ CRT monitor.
HTC Touch Pro II Hands on impressions
The Device, the Good
The device looks great and actually looks better than the photos that I've seen on the net previously. I was gearing towards the HTC Touch Diamond II because I think it looks sexier. Apparently I'm mistaken. HTC Touch Pro II looks as sexy as an iPhone. I'll have no problem showing this off to my iPhone-lover friends :)
The screen is crystal clear and the quality of the display is amazing (since I was coming from a QVGA device, the change is huge for me).
The main buttons are made tiny, meaning you can see more on your screen. It's good to have a bigger "working area" especially when you are writing documents, watching a video, or browsing the web with the HTC Touch Pro 2.
The Device, the Bad
The device is quite solid but kinda slippery. So be really cautious especially if you want to hold & operate it with one hand. There is barely a protection on the backside too, so do it slowly when you want to put down your HTC Touch Pro II on a hard surface, like your table, for example. Thankfully the camera at the back is quite protected so you shouldn't break the lens even if you put it down hard (it's quite hidden inside the casing).
Another thing that I hate is that I have to open the casing every time I want to do a soft reset. I mean, I can understand that I have to open the casing when I have to change the battery, the SIM card, and the storage card (how often will you change these?) but to do a soft reset? Since it's still under Windows Mobile 6.1, memory seems to be leaking here and there (I don't know whether I should blame the O/S or to the application developers). Even though the free memory is quite a lot (about 90-100 MB, thanks to the memory hungry TouchFlo 3D Interface), you'll probably still do a soft reset of the HTC Touch Pro II every now and then.
Since the main buttons are tiny, it can be hard to answer/reject a call at times or even when you want to access the Start Menu through the button :)
HTC Touch Pro II – the TouchFlo 3D Interface
The interface is pretty solid, cool, and beautiful looking, thanks to the TouchFlo 3D. It is what Windows Mobile should be. The upcoming Windows Mobile 6.5 can't beat the TouchFlo 3D interface in terms of its intuitiveness.
Unfortunately the TouchFlo 3D requires lots of memory though so you'll find out that even when HTC Touch Pro II has a 288 MB RAM, half of it has already been reserved for the TouchFlo 3D. Even that hasn't solve the once-a-while sluggishness of the TouchFlo 3D when moving to different tabs. Nevertheless, I don't think I'll unload and uninstall TouchFlo 3D from the device ever! It makes me love my new phone more ;) I could have installed a hacked ROM to get the TouchFlo on the HTC P3600i but it would be out of memory in no time!
I dislike TouchFlo 3D at its current version because:
Can't seem to make my own custom tab or third party add-ons (maybe not yet?)
I have to slide the slider whenever I want to Accept or Reject a call (Hello? I know it's cool but can't we just press the screen button?)
It hasn't covered all Windows Mobile settings/programs, so often you have to switch/turn off TouchFlo 3D to access certain tray/system settings.
There are not much to hate and apparently the goods outweigh the bad by many, so thumbs up to TouchFlo 3D but the current version is just not there yet.
HTC Touch Pro II vs HTC P3600i
Not sure if you are interested in these comparisons, but if you own an HTC P3600i like I do, then read these comparisons with the new HTC Touch Pro II:
The GPS locks much faster than the P3600i. Previously I had to wait 10-20 minutes in CBD area to get a lock. Now, it's only a few minutes! Outside of CBD, I'm sure we'll get a lock in seconds or less than a minute!
It's much faster to install, load, and run an application.
Never run out of memory again :D (at least til we have another new memory-hungry application).
Now I can use my TechrificWay GPS software with text-to-speech recognition turned on, woohoo!
The weight is not much different than the P3600i so it looks as if I'm still holding a P3600i but a bit taller.
No more replacing screen protectors every few months because I scratched the screen protectors with the stylus (I did some heavy writings with my P3600i every week), thanks to the keyboard.
Now I can SMS easily with the on-screen Phonepad or the QWERTY keyboard.
You can't use HTC P3600i USB connection cable with the HTC Touch Pro II (I tried with 2 different cables and none of them worked).
The camera is much better than the P3600i but not superb quality: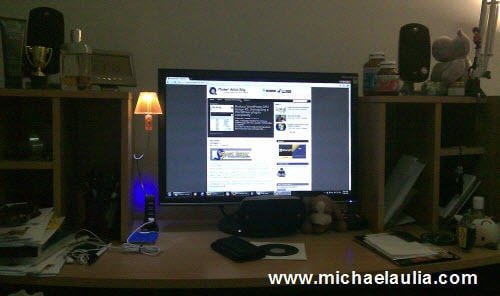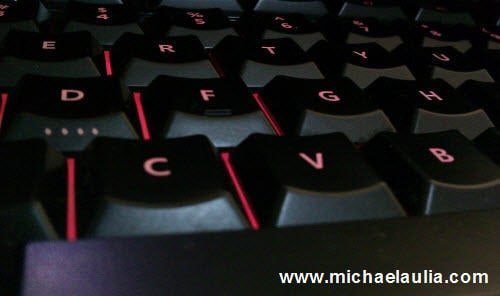 HTC Touch Pro II Impressions conclusion
Thinking to switch from HTC P3600i to HTC Touch Pro II? The answer is easy, GO FOR IT! You'll never ever regret your decision :) Unfortunately I can't give any advice if you are planning to upgrade from other devices. I don't think it's worth upgrading from the original HTC Touch Pro but I heard that the TouchFlo 3D on Touch Pro II is much smoother compared to the Touch Pro.
If you think that this early review can be useful to your friends, please help share this post. Any specific questions, I'll be happy to answer them through the comment form below. If you want to wait for my full review, feel free to subscribe to this blog (via RSS feed or your email address). Now.. need more money…to buy the accessories..argh..
PS: I said that this post is an early impression, but after writing it, it looks like a full blown review lol.
HTC Touch Pro2 T7373 Unlocked Smartphone – International Version with No U.S. Warranty (Black/Grey)
UPDATE: If you are interested, check out my full review on HTC Touch Pro 2.