Note: This is a guest post written by Joel Howard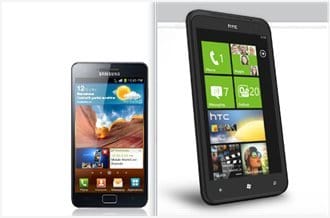 HTC Titan vs Samsung Galaxy S II – The Windows Phone 7 powered HTC Titan has been marketed as a revolutionary new handset, featuring impressive hardware coupled with a 4.7 inch S-LCD touchscreen. In this article we compare the HTC Titan head to head with the current king of handset devices, the Samsung Galaxy S2.
HTC Titan vs Samsung Galaxy S2 – Dimensions and Form
HTC Titan – 131.5 x 70.7 x 9.9mm, 160g
Samsung Galaxy S2 – 125.3 x 66.1 x8.5mm, 116g
The shape of the HTC's latest handset is not much of a deviation from previous incarnations, and does little to distinguish itself from other handsets. The Titan has a standard rectangular chassis with rounded corners and a glossy black frame to increase contrast for its 4.7 inch touchscreen.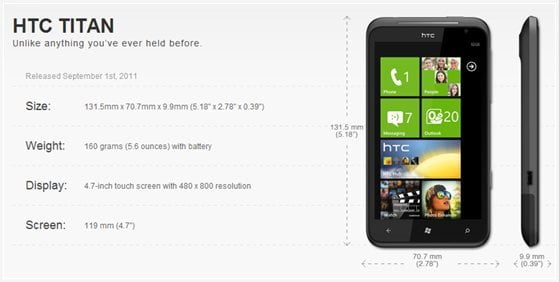 Although the size of the touchscreen is impressive, the structural and hardware support necessary to power it is rather substantial, making the 160g Titan nearly a third as heavy as the Galaxy S2. Part of this, however, can be attributed to build quality, as the Samsung plastic chassis feels flimsy compared to the aluminum unibody of the aptly named Titan.
Ultimately, the lightweight, thinner plastic of the Galaxy S2 is both aesthetically pleasing and convenient, whereas the HTC Titan only scores for durability, a characteristic which is great for umbrellas and body armor but less essential in a handset.
Winner: Samsung Galaxy S2
HTC Titan vs Samsung Galaxy S II – Display
HTC Titan – 4.7 inch, 800 x 480 Super S-LCD
Samsung Galaxy S2 – 4.3 inch, 800 x 480 Super AMOLED Plus
Both the Galaxy S2 and the HTC Titan are equipped with a decent touchscreen. The Sony S-LCD and Samsung AMOLED Plus each bring enhanced colors, brightness, and battery efficiency to a 800 x 480 multi-touch capacitive touchscreen.
The HTC Titan's screen is slightly larger, yet as a tradeoff this means a slightly more crisp 217 pixels per inch (ppi) on the Galaxy S2. The Galaxy S2's is also fitted with Gorilla Glass, but the overall difference in displays is marginal at best.
Winner: Draw
HTC Titan vs Samsung Galaxy S II – Storage and RAM
HTC Titan – 16GB internal storage, 512MB of RAM.
Samsung Galaxy S2 – 16GB internal storage, 1GB RAM
The Galaxy S2 clearly distinguishes itself from its opponent in both storage and RAM. Although both feature 16GB of flash memory, the Galaxy S2 has a microSD slot for expansion up to 32GB, whereas the HTC has no slot. Moreover, the Galaxy S2 features twice as much RAM.
Winner: Samsung Galaxy S2
HTC Titan vs Samsung Galaxy S II – Processor and GPU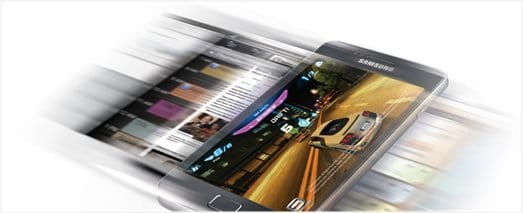 HTC Titan – 1.5GHz Scorpion processor and Adreno 205 GPU
Samsung Galaxy S2 – 1.2GHz ARM Cortex-A9 dual core processor power and Mali-400MP GPU
The HTC Titan offers a higher clock speed while the Galaxy S2 utilizes multiple cores. Whenever you have two systems with varying architecture, the performance can fluctuate depending on whether the software has been optimized for it. For example, Windows Phone 7 works better on the single core Titan, and mobile gaming tends to play better on the Galaxy S2's dual cores and stronger GPU. Multi-tasking and apps run smoothly on both handsets.
Winner: Draw
HTC Titan vs Samsung Galaxy S II – Operating System
HTC Titan – Windows Phone 7 Mango
Samsung Galaxy S2 – Android 2.3 Gingerbread
Mango brings much improved functionality and innovation to the Windows Phone 7 OS. The system's Live Tiles make navigating intuitive and effortless. Apps are more detailed and better integrated, every function seemingly a tap and swipe away.
Gingerbread, meanwhile, improves upon previous builds with better multi-tasking and an easier to use touch keyboard, but ultimately is not Android's best product.
Winner: HTC Titan
HTC Titan vs Samsung Galaxy S II – Camera
HTC Titan – 8 MP rear camera, 1.3 MP front
Samsung Galaxy S2 – 8 MP rear camera, 2 MP front
The rear cameras on both handsets are 8 megapixel primary at 3264 x 2448 pixels resolution. However, the Galaxy S2 is fitted with a slightly more impressive 2 megapixel front-facing camera. The Samsung handset has a superior 1080p HD video recording option, whereas the Titan is limited to 720p.
The S2 also offers a number of ancillary features such as face and smile detection. The Titan, on the other hand, provides digital zoom and a dual-LED flash as opposed to the single LED contained in the Galaxy S2.
Winner: Samsung Galaxy S2
HTC Titan vs Samsung Galaxy S II Conclusion
The Samsung Galaxy S2's more impressive hardware makes it the superior handset. Nonetheless, the HTC boasts decent specs and combines them with a better operating system. This alone makes it worth a look, at least until the Galaxy S2 receives a software overhaul with Android Ice Cream.
Note: This guest post is written by Joel Howard from the speed test website.