Moshi Helios Review – Backpacks are.. backpacks. They are often bulky and have that bland, standard look. They fit a lot of things though, and can be carried on the shoulders easily. Thanks to Moshi, backpacks are now stylish again.
Moshi Helios is a designer laptop backpack that looks premium, without sacrificing functionalities. It is no ordinary backpack as you can also fit in a 15″ laptop comfortably and protectively inside. The Helios looks so good that my colleagues in the office actually made a comment about how good the bag looks as soon as they saw it on my desk. The looks may not fit everyone's taste, however, especially to those who do not care less about fashion.
The special laptop compartment was tested with the 15″ Razer Blade Stealth 2016 Ultrabook and also a bulkier 15″ ASUS ROG GL502VT gaming laptop. They all fit inside the bag nicely, even the ASUS gaming laptop which requires plenty of space to fit. The compartment is fully padded to provide any scratches and fully separated from the other compartments.
Thanks to its lightweight design, Moshi Helios does not feel heavy on the shoulders even after I filled it with a lot of things. I was quite surprised to be honest about how lightweight the whole backpack still feels. With the STM Haven backpack that I'm using primarily, I can feel the strain on my shoulders as I add more stuffs in.
Apart from a laptop, you can really fill it with lots of things – even if it doesn't look spacious at first. Moshi Helios is also great companion for travelling interstate or even to go for a meeting, presentation, or class.
I could fit in my Bose QuickComfort 35 headphones, laptop charger, my Belkin Portable Charger, Logitech mouse, and still have plenty of space left for more stuffs.
The Helios also has small pockets and compartments, even a handy rear pocket (Napoleon Rear pocket) for your valuables such as your passport and boarding pass. The rear pocket is safe because while you are carrying the Helios on your shoulders, this pocket will be quite well-hidden from view. And if someone wants to take a peek, you'd certainly feel it.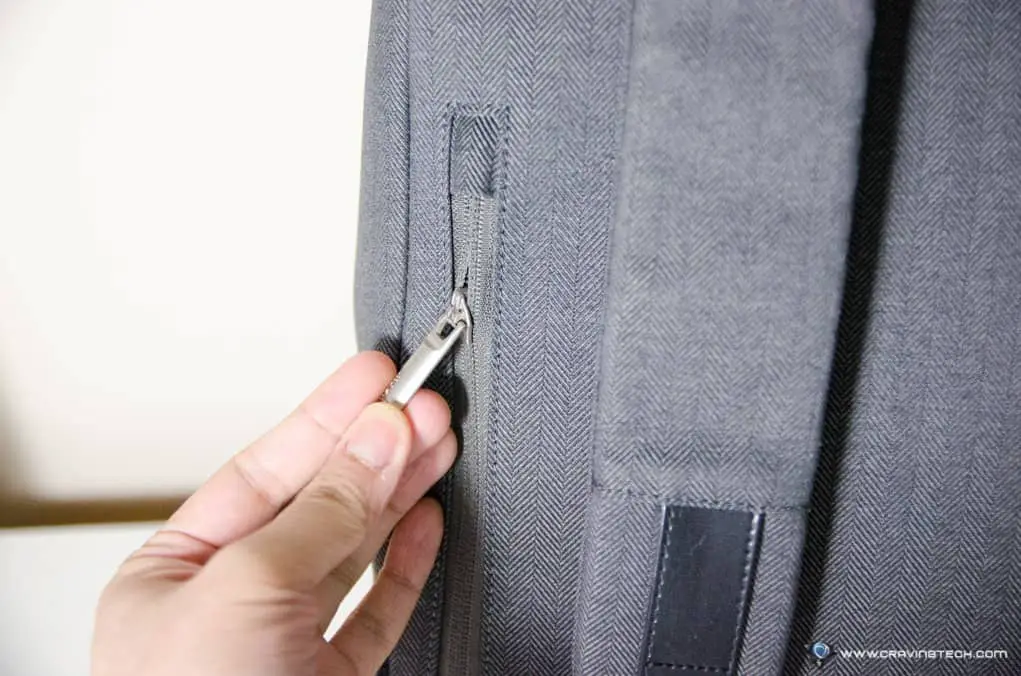 Moshi Helios Review Conclusion

Moshi Helios is a premium laptop backpack with stylish design, lightweight, durable, spacious, and it's also water resistant. The Helios truly doesn't compromise style with functionalities. It's available in three colours: Charcoal Black, Cocoa Brown, and Herringbone Gray. This has now become my favourite backpack of all time.
If you want more space and fancy a traditional Messenger bag compared to a backpack style, the Moshi Aerio is also a great choice.
Disclosure: Sample was supplied for reviewing but all opinions are mine and not paid