Razer Blade Stealth 2016 Review – We've mostly known Razer here at Craving Tech for their gaming peripherals like their latest BlackWidow Chroma keyboard, Mamba Chroma mouse, or the ManO'War headset.
Their newest Razer Blade Stealth Ultrabook (2016) is now here for a review and gets a thumbs up too!
Razer Blade Stealth 2016 is quite a special Ultrabook, because it has a capacitive multi-touch screen, a UHD (4K) option, and can be transformed into a monster gaming machine – but more on this later. But impressively, Razer still managed to squeeze all these to a mere 1.25kg!
As manufacturers add multi-touch screen capabilities into a laptop or Ultrabook, weights add up as well into the mix. Razer Blade Stealth design team somehow manages to keep the weights fairly light and manageable.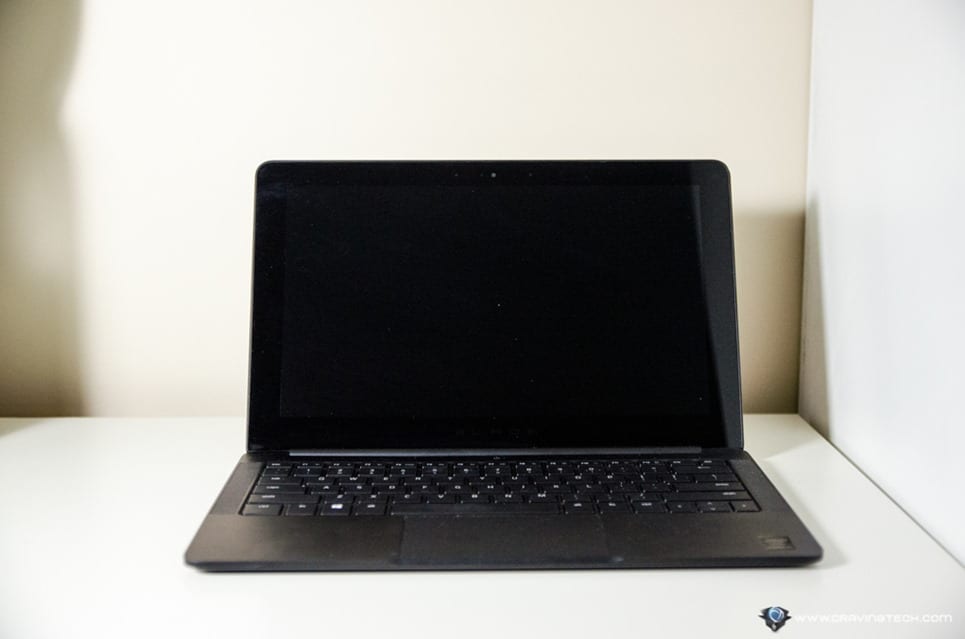 Spec-wise, the Razer Blade Stealth 2016 does not disappoint. It comes with the Intel® Core™ i7-6500U processor (Intel® HD Graphics 520 on-board), 8GB DDR3 1866MHz RAM, and PCIe M.2 SSD with different storage options.
Performance wise, the Blade Stealth flies. Thanks to the PCIe M.2 SSD which is faster than the traditional 6Gbps SATA SSD, everything on Windows 10 feels snappy. The machine boots up really quick and instantaneously wakes up from sleep, with no time being wasted.
I was worried the touch screen would lag or simply brought the whole experience down. Thankfully, I was wrong and any touch interactions on screen is actually seamless and fast. In fact, I was really happy to find that I rarely need to use a mouse because I can simply touch anything on the screen with my finger (touch-and-hold for a right click trigger). After using the Blade Stealth 2016 for some time and get back to a non-touch-capability Ultrabook screen, I found that I really miss Blade 2016 screen. My muscle memory guided me to just press links or buttons on the screen, but unfortunately my stupidity was not rewarded.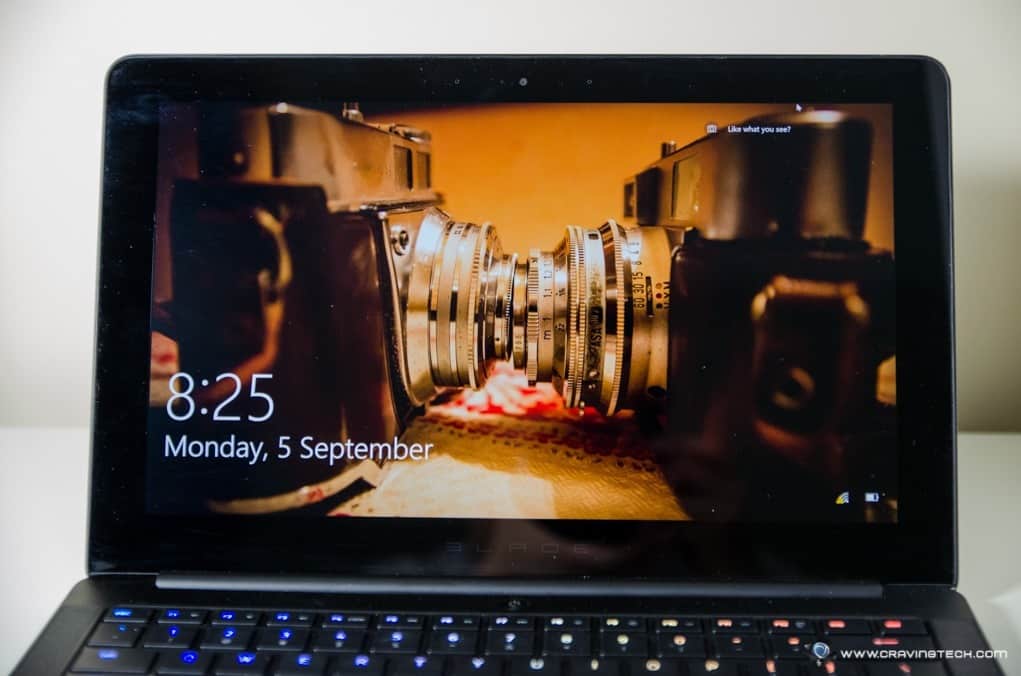 The design of the Razer Blade Stealth 2016 is also as good as the power contains within. It looks really sleek with no-plasticy cheap looks, and the Razer logo shines when you are using the laptop. Though it serves nothing other than for bragging purposes, it's cool and gives you a sense of satisfaction as the owner. The materials are quite a finger-magnet, so you may have to wipe it every now and then with a wet cloth.
You'll also get an occasional compliment from strangers around while using the Blade Stealth. Not to mention when they see how shiny the keyboard is. The Blade Stealth 2016 keyboard supports Razer Chroma backlighting with access to 16.8 million colors combination and Chroma profiles.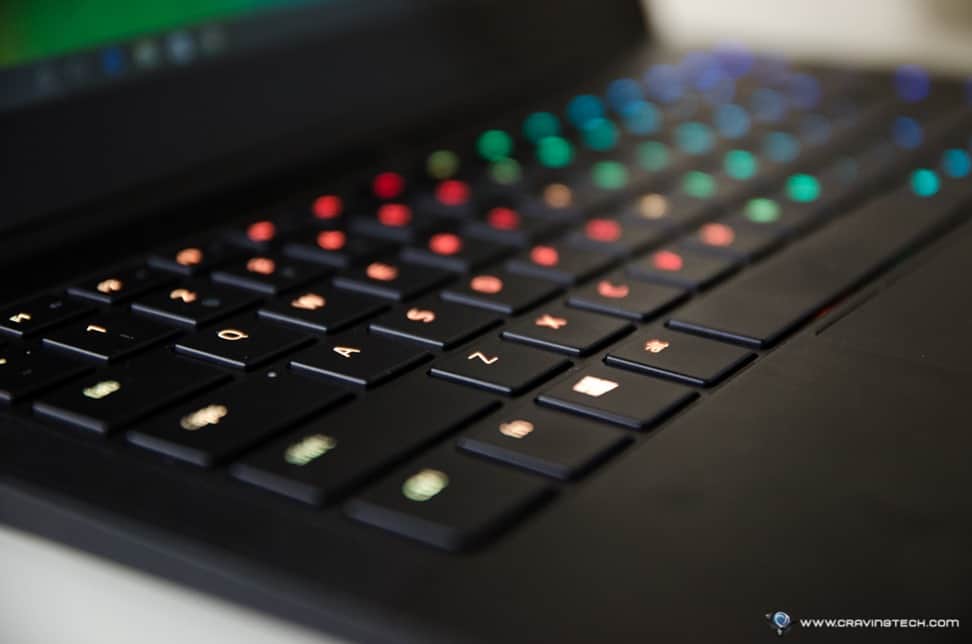 You can go for the default profiles like Wave or Ripple, but you can also personalise them yourselves. The back lights appear on the letters only, however, and not around the whole key caps.
Apart from the light shows, the keyboard feels spacious and comfortable to type. It also has anti-ghosting so you can press a few keys simultaneously and they will all register (for gaming purposes).
According to Razer, the battery life can go up to 8 hours which of course depends on what you are doing with it.
Just a reminder though, this is an Ultrabook, not a gaming laptop like the ASUS ROG GL502VT I reviewed last week. It only comes with an on-board chipset graphics from Intel (Intel® HD Graphics 520), which is enough for most basic games but not if you want to play the latest graphic-intensive games like Fallout 4, Rise of the Tomb Raider, or Overwatch. I found that I could decently get a good FPS in Overwatch but graphics had to be toned down.
To transform it into a real gaming Ultrabook/laptop (since it's Razer that we are talking about here), you need to get a separate product called the Razer Core (plugged to the Thunderbolt port) AND a dedicated graphics card (or two) separately.
Obviously, this no longer makes the Blade Stealth 2016 portable in a sense, but you can sort of transform it into a powerful gaming desktop at home – while carrying it around as an Ultrabook for meetings or classes.
Connections, ports, and other features include:
Thunderbolt™ 3 (USB-C™)
2x USB 3.0 ports
Built-in 2.0MP webcam for video calling and recording
HDMI 1.4b audio and video output
Built-in stereo speakers
3.5mm headphone/microphone combo port
Razer Blade Stealth 2016 Review – Conclusion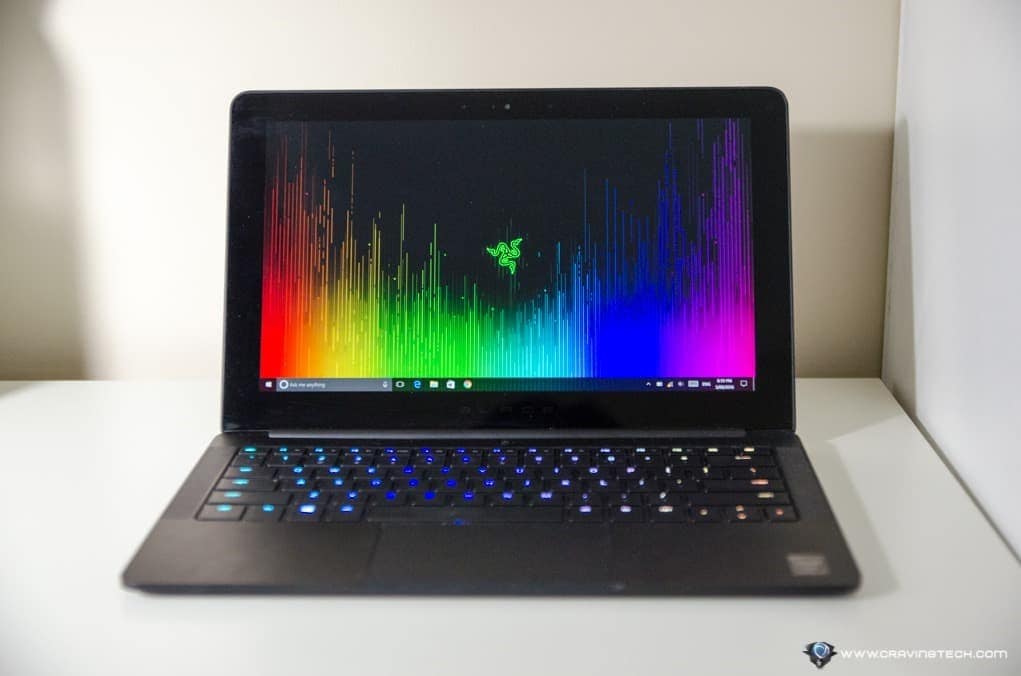 Can't decide whether to get an Ultrabook or a Gaming Laptop? (or a Gaming Desktop)? Why not all of them. Razer Blade Stealth 2016 with the Razer Core is an Ultrabook, a Gaming Laptop, and a Gaming Desktop. Take the Blade Stealth on its own to travel with you thanks to its compact and lightweight design, yet powerful enough for most everyday tasks.
And, have a Razer Core with one or two dedicated graphics cards, a keyboard, a mouse, and a monitor handy on the desk at home to transform it into a gaming desktop. As time passes, simply upgrade/replace your graphics cards without having to completely buy a whole new Ultrabook or Laptop. You actually save money in the long run – if you are planning to put your investment in this.
Even without the Razer Core, the Blade Stealth 2016 itself is already a well-built machine with stylish and compact design that will certainly increase your productivity. In addition, it's cool looking and will certainly make you proud as the owner!
Razer Blade Stealth 2016 is available in retailers around Australia, Razer's Online Store, and also at Amazon.
[AMAZONPRODUCTS asin="B01BXINKWW"]