Razer Mamba Chroma Review – In case you haven't noticed, Razer has been upgrading their whole line of popular products with their Chroma technology.
It supports a spectrum of visual effects featuring 16.8 million colors that can be tailored to a specific game in play; Now that's a ton of personal customisations!
Razer Mamba, one of their most popular wireless gaming mouse (apart from the Ouroboros that I reviewed 2 years ago), now gets a Chroma upgrade too and boy, it's awesome. This is my first Chroma gaming peripheral to review from Razer, so pardon my excitement here.
Just to avoid confusion, I'm going to refer the new Mamba that I'm reviewing here as Mamba Chroma since we've had the original Mamba and also Mamba 2012. Razer Mamba Chroma was released in 2015.
Razer Mamba Chroma Review – Packaging
Razer Mamba Chroma Review -Design & Features
Razer Mamba Chroma looks a little similar like the previous models, yet different. It has a more modern look-and-feel to it, and went away from the cheap, glossy plastic look. The new Mamba Chroma feels better on hand – especially with the textured rubber side grips that covers the whole sides.
The rubber side grips give a solid and stable grip throughout the gaming sessions, and also sweat resistant. Unlike the original Mamba, the newer model does not attract dirt. The body fits the contour of my right hand (it is a right-handed mouse) and the whole mouse feels somewhat comfortable to hold for hours. It's also not heavy to move around (weighs 125 grams) and glides effortlessly. However, it definitely feels like the mouse is made for medium to large sized hands.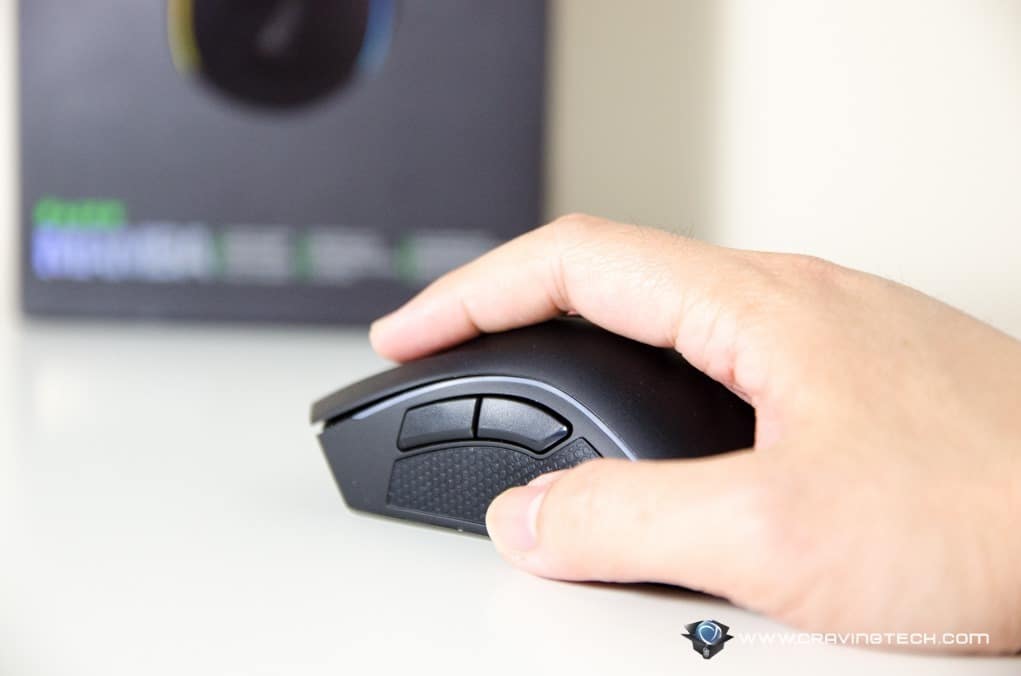 Razer Mamba Chroma also features a new feature – Razer calls it "Adjustable Click Force". It basically allows you to tweak the level of actuation force on the left and right mouse buttons. If you want your button clicks to be as light and rapid as possible, you can. Or if you want it to be more controlled/heavier, you can, too. This, however, has to be done on the hardware level using the included mini screwdriver.
On the smallest actuation force (which I thought I would like), I found it a little too sensitive if I played with a Hunting/Sniper Rifle on Left 4 Dead 2. So I ended up increasing the level of the actuation force a bit – but that's the whole point. Razer gives you the power to tweak it to suit your playstyle.
Now, I'm sure one of the reasons you have an interest in Mamba Chroma is the funky color lighting. Compared to other gaming mouse out there that supports backlighting, the Mamba Chroma is definitely far more superior. It is equipped with 16 LEDs in total (7 on each side and 2 on the scroll wheel), which allows more variety of lighting types and eye-candy such as Wave, Spectrum Cycling, etc.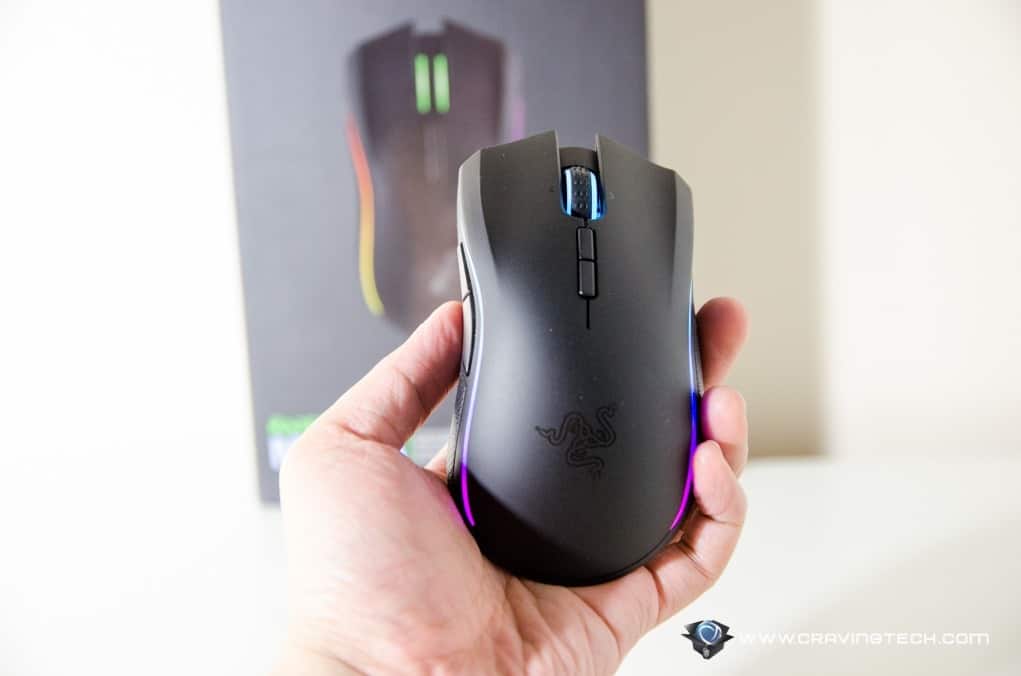 You can also assign each LED individually through the Chroma Configurator.
If you've never gamed with a wireless gaming mouse before, don't let the word "wireless" stop you. I've never experienced any lag or a bad response rate while playing online competitive games with the Mamba Chroma (DOTA2, CS:GO, Left 4 Dead 2). And it's worth using, because you no longer has the pesky cables hinder you from winning.
With the new 5G sensor, the new Mamba is capable of delivering 16,000 DPI, though I'm unsure if anyone would actually need one (perhaps if you use it on a 4K TV or multiple monitors setup). I mostly use 1200 DPI for desktop use and 3400-4100 DPI for gaming – which I can switch on the fly easily with the 2 extra buttons near the scroll wheel. Mamba Chroma is also able to track 1 DPI increments with a lift-off cut-off distance as precise as 0.1 mm.
Razer claims the Mamba Chroma can last for up to 20 hours (which of course, depends on a number of factors). In my own experience, it looks like it will be less if you have the whole lighting effects on. In a test playing Hard West, Star Wars: Battlefront, and Left 4 Dead 2 around 4 hours in total, the battery dropped around 25%.
Some other specific tests:
With Wave effect. Playing Left 4 Dead 2 for 1 hours and 50 minutes, battery dropped by 8%.
With Wave effect. Playing Dota 2 for 46 minutes, the battery dropped by 2%.
With Solid color effect. Playing Dota 2 for 56 minutes, the battery dropped by 2%.
All in all, it looks like you shouldn't be worried too much but you are always free to recharge the mouse every night before you go to bed. I do wish Razer can add an option to sense when your hand is on the mouse and turn the lighting off to save battery (since your eyes will most likely be looking at your monitor, and not on your mouse).
I love how the Mamba Chroma looks when it charges (which shows you how much battery it has with the green strips on the side LEDs.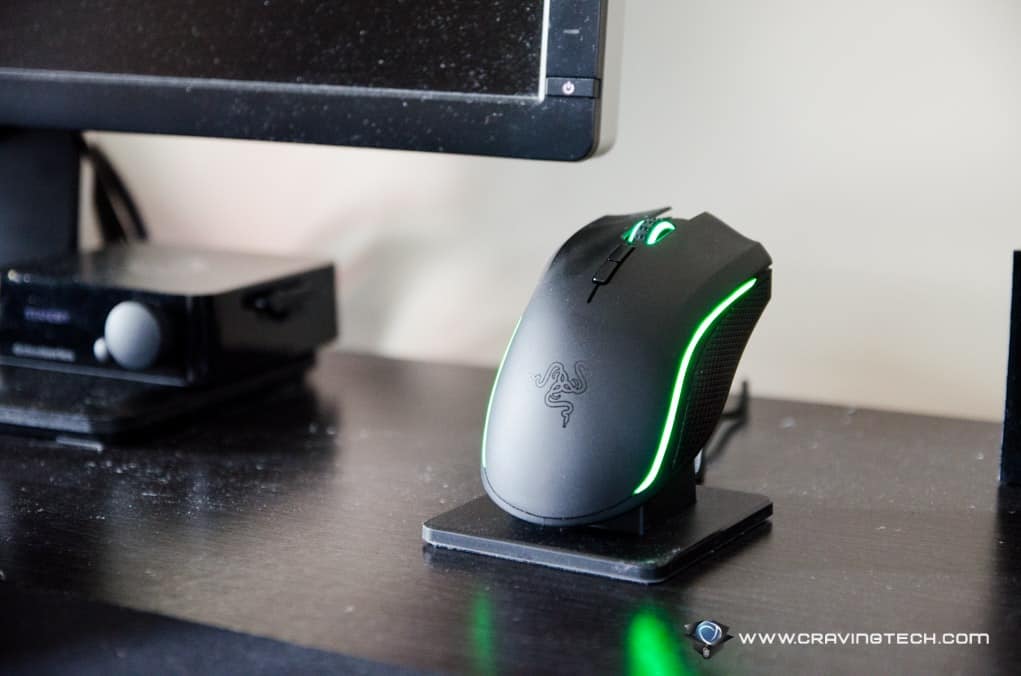 The LEDs will lit up from bottom to top, showing the current battery level with a nice wave effect of charging.
https://twitter.com/michaelaulia/status/669141534655156224
However, it feels as if once the mouse is fully charged, it stops charging, yet doesn't turn the lights off automatically. So if you leave it on the charging dock overnight, you may end up having around 98% of battery life after you come back from work at 6 p.m. Should you ever run out of battery, however, you can quickly switch Razer Mamba Chroma to wired mode. You can use the mouse while charge it at the same time, so you can resume your gaming continuously.
Razer Mamba Chroma Review – Conclusion
Razer Mamba Chroma (2015) is one of the most advanced wireless gaming mouse out there. It has an accurate sensor that points where I want my cursor to, comfort to game for hours (though not exactly super fit for small hands like the Taipan), customisations, and the coolest eye-candy ever on a gaming mouse.
Sure, the Chroma Lighting is basically there for the show (even if you can sync them with some games) and takes some battery life away in wireless mode, but oooh, it's worth it if you have the cash.
Disclosure: Sample was sponsored but all opinions are mine
[AMAZONPRODUCTS asin="B013LDTYI6″]