A pretty bad month in traffic due to lack of marketing and a temporary Google de-indexing due to a sitemap crawl error. This blog's July 2009 traffic statistics: 22,483 visits, 31,649 views.
Referring Sites – 7,153 visits.
Search Engines – 12,968 visits.
Direct Traffic – 2,362 visits.
Total money made in July 2009: $108.53
Referring Sites breakdown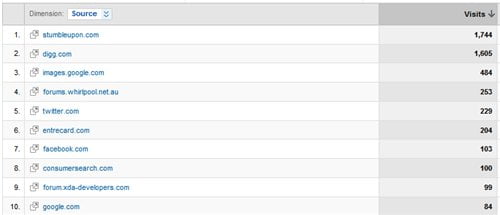 Money made online in July 2009 breakdown
Google AdSense: $67
BuzzLogic – $21.50
Social Spark – $20.03
Total: $108.53
July 2009 Post Highlights
Not too happy with the traffic last month. I blame it on my busyness in life (for the lack of marketing towards the end of the month) and also a temporary Google de-indexing for about 2 weeks. Thankfully, an unexpected-to-be-a-killer post, "Don't be a Darren Rowse, don't be a John Chow", saved this blog's traffic a bit. Also for the first time Darren and John took notice of this blog and they re-tweeted the post. It was an honor for me but the novely wore off pretty quick (simply because this blog's niche doesn't really suit their readers' taste :)). The post itself received 720 visitors though as you can see from the graph below (mostly from Twitter):

It's not much but I'm sure the post gave some sort of positive encouragement to those who read it!
I've also realized that traffic and money are not really everything for a blogger. As for myself, to review new technology innovations first hand, is truly what I've been searching for through this blog. Last month, I've made new connections with Razer, Ricoh, CyberStore, Logitech, ASUS, and many others. Some are willing to give review units away, which makes the reviewing process much easier for me.
What do you really after from your blog? Money? Fame?