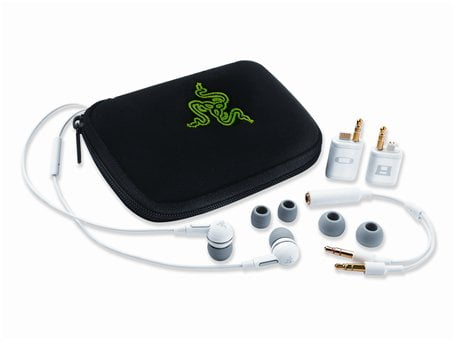 At first glance, Razer Moray+ looks like just another ordinary in-ear earphone. Don't be fooled however, because Razer Moray+ is more than your eyes can judge. Razer, being well known for their gaming peripherals, adds some extra nice features to specifically satisfy gamers on the go.
In a nutshell, Razer Moray+ is an in-ear noise isolating earphone equipped with an in-line omnidirectional microphone and adapters for your gaming/entertainment devices such as the Nintendo DS, Sony PSP, iPhone, and even your notebooks/laptops.
Razer Moray+ Specifications
Razer Moray+ Earphones
Frequency response: 20 to 11,000 Hz
Sound pressure level (@1KHz, 1mW): 110 dB
Impedance: 17 ohms
Max rated input: 20 mW
Cable length: 1.3m
Connector: 3.5mm miniplug
Weight (including cable): 12.5g
Razer Moray+ Microphone
Frequency response : 300 to 3,000 Hz
Output level: -46 dB
Pick-up pattern: Omnidirectional
Output impedance: 2.2 Kohm
Signal to noise ratio : 55dB min
Razer Moray+ Impressions
In-line Microphone
When I first opened the packaging, I was a bit confused because I "couldn't find" the microphone. Yes, Razer Moray+ microphone doesn't look like an ordinary microphone. It actually blends in quite well with the earphone cords. The microphone has an omni-directional pick up pattern which delivers exceptional voice clarity for Skype or in-game (using Ventrilo and TeamSpeak). I was satisfied that my friends could actually hear my voice clearly even when my mouth was far from the microphone. So yes, you don't have to bend down every time you want to speak through the microphone.
Earphones
Razer Moray+ comes with 3 different earbuds size. At first I "forced" myself to use the default earbuds but after a few days, I decided to use the smaller size earbuds and they now fit perfectly well into my ear. Since I normally walk to my office while listening to my iPod, I put Razer Moray+ earphones to the test. On my way to the office, traffic noises are quite heavy especially when the train passes by next to the road I'm walking on. The moving train normally made me pause my iPod when I was listening to a speech. With Razer Moray+, I could still hear the music (and voice) even though I'm at 1/4 of the volume.
Although it won't completely beat the noise of a train, it is more than enough to let you hear the sound coming from the earbuds with clarity. They are also comfortable in ear and yet firm (they never came off once I put them in). Just make sure you clean your ears first before you put the earbuds in, though :)
Bass
Since I'm also a bass player at church, sometimes I need to listen to a few songs on the go and focus on the bass for practice purposes. With Razer Moray+, I'm impressed because I can hear the bass power clearly coming out from my iPod Nano which I normally couldn't with the iPod's default earphones. Unfortunately I don't have a PSP or a Nintendo DS, so I haven't tested how well the bass is when playing action games.
Multiple Adapters
Razer Moray+ also comes with 3 adapters that allow you to use the microphone with the Sony PSP 2000/3000, Nintendo DS Lite/DSi, notebooks and laptops. There's nothing more satisfying than having 1 "gadget" that fits all your gaming needs! Swapping between adapters is as simple as plugging and unplugging them.
Travel Pouch
This is also one of the nice inclusions in Razer Moray+ packaging: a nice looking travel pouch to store your Razer Moray+ and its adapters safely. As you can see from the picture below, the pouch has different slots for different Razer Moray+ pieces and they are marked with nice icons next to the slots. You'll never lose a piece this way.
Razer Moray+ Review Conclusion
Razer Moray+ is the ultimate earphones for gamers on the go. It supports notebooks/laptops, PSP, Nintendo DS, and even your favorite mp3 players. Whether you are going to a LAN party with your laptop or playing at your friend's house, Razer Moray+ will be your closest companion at all times. Unless you are willing to carry a large 5.1 surround headset around, you are better with bringing Razer Moray+ in a nice travel pouch that comes with the package.
With a great clarity voice, an extra "oomph" bass  coming from the earbuds, and an inline microphone, Razer Moray+ gives the complete package in a compact size, something that's missing from the original Razer Moray. However, I wish it also has a 5.1 surround sound and I wish the Razer logo glows on the earphones so I can show it off to strangers I meet on the street. These are purely wish lists however that you won't ever get with Razer Moray+ price and its compactness in size! Suffice to say, I don't have any complaints at all while using Razer Moray+ for several weeks.
RRP at $59.99, the Razer Moray+ may look a bit too expensive compared to a standard in-ear earphone, but you'll get everything that you need for your gaming needs!