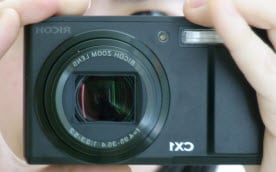 Before you continue reading this review, please note that I'm not a professional photographer (something that you should keep in mind while reading this post).
Ricoh CX1 is ideal for an amateur photographer (like me) who is more passionate about taking good quality pictures rather than the technical know-how. Of course, pictures speak better than words (especially for a camera review) so you'll see plenty of my Ricoh CX1 sample photos while explaining its features on this review post.
The Ricoh CX1 is not a real SLR camera but its features and image qualities are on par with those lower-end digital  SLR cameras. In smaller size.

Ricoh CX1 Specifications
About 9.3 megapixels.
Image Sensor: 1/2.3-inch CMOS.
Lens:
Focal length: f=4.95-35.4 mm (equivalent to 28-200 mm for 35 mm film cameras. With Step Zoom set, option of seven fixed lengths: 28 mm, 35 mm, 50 mm, 85 mm, 105 mm, 135 mm, and 200 mm)
F-aperture: F3.3 (Wide) – F5.2 (Telephoto)
Shooting Distance: Normal shooting: Approx. 30 cm – infinity (Wide), approx. 1.0 m – infinity (Telephoto) (from the front of the lens). Macro: Approx. 1 cm – infinity (Wide), approx. 25 cm – infinity (Telephoto), approx. 1 cm – infinity (Zoom Macro) (from the front of the lens).
Lens Construction: 10 elements in 7 groups (aspheric lens: 4 elements and 5 surfaces)
Zoom Magnification: Optical: 7.1x zoom (equivalent to 28-200 mm focal length for 35 mm cameras). Digital: 4.8x up to 34.1x (equivalent to 960 mm) when used with optical zoom. Auto Resize: 5.4x*1 up to 38.6x*1 (equivalent to 1080 mm) when used with optical zoo.
More on Ricoh CX1 Specifications official page.
Ricoh CX1 Features
A High-Speed CMOS Sensor
The 9 megapixel CMOS Sensor utilised in Ricoh CX1 is normally reserved for digital SLR cameras. The Sensor delivers great image quality and faster operational speed than a traditional digital camera with a CCD sensor.
Multi Pattern White Auto Balance
Ricoh CX1 has an amazing white balancing especially on photographs taken outdoor with direct sunlight. The new image processing engine has a specialized circuit that analyzes the image broken down into small areas. The white balance correction factor is then defined for the light source of each area. The camera will then do a white balancing correction for multiple light sources.
7.1 Optical Wide-Angle Zoom Lens
A 7.1 optical zoom is quite rare to find on a compact digital camera, so it's a nice thing to have in Ricoh CX1.
Dynamic range double shot mode
Dynamic range mode in Ricoh CX1 allows you to shoot scenes where the level of brightness varies greatly (bright exposure and shadows on the same scene, for example). The CX1 will shoot 2 still images consecutively with 2 different exposures and then combines the properly exposed portions of each. It's brilliant and the result can be seen very clearly on the photos taken by Ricoh CX1 on a very sunny day.
Here are the 2 pictures I took. Notice the windows without the dynamic range (left) vs with dynamic range (right). You can see the windows quite clearly with the dynamic range one (not being over exposed).
Smooth continuous shooting
Continuously shooting while you press the shutter release button. You can choose up to 120 frames per second, thanks to the new CMOS sensor. This would be very useful if you love capturing fast moving objects and you need to capture THE one frame. However, don't expect it to do magic and capture a fast moving object at night without a good lighting.
Macro shooting for up to 1 cm close
Get real close and personal! If you love shooting an object at close range (macro shots), Ricoh CX1 is perfect for you to play around with. Shoot as close as 1 cm to the subject for the wide angle and 25 cm for the telephoto.
Easy Mode
Probably the mode that I love the most (for being a point and shoot person). Ricoh CX1 will automatically adjust all the settings to make sure you'll get the best image quality as much as possible.
Other Features
Ricoh CX1 is really packed with features and I'll probably run out of blog space trying to tell all of them here. So feel free to browse for Ricoh CX1 features yourself at Ricoh CX1 official features page.
Overall Ricoh CX1 Impressions
I was given a chance to try Ricoh CX1 for about 2 weeks, thanks to Ricoh. Overall, I'm very satisfied with Ricoh CX1, being an amateur photographer. Some points about Ricoh CX1 based on my personal experience:
Easy to use for an amateur photographer like me
I don't need to go to a photography course in order to take good quality pictures. With the help of Ricoh CX1 great lens and sensors, I only need to memorize a few things such as:
Shooting outdoor on a sunny day? – turn on the Dynamic Range mode.
Shooting fast moving objects?  – turn on the Sport mode.
Asking a stranger take a picture of me? – turn on the Easy mode.
However, if you really know what you are doing, you might be a bit disappointed with Ricoh CX1 because some settings are pretty much disabled and can't be changed manually.
Great image quality, even in a low lit room
I definitely love Ricoh CX1 image quality as you can see from my sample photos taken by Ricoh CX1. I barely need to know about exposures, lighting conditions, and other photography important how-to. I definitely love how Ricoh CX1 able to take good quality pictures without the need of using the flash most of the time. Taking indoor photos especially in a low-lit condition is do-able without the flash.
A complete manual
In order to fully grasp Ricoh CX1 features, feel free to browse through the 200 pages (yikes!) manual. It's not really a bad thing, especially if you really want to fully appreciate what you get with Ricoh CX1.
Outdoor pictures are great, no matter what the conditions are
The only problem that I have with the camera was when the battery ran out. The battery indicator was still showing yellow but I got the out of power error. I turn the camera on again a couple of times until the camera decided to shut itself off but the lens was not retracted! Yikes. Despite of this minor flaw, however, I love how Ricoh CX1 has a proper battery indicator meter. My old Canon IXUS 800IS only has a green vs red indicator which is a pain because I wouldn't know when the battery will run out until it's too late.
Pack with SLR features in a compact mode, Ricoh CX1 doesn't come cheap. RRP at $599, it's probably a bit expensive for beginner photographers and may not be able to satisfy professional photographers. However, if you want to take a further step into photography (at least in learning how to take good quality pictures – the angle, the tricks, etc) then you'll love the Ricoh CX1. I'm definitely gonna miss Ricoh CX1 since I have to return the review unit back to Ricoh this week. Update: I got a great deal from Ricoh, so I've decided to keep the loan product for myself :) I've fallen in love with it! This will be a worthy upgrade to my Canon IXUS 800IS.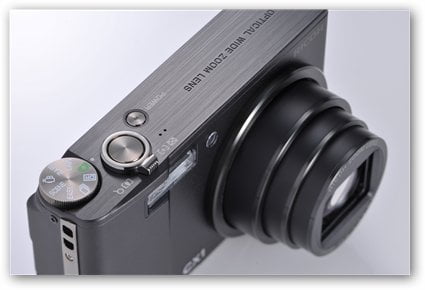 Ricoh CX1 Pros
+ Great quality pictures
+ Flash is not necessary in most situation, giving a more natural look
+ Dynamic Range support
+ Continuous shooting mode
+ Great Macro support
+ High resolution LCD
+ Can save your custom camera settings on the camera
+ Great battery life
+ Comes with 3 colors: black, silver, and champagne rose
+ 7.1 optical zoom
Ricoh CX1 Cons
– Doesn't come with an SD card and a camera bag
– Might be a bit pricey for amateur photographers
– Not enough manual settings to satisfy professional photographers
– Unretractable lens possibility when running out of battery