It's not long ago that I bought my Ricoh CX2 camera and now I got a press release that the Ricoh CX3 is coming out! Grr.. Ricoh CX3 improves (of course) its predecessor, the CX2, by having a:
New back-illuminated 10 megapixel CMOS sensor
New noise-reducing technology (borrowed from the Ricoh GR Digital III)
New 1280 x 720 pixel HD movie mode
New auto scene recognition
Enhanced dynamic range double shot mode
Below is the official press release from Ricoh.
Sense the light in the darkness with the new Ricoh CX3
Tokyo, Japan, 3 February 2010: Ricoh Photographics today launched its latest model in the acclaimed CX series of digital compact cameras.  With a pedigree of award-winning predecessors, the new CX3 features a host of innovative features, this time including a back-illuminated CMOS sensor to deliver a new level of detail in low light photography.
The essential difference between conventional sensors and the CX3's improved 10 megapixel CMOS sensor is its construction. Using a revolutionary structure to more efficiently capture light coming through the lens, this new sensor greatly increases sensitivity while also reducing noise (*see diagram). When combined with new noise-reducing technology borrowed from the Ricoh GR Digital III, the result is dramatic – beautiful images that have maintained their original resolution, tone characteristics and colour saturation, even at night.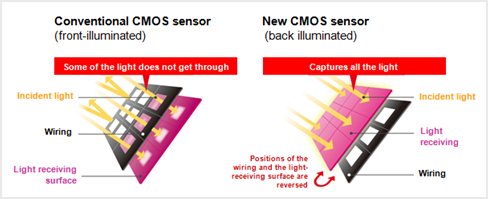 While image quality has been addressed, Ricoh's commitment to bringing professional photos within reach of the amateur continues with the CX3. A new "scene auto mode" has been added which identifies the image subject and automatically selects the most appropriate scene mode. Whether taking photographs of panoramic landscapes, portraits of the family, action shots at the tennis or getting up close with wildlife, the CX3 takes the guess work and hassle out of mode selection.
Ricoh has also made an effort to increase shooting options with the eagerly-anticipated addition of a 1280 x 720 pixel HD movie function. Adding to its cinematic appeal, the CX3 offers a number of aspect ratios including 16:9 which creates images in a size that delivers maximum impact on a wide-screen television.
Among the other key features, the popular dynamic range double shot mode has been further refined. Using this mode, the camera takes two images with different exposures almost simultaneously then combines the best exposed parts of each image into a final recorded version. With the introduction of the CX3, photographers are now able to specify the tone range to be given priority – whether it be the highlights or the shadows. Five new settings have also been added to control the dynamic range expansion effect – choose 'auto' or four levels ranging from very weak to strong. In scenes which include mixed light, for example, a bright sunlit background with people in the shadowed foreground, images are faithfully recreated with the same detail seen by the naked eye.
The CX3 inherits the 10.7x (28-300 mm equivalent) optical wide-angle zoom lens from its predecessor which, when combined with super-fast continuous shooting speeds of 5 frames per second, user-friendly auto focus (AF) functions which automatically respond to subject movement and artistic scene modes including 'high contrast black & white' and 'miniaturise', the photo possibilities are endless.
Available from leading electronics retailers and camera specialists from February 19, the Ricoh CX3 features an inlay handgrip and is available in black, violet and two-tone grey-pink. For customer enquiries contact Ricoh's Australian distributor, Tasco on 02 9938 3244 or visit www.tasco.com.au
Ricoh CX3 Main Features
1. Greater image quality in low-light scenes possible with a back-illuminated CMOS sensor and a new noise reduction function
The back-illuminated 10 megapixel CMOS sensor significantly increases shooting performance in low-light scenes.
The CX3 uses the noise reduction algorithm introduced on the GR DIGITAL III. Performing noise reduction processing on the signal immediately after it is output by the CMOS sensor makes it possible to reduce noise while maintaining resolution, tone characteristics, and saturation.
The noise reduction level can be specified as Off, Auto, Weak, Strong, or MAX. By specifying MAX, it is possible to do sophisticated variance-estimation type noise reduction processing in which the sensor image data's noise variance is analysed and the optimum processing is done for each region.
2. The 28-300 mm 10.7x optical zoom is mounted on a body that is both easy to operate and easy to carry
Ricoh's original retracting lens system made it possible to fit the high magnification 10.7x optical wide-angle zoom lens in a compact 29.4 mm body.
With 28 mm wide-angle to 300 mm telephoto coverage, this high magnification zoom lens can handle a wide range of shooting situations, including powerful telephoto shots as well as wide-angle shooting of both expansive landscapes and interior scenes with limited distance between camera and subject.
3. By just pointing the camera, "scene auto mode" will switch to the optimum shooting settings
With "scene auto mode," the camera identifies the type of scene being photographed (portrait, sports, night portrait, landscape, nightscape, macro mode, etc.) and automatically switches to the optimum shooting settings. Enjoy quick and easy photography of people, landscapes, nightscapes, close-ups, and much else.
4. Get the shot you want with high-speed continuous shooting functions capable of high image quality
It is possible to do high-speed continuous shooting at approx 5 frames/second for still images with the maximum number of pixels.
*Continuous shooting speed will vary depending on shooting conditions, card type, card condition, etc.
For the M-continuous plus shooting function, which saves consecutive images shot before the finger is removed from the shutter release button, there is a mode that makes it possible to shoot at the maximum number of pixels. To fit the scene being photographed, you can select from two modes: M-Continuous Plus (10M) for 15 images taken in as little as three seconds and M-Continuous Plus (2M) for 26 images taken in about 0.9 seconds.
* M-Continuous Plus (10M) image size is fixed at 4:3N (10M)
* M-Continuous Plus (2M) image size is fixed at 1728 × 1296 (2M)
* The consecutively shot images are recorded as a single MP file (a file format with multiple still images in a single file).
With ultra-high-speed continuous shooting, the CX3 shoots 120 images (120 frames/sec.) during an interval of about one second after the shutter release button is pushed, or 120 images (60 frames/sec.) during an interval of about two seconds.
* Image size is fixed at 640×480 (VGA).
* The consecutively shot images are recorded as a single MP file (a file format with multiple still images in a single file).
5. High image quality that will expand your range of expression
Dynamic range double shot mode makes it possible to record images with an almost naked-eye impression, and new detailed settings have been added to control the dynamic range expansion effect. It is now possible to choose the tone range to be given priority using the following options: highlights, shadows, and off (no priority).
Residing on a customised circuit of the image processing engine Smooth Imaging Engine IV, the pixel output interpolation algorithm reduces whiteout in high-contrast situations, thereby recreating beauty as seen.
Multi-pattern auto white balance makes it possible to recreate natural as-seen colours even in people-photography scenes that were difficult to shoot with past auto white balance functions, such as scenes with both shadow and sunlight and scenes mixing flash and natural light (or fluorescent light, etc.).
6. New modes to stimulate creative photography
The available scene modes now include "pets," which turns off the flash, AF auxiliary light, and operation sounds. It is convenient when shooting cats and other pets.
The 13 scene modes includes two popular modes introduced on the CX2: "miniaturise mode" makes it possible to shoot actual scenes but record images that recreate the impression given when photographing miniatures; "high-contrast B&W mode" makes it possible to record images with a grainy feel such as that created by using ultra-high-sensitivity film in a film camera or by push processing film at the development stage.
7. High-definition 3.0-inch 920,000-dot VGA LCD monitor
The large, high-resolution LCD monitor has a wide viewing angle and high contrast. The screen has a fluorine coat to prevent soiling, a hard coat to prevent scratches, and an anti-reflection coat to give excellent visibility even outdoors in bright sunshine.
With sRGB comparison of 100% for colour reproduction range, the monitor vividly reproduces image colours.
8. A wide range of functions inspired by the "A tool you will want to use every day" concept.
It is now possible to shoot 1280 × 720 pixel HD movies.
With the macro photography functions you can get as close to the subject as 1 cm for wide angle* and 27 cm for telephoto. *Equivalent to 31 mm focal length for 35 mm cameras
There is a function for shooting aspect ratio 16:9 still images.
In playback, it is now possible to display images in date of recording sequence.
*All of the focal lengths in this release are converted to the equivalent values for a 35 mm film camera
*The "dynamic range" of a digital camera is range of light intensity that the camera is able to process
*The term "MP file" used in this document refers to "Extended MP files" conforming to the "multi-picture format" standardised by the CIPA. (The file extension is MPO.) With MP file images recorded by the CX3, a selected frame can be extracted and saved as an individual JPEG image within the camera.
Ricoh CX3 –      RRP: AU$499