Who says the Adventure genre is dead? The latest famous Monkey Island series, Tales of Monkey Island proves that there are more to see than shooting mindless zombies or terrorists with some futuristic silly looking weapons. Tales of Monkey Island brings the puzzling look, head scratching, and chuckling moments back into gaming.
It's been years since I played the last Monkey Island series, Escape from Monkey Island (which was released back in 2000 for PC). I've given up hope on being able to see Guybrush Threepwood anymore. Who is Guybrush Threepwood? He's the main character in the game, i.e you, and he is as silly as ever! (Guybrush, I mean, not you).
Tales of Monkey Island is a story driven and a puzzle based adventure game in 3D. You control the main character, Guybrush Threepwood (who always calls himself the 'Mighty Pirate'), either with your keyboard and/or your mouse. You'll be able to interact with other characters in the game through choose-able conversation lines. While interacting with objects on the environment, you can store some of them in your inventory or use them to solve the puzzles in the game.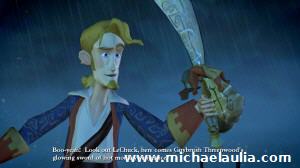 With the keyboard, you can use the traditional W-A-S-D keys to walk, press and hold SHIFT to run, and TAB to open up your inventory. To select the conversation lines, you can use the arrow keys on the keypad. With the mouse, the dev team introduces a new movement control mechanism that actually works quite well although it takes some time to get used to. Instead of a point-and-click to move to a particular location, you press and hold the left mouse button and do a bit of swirling to make Guybrush move (it's a bit hard to explain in words). To run, you press & hold the right mouse button along with the left. Middle clicking opens up your inventory. I usually alternate between these controls (using both my keyboard and mouse) while playing, depends on how lazy I am to use both hands. But you can practically play Tales of Monkey Island with just one hand!
Tales of Monkey Island System Requirements
Operating system: Windows XP / Vista
Processor: 2.0 GHz+ (3 GHz Pentium 4 or equivalent recommended)
Memory: 512MB (1GB recommended)
Sound: DirectX 8.1 sound device
Video: 64MB DirectX 8.1-compliant video card (128MB recommended)
DirectX: Version 9.0c or better
Tales of Monkey Island will also be released for Nintendo Wii, more details are not available yet except that there will be no major differences between the PC and the Wii versions of the game.
Tales of Monkey Island Chapter 1 – Launch of the Screaming Narwhal
Tales of Monkey Island is divided into 5 chapters and released periodically every month. If you are a fan of the series and can't wait for the whole chapters to be released, you can grab your copy of episode 1 now and the rest later. The five-episode Tales of Monkey Island sells for $34.95 but there is also another surprise! After the monthly releases are complete, you will have the opportunity to get a Collector's DVD containing all five game episodes and bonus contents for just the cost of shipping (assuming you have been loyal in purchasing the monthly episodes)! If you own all of the Monkey Island series (back in 1990s), this Tales of Monkey Island Collector's edition is something that you should not miss to be added to your collection!
The first episode introduces the characters and the story quite well. Lots of characters from the previous games are making a come back. Although you don't need to play the previous games to be able to understand the story and the characters, you'll find some dry and "Huh?" jokes if you haven't played the series before (For example, you'd probably say "Huh? What's with the post title, Mike?" if you haven't played the series before). If you have, however, you'll be "LOL"ing by yourself in your own room while playing Tales of Monkey Island – Launch of the Screaming Narwhal (so make sure you shut your door if you are not living by yourself!).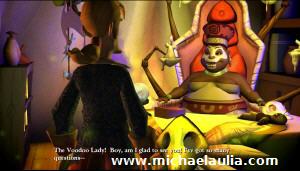 The puzzles in the first episode are varied from easy to hard to solve puzzles. Only once did I need to look at the walkthrough because I was stuck for quite some time to the moment of frustrations. It was entirely my fault for underestimating an interactable environment, thinking that it has nothing to do with solving the puzzles in game. I wish the in-game hint system can smartly detect which puzzles are considered "Hard" and give a more proper hint here.
Tales of Monkey Island Graphics and Gameplay
When I first saw the screenshots on Tales of Monkey Island a few weeks ago, I frowned. I doubted when I read it would be Telltale Games and not LucasArts who developed the game. I disliked the fact that they "remake" the character models. I'm not really a fan of 3D when it comes to adventure games. I really doubted that I'm gonna like this game when it was released. My doubts were gone, however, after I played the game. The silly jokes, out-of-the-blue sarcasms, and great chuckling moments are back. That silly-but-over-confidence Guybrush stays funnily idiot as ever (man, I would have thought that he'll grow more mature after all these years :D). Tales of Monkey Island is the type of game that you need to enjoy every single moment, though. Even when you know the right conversation line to choose, pick the others for more chuckling moments. Play the game slowly and try everthing in the game. If you do this all the time when playing it, you'll be able to enjoy the game to its fullest.
There are also hints in the game (you can adjust this setting on the options menu) but the hints are pretty pointless at times as they don't really give concrete clues. Just like in traditional puzzle-based games, you'll have to do lots of trials and errors, trying to use an inventory item on an environment object, praying that something might happen outside your logic. These "illogical solutions", however, are fun to find and watch. If you enjoy the satisfactions of achieving something, I'd advise you not to read the walkthrough unless if you've been stuck for an hour or two. What's the fun in cheating, anyways? BUT if you really have to, you can always check out Tales of Monkey Island Chapter 1 walkthrough. You are lucky because back in the 1990s when I played the early series, there was no internet back then to check on the walkthroughs!
If you don't use a walkthrough when playing Tales of Monkey Island Chapter 1, you'll probably spend over the weekend playing it (depends on how long you are stuck, however). It's not too short and it's not too long, either. Then of course, the annoying screen has to pop up at the end: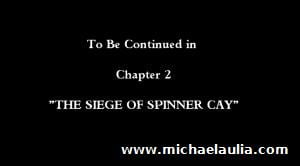 I guess the chuckling must end. At least for a month. I'm amazed how Telltale Games can actually deliver a new Monkey Island but still retain all the memorable moments and characters in the game. If Telltale Games can deliver the other 4 episodes like this one, they'll find lots of happy Monkey Island fans! While you are it, don't miss the Game Designer for a Day contest to get your name in the Credits :D
If you want try the game, you can download Tales of Monkey Island demo.
Tales of Monkey Island Pros
+ Funny and Interesting Story, just like the old times.
+ The great sarcasm moments.
+ Can control using a keyboard or just a mouse.
+ Lots of memorable characters and conversation lines from the old series.
Tales of  Monkey Island Cons
– New movement take some time to get used to but it works very well.
– The in-game hints feature is not really that helpful.
– Lots of trials and errors.
– Puzzles may seem illogical until you accidentally solve it.
– Need to wait for another month to fully satisfy your piratey needs for the next episode.