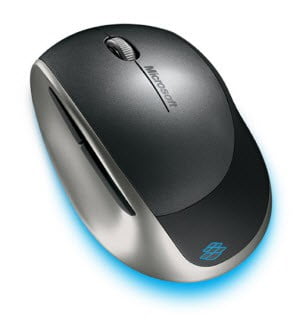 Microsoft Explorer Mini mouse has similar features to its sibling, the Microsoft Explorer mouse. Well except for, of course, it being a Mini version of the Explorer and also the non-existence of a rechargeable battery.
The Microsoft Explorer Mini is a wireless mouse and uses Microsoft latest tracking technology called the BlueTrack™ Technology that allows great accuracy of mouse tracking on unimaginable surfaces. This means that you don't ever need to carry a mouse pad whenever you are on the go with your notebook. Whereever you are using the mouse, whether it's on your bed or even inside a jungle, the BlueTrack™ Technology is there for the rescue.
Microsoft Explorer Mini Requirements
Windows Operating System: Windows® 7, Windows Vista®, Windows® XP and 100 MB free hard disk space.
Mac: Mac OS X v10.2x–10.5x and 30 MB free hard disk space.
1 AA battery.
An empty USB slot.
A non glassy or mirrored surface. No mouse pad required :)
What you get when you buy Microsoft Explorer Mini Mouse
The mouse (obviously).
The USB wireless receiver for the mouse.
A nice pouch that fits the mouse well for travelling.
Intellipoint software (although it's recommended to download the latest version from Microsoft's Download Site).
1 Alkaline AA Battery that should last for more than 4 months (according to Microsoft).
Microsoft Explorer Mini Features Overview
BlueTrack™ Technology
This is probably the most exciting feature that this mouse offers. The BlueTrack™ Technology allows me to use the mouse on anywhere I like (except for a clear glass and/or a mirrored surface). If you always go mobile with your notebook, the Microsoft Explorer Mini mouse makes a worthy companion. Whether you are using your notebook on a traditional office desk, on a carpet, on the kitchen's countertop, or even on the bed, you don't need to carry around a mouse pad with you.

I can watch the local news without leaving my bed (or when I'm lying down on the floor)

and when you are running out of surface, you can even use your own tummy as a mousepad. Nifty!


Find out more about Microsoft BlueTrack Technology.

Mini Wireless Transceiver
Microsoft Explorer Mini transceiver is small & slim enough to make sure that it can fit easily on one of your notebook's USB slots. Normally you'd have lots of devices crammed on the USB slots, so having a slim transceiver helps a lot here.The transceiver can easily be snapped into the bottom part of the mouse when you are not using it, which will save the mouse's battery life. This handy storage slot also means that you won't lose the mini transceiver easily when you travel.

Customizable Buttons.
Through the Microsoft IntelliPoint software, you can easily customize each mouse button for easy access to your daily shortcuts (left, middle, right, and 2 side buttons).
Ergonomic Design.
The mouse is also designed for comfort so that you can work longer with it without feeling any discomfort. However, due to the size, it's always more comfortable to use a regular size mouse. But if you want more portability (which I prefer whenever I'm mobile), then don't hesitate to get the Explorer Mini.
2.4 GHz Wireless.
2.4GHz wireless technology delivers a reliable connection up to 30 feet (or about 9.15 metres) away, if you don't know what that means. Assuming you have a super large monitor screen, I'd say this is more than sufficient.
Auto Standby Mode.
When you haven't used the mouse for a while, the Explorer Mini will go to standby mode to save the battery life. If you make a slight move, the mouse then wakes up instantly. The delay is almost negligible that you won't probably realize that the mouse was in a standby mode. Well actually you will, because when the mouse wakes up, you'll see an amazing blue glowing light underneath the mouse. It's a cool looking light that only stays for a few seconds, unfortunately (obviously not to waste the battery).

Battery Life indicator.
Whenever the mouse wakes up from its "sleep", you'll be able to see the status of the battery through the battery life indicator on top of the mouse: green when the mouse has sufficient power and red when it's time for you to change the battery. It's unclear though how many more hours (or days) before you really have to replace the battery. Just make sure that you always carry a spare AA battery and you'll be fine.

Microsoft Explorer Mini Review Conclusion
Microsoft Explorer Mini mouse is brilliant. Its design but most importantly, its portability, is a force to be reckoned with wherever you are, whatever you do. Microsoft Explorer Mini mouse is wireless and also works very well without a mouse pad (except for a clear glass or mirrored surface). Normally you'd find some jerkiness when you are using an ordinary mouse on the floor or even on some desks but not with the Explorer Mini. Even if you are using the mouse on an asphalt road or a jungle soil, Microsoft Explorer Mini should work well (unfortunately I haven't tested this myself yet).
The packaging has everything that you need to get started: an AA Alkaline battery and also a travel pouch. So be sure to pick this mouse up on a shop whenever you are travelling and in need of a new mouse. Even if you don't want to install the IntelliPoint software, the mouse works straight after you plug the USB transceiver in.
I haven't found any problems so far with mouse (that I got from Microsoft) except for the blinding blue light the moment you put the battery into the mouse. So make sure your eyes are not staring straight at it while you put the battery in. I also wish that it has a rechargeable battery like the Explorer but I guess adding this will make the mouse bulkier and less portable.
Microsoft Explorer Mini comes with a 3 year warranty and RRP at $59.95.