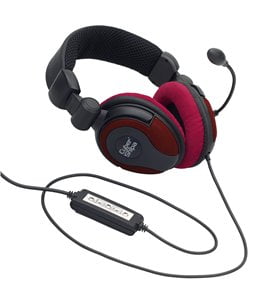 Cyber Snipa product range (varied from a headset to a pro gaming keyboard) is developed by an Australian company, called Cyber Sport. I haven't seen any Cyber Snipa products before so it's quite exciting to test and try one of their products, the Cyber Snipa SONAR 5.1 gaming headset.
With a true 5.1 surround sound headset, Cyber Snipa SONAR 5.1 is a must-have combat equipment to wear especially when you are playing a multiplayer first person shooter (FPS) game. While it's important to be able to see your enemies clearly on the screen, it's much more important to know where they are before you even see them. Do a "walh ack" even without really wall hacking! This is where the 5.1 surround sound comes into play.
Cyber SONAR 5.1 Specifications
General
USB Connection
3 metres cord length
8 speakers (4 on each earcup)
Noise cancelling microphone
In-line Multimedia controls
Microphone
Dimensions: Ø9.7mmx5.0mm
Sensitivity: -39dB±dB
Directivity: Unidirectional
Impedance: 2.2KO
Speakers
Drive Diameter: Left & Right: Ø30mm; Center speaker: Ø40mm; Subwoofer: Ø27mm
Impedance: Left, Right, & Center: 320; Subwoofer: 80
Frequency Response: Left & Right: 20~20KHz; Center: 18~20KHz; Subwoofer: 10~400Hz
Output Power: Left & Right: 200mW; Center: 400 mW; Subwoofer: 600 mW
Signal to Noise Ratio: >50dB
T.H.D: Left & Right: 0.4%; Center: 0.1%; Subwoofer: 1%
Sensitivity (S.P.L): Left & Right: 108dB; Center: 100dB
Cyber Snipa SONAR 5.1 Overview
Cyber Snipa comes with 2 colors (or I should say, earcup colors)- red and black. The SONAR headphone comes with 8 speakers (4 speakers in each ear cup including a subwoofer!) for a highly accurate positional audio and an extra "oomph" from the subwoofer.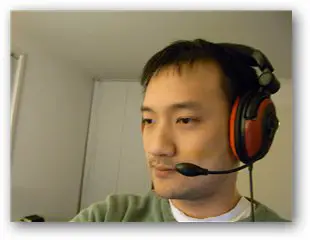 The packaging comes with Cyber Snipa 3D positional audio software so you can adjust individual channels, positioning, and also other audio effects (environmental and even a bass enhancer).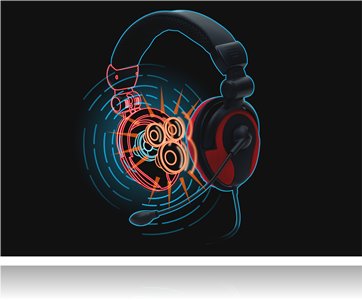 SONAR 5.1 is not your ordinary headset though, because it also comes with an extra-long flexible boon (with a noise cancellation microphone) and in-line multimedia controls. This is the ultimate headset that you need for gaming, audio chat, and also multimedia listening (movies and music).
The headset is pretty sturdy yet soft to wear. The headband has a soft area (mesh padding) where it touches your head and fully adjustable to accommodate both smaller and larger heads.
The earcups are also made of velour  (Huh? What is a velour?) cushions, giving you maximum comfort especially if you game for hours. You'll notice that your ears go a bit warm after wearing the SONAR 5.1 for a period of time. I wonder whether I'll get a sweaty ear if I wear this during the summer.  The earcups provide a perfect isolation from the outside world and it will make you immense yourself deeply in the game (or in the movie). If you are expecting a phone call, just remember not to blast the volume!
Cyber Snipa SONAR 5.1  – The Good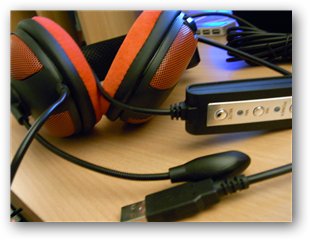 A True 5.1 Surround Headset
On FPS games such as Left 4 Dead and CounterStrike: Source, Sonar 5.1 with its surround sound really shines! You know exactly where your enemies are before you even see them. It gives you the initiative and it is important for hard core gamers. I love Sonar 5.1 microphone too and I've been using it on every gaming session with my friends.
Listening to movies and music doesn't disappoint either. From bullets whizzing between your ears to a soothing instrumental music coming from the earcups, SONAR 5.1 shines as much as using it for gaming.
Has its own sound card
If you still have a sucky sound card back from the 1990s (hey, I'm still happy with my Creative Audigy 2 value), you'll probably appreciate the quality of SONAR 5.1 built-in sound card. Unfortunately I'm not a real sound expert so I can't seem to differentiate the quality of the sound compared to my Audigy 2 card. So unfortunately I can't give my opinion in this area.
USB Connection
Since SONAR 5.1 has its own sound card, you can bring and plug it into any computer and you'll still get a 5.1 surround sound! You'll still need to bring the driver CD though if you want the microphone to work.  By using a USB connection, it's also easier to plug compared to the usual green-pink cables behind your CPU.
3 Metres Cord length
There is nothing worse than having a great headset only to find out that you have to bend so close to your monitor because the cable is too short. Thankfully, Cyber Snipa SONAR 5.1 has a 3 metres cord length. Not to mention that you can easily plug the headset into your front-USB slot which effectively shorten the distance even more.
Noise Cancelling Microphone
I've tried using the microphone on my gaming session (Left 4 Dead) and also a Skype voice call with my mom. My mom and friends said that my voice was crystal clear using the SONAR 5.1. In fact, in the game, my friends told me my voice was the clearest among them (they were all using some standard headset and one of them was using a webcam with a built-in microphone). Nothing is more annoying than having to repeat what you said in a critical gaming moment.
Subwoofer
Although you can't compare this to a real subwoofer on home sound system, SONAR 5.1 bass doesn't disappoint in game or while watching a movie.
Cyber Snipa SONAR 5.1 – The Bad
At the moment this review post is written, Cyber Snipa SONAR 5.1 doesn't work on Windows 7 yet. I could plug the headset just fine on my Windows 7 RC and even "installed" the driver from the CD (or from the website). However, as soon as I clicked on the system tray icon, my Windows went frozen in an instant and I had to press the reset button. After several tries, I decided to contact Cyber Snipa and there was a confirmation that a Windows 7 driver is in the making but not available yet. Let's hope they let it out soon because Windows 7 has just gone RTM and I have to temporarily go back to my Vista to use this sexy beast.
As mentioned previously, you need to install the driver to make use of the headset to the fullest. It's probably something that you want to keep in mind if you plan to bring this into a tournament or a LAN party.
There are also a couple of other minor issues when you plug the headset into your computer's USB. Just make sure that you aren't wearing the headset when you plug it in because you'll hear a loud popping sound coming from it .
The other issue is that you have to plug SONAR 5.1 before you launch your game. If you are already in the game, you probably need to go to the Audio option and change an audio setting back and forth to make the game do a quick sound driver reload. Only then the sound will come on the headset.
CyberSnipa SONAR 5.1 Review Conclusion
With a price less than $100, you'll get more than you need from Cyber Snipa SONAR 5.1: a 5.1 surround sound, USB pluggable with a built-in sound card, a 3 metre cord length, a noise-cancelling microphone, and a comfy cushion on your ear. It's your greatest asset especially in playing multiplayer FPS games. Although the bass and sound don't disappoint, you can never replace a full Logitech, Altec Lansing, or a Bose sound system.
Cyber Snipa SONAR 5.1 Pros:
+ Connect to USB instead of the standard audio+mic jack
+ Extra-long chord cable (3 metres)
+ Noise Cancellation Microphone
+ 5.1 Surround with a subwoofer
Cyber Snipa SONAR 5.1 Cons:
– Loud popping sound when plugged
– Software Manual seems outdated (a bit different than the actual software)
– Doesn't work yet on Windows 7
Cyber Snipa 5.1-Channel Headset