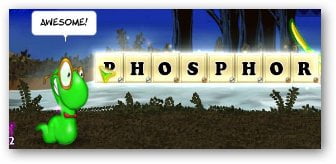 "Awesome!" That's the word I uttered from my mouth when I got an email from my contact at PopCap Games about the release of Bookworm Adventures 2 (they name it Bookworm Adventures Vol. 2). The game will actually launch some time today (30 July 2009) for both PC and Mac. If you want to find out what the game is all about, check my Bookworm Adventures Review here (the Vol.1).
Review of Bookworm Adventures 2 coming up soon (I had a blast playing my review copy of Vol. 2 last night for an hour) but first, check out what's new from PopCap press release.
Bookworm Adventures 2 Features (What's new in Bookworm Adventures 2)
3 all-new books of ten chapters each: "Fractured Fairytales," "The Monkey King" and "Astounding Planets"!
All-new infinite Replay mode! Pick a book, fight foes and score big points!
6 mini-games, including all-new "Mutant Words," "Golden Coins" and "Word Up"!
Battle more than 130 ferocious new foes while wielding over 20 terrific new treasures!
Companions! Literary figures join Lex and battle by his side!
Rainbow Tiles! New potent wild card tiles allow you to build the gigantic words of your dreams!
Arena mode! Spell quickly to defeat your toughest enemies!
Achievements – earn trophies, points and badges!
It's more or less the same game with new touch ups and interesting additions. If you are a fan of Bookworm Adventures, you'd probably want to add the Vol. 2 to your PopCap Games collection!
As I said, Bookworm Adventures 2 review coming up soon ;)