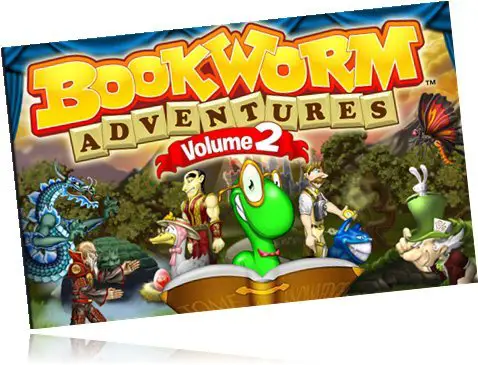 PopCap Bookworm Adventures 2 Review – Lex is back! A true sequel to one of the top PopCap Flash based games, Bookworm Adventures Deluxe, is here! Titled as Bookworm Adventures Vol. 2 (or Bookworm Adventures 2), the game itself looks and sounds familiar with the original at your first glance. Not that it's a bad thing, it isn't. Bookworm Adventures 2 still has the same fun and goofiness like its predecessor. In the Bookworm Adventures series, you play as Lex, a cute tiny greeny nerdy worm who needs to form words to send destruction to his enemies. To add spices to the mix, you have potions and  treasures that you can equip throughout the missions.
Bookworm Adventures 2 Gameplay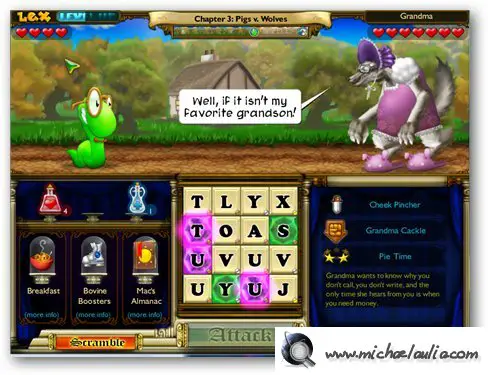 Bookworm Adventures 2 (like its predecessor) is a scrabble-based RPG (Role Playing Game) game. You form words to defeat your enemies throughout the missions while getting stronger and better after each battle. The longer your words are, the greater damage you inflict to the enemy. Lex will hop from one area to another throughout the story while the enemies are getting stronger and stronger each time. Every area has its own theme and also its own type of enemies. For example, when Lex goes to the underworld, you will be swamped with skeletons and other types of hairy supernatural enemies. On every area, you have to defeat a few minions before you will be able to meet the boss of the area. So yes, there are boss battles in the Bookworm Adventures series! Just remember not to compare them to a Final Fantasy or a hardcore RPG's boss battles though. Nevertheless, the boss battles can be tough at times and require you to drink health potions or use the "Green" gem tiles on your formed words (I'll come back to the tiles later). When I was a bit careless, my Lex's health dropped down to zero and died.
Thankfully, the game doesn't really have a "Game Over" so as soon as you die, you will be brought back to the map and you will be able to replay the area again. In fact, sometimes it is good that you die, because you will be able to play the minigames that reward you with potions and magic tiles before you try the area again.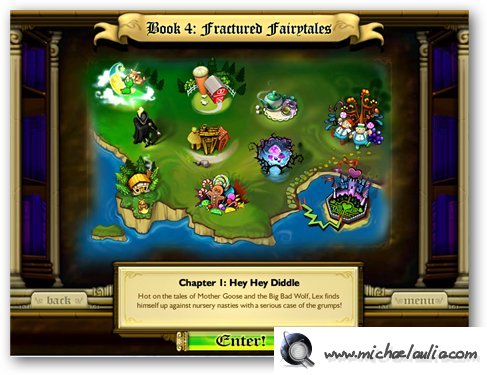 Bookworm Adventures 2 storyline itself (which is represented through a series of comic strips) is not really interesting but it's not really  the main focus of this game. The game is focused more on fun, funny, and replayability like the other PopCap games.
Bookworm Adventures 2 Magic Tiles
Alright, I've mentioned a few times about the magic tiles so I think it's best to let you know what magic tiles are in Bookworm Adventures 2. These special gem tiles have different effects to either Lex or your enemies. The tiles are colored green, purple, red, blue, white, or rainbow (new to Bookworm Adventures 2). A green gem heals Lex for a few health points (symbolized with hearts), a white gem purifies Lex (removes all negative effects on Lex), a blue gem freezes the enemy for 1 turn, a red gem burns the  enemy while a purple gem poisons the enemy. The rainbow gem is similar to a Blank tile on the Scrabble game where you can treat it as any letter.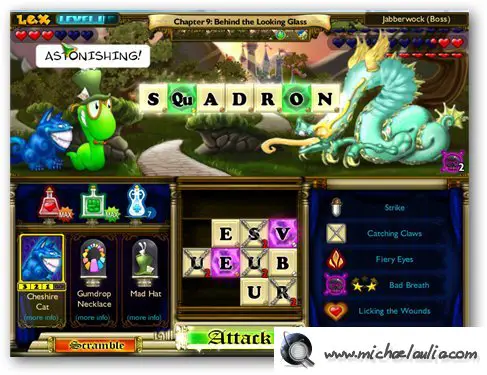 Bookworm Adventures 2 Treasures & Companions
Every time you defeat a boss, you will either get new equipments (called treasures) or companions. Sometimes you'll get an enhanced/upgraded version of your current treasures. The treasures can boost your defense or damage output either automatically or by a trigger (for example there is a treasure where it will give you an extra damage if you spell verbs).
New to Bookworm Adventures 2 is the introduction of companions. Companions will go with you to the battles and give you different great bonuses in the game. For example, Mother Goose spawns a free Health potion every 4 turns whereas Wong Fei Hong (if you like watching old Jet Li's movies, you know who this is) gives Lex a power up boost and stuns the enemy for 1 round.
Before you go to a new area, you will be taken to the "Treasures Room" where you can select up to 2 treasures and 1 companion to go with you. As the story progresses, you will unlock new treasures and new companions.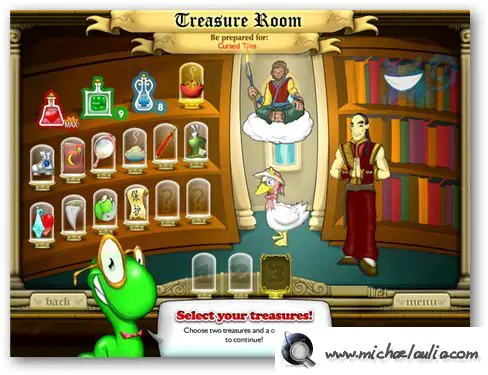 Bookworm Adventures 2 vs Bookworm Adventures 1
So what's the difference between the original Bookworm Adventures and Bookworm Adventures 2?
3 all-new books of ten chapters each: "Fractured Fairytales," "The Monkey King" and "Astounding Planets"!
Plenty of missions for you to play with more than a hundred of new enemies!
All-new infinite Replay mode! Pick a book, fight foes and score big points!
Like a certain area? Pick it again and replay.
6 mini-games, including all-new "Mutant Words," "Golden Coins" and "Word Up"!
More mini games to choose from!
Battle more than 130 ferocious new foes while wielding over 20 terrific new treasures!
New crazily funny enemies and treasures to be used on your adventure.
Companions! Literary figures join Lex and battle by his side!
A brilliant addition to the Bookworm Adventures 2 series!
Rainbow Tiles! New potent wild card tiles allow you to build the gigantic words of your dreams!
Remember the big grin you normally do when you get a blank tile on a game of Scrabble?
Arena mode! Spell quickly to defeat your toughest enemies!
Just more things added for replayability.
Achievements – earn trophies, points and badges!
If you like a challenge, then make sure you grab all the trophies and badges for your ultimate own satisfaction!
There are also new animations when you overkill an enemy but they are not much.
Bookworm Adventures 2 Review Conclusion
If you are expecting a huge difference in Bookworm Adventures 2 compared to the first, you will be disappointed. Bookworm Adventures 2 still plays exactly the same like its predecessor. However, the additions to a new gem tile, mini games, treasures, and especially the new companion system are great bonuses in the series. Bookworm Adventures 2, just like other PopCap games, can look repetitive at first, but they are always fun. You'll always see some sort of progressions and achievements which make you hunger for "Just One more!"
Bookworm Adventures 2 is also a great game to give to your kids. It's a great and creative tool to enhance your kids' English vocabulary. The game itself is not overly complicated yet exciting to play with. So what are you waiting for? Download Bookworm Adventures 2 Free Trial and have fun!
Bookworm Adventures Vol. 2 Pros:
+ More fun, more replayability, more Lex goofiness
+ More things to play around with after you finish the campaign
+ The new companion system adds a new spice to the mix
+ Adorable characters and animations
+ Enhance your English vocabulary in some ways
+ A good tool to educate your kids (and yourself!) in a fun way
+ Great jokes if you have the time to read the enemies' "biographies"
Bookworm Adventures Vol. 2 Cons:
– Very similar to the original Bookworm Adventures
– Can get repetitive at times
– I wish there are new exciting treasures instead of upgrading the old ones
Other Bookworm Adventures 2 screenshots: