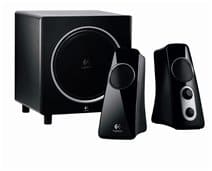 The new Logitech Speaker System Z320, Z323, Z520, and the Z523 are Logitech's new sound systems promised to deliver a 360 degree sound for your Window-based or Mac computers.
Normally, standard PC speakers use forward firing drivers but the new Logitech speaker drivers features omnidirectional acoustics – the speaker drivers face forward and backwards in each satellite to transmit sound over a wider range of space.
"Many PC speakers focus sound in one direction, which is fine if you're always sitting in the same spot," said Mark Schneider, vice president and general manager of Logitech's audio business unit. "But now with 360-degree sound, whether you're listening to your favorite song on iTunes®, watching a video on YouTube™ or playing your favorite game, you can enjoy rich, sound and minimal distortion throughout your room."
Quoted from the original press release source:

2.1 Speakers Systems: Logitech Speaker System Z523 and Logitech Speaker System Z323
The Logitech Z523 and Z23 (click on images to enlarge)

You can transport yourself into your music, movies and games with the Logitech Speaker System Z523. The Z523 speaker system includes two sleek satellites and a 6.5-inch down-firing subwoofer, which delivers deep lows for rich bass you can feel. With 40 watts (RMS) of power, the Z523 system can fill your room with bold, dynamic sound. And in case the neighbors call to complain about the noise, the Z523 system offers convenient on-speaker controls so you can quickly turn down the volume.
If you don't need the walls to shake but still want good bass, the Logitech Speaker System Z323 is for you. With 30 watts (RMS) of power and a ported, down-firing subwoofer, you'll have everything you need to create big, bold sound that puts you in the moment.
For your convenience, both the Logitech Z523 and Z323 multimedia speakers include an integrated dual RCA jack and a 3.5 mm jack so you can connect headphones, your Logitech® Squeezebox™ network music player, a gaming console, DVD player or iPod® with ease.
Stereo Speakers: Logitech Speaker System Z520 and Logitech Speaker System Z320

The Logitech Z520 and Z320 (click on images to enlarge)
Whether you're working or rocking out, Logitech's new stereo multimedia speakers – the Logitech Speaker System Z520 and the Logitech Speaker System Z320 – are stylish and can fill a room with sound when you don't want to make space for a subwoofer.
The Logitech Speaker System Z520 brings your music, movies and games to life thanks to an amplified two-way design and 26 watts (RMS) of power. The Z520 speakers are loud enough for a small party and detailed enough for subtle tones.
Ideal for laptops, the Logitech Speaker System Z320 can be plugged in wherever you work – and fill your office, or cubicle, with 10 watts (RMS) of sound. When you want to enjoy tunes from your iPod or listen to your headphones privately, simply plug them into the auxiliary jack – you won't even need to unplug the Z520 or Z320 speaker systems.
Pricing and Availability
Logitech Speaker System Z320 – RRP: AU$129.95
Logitech Speaker System Z323 – RRP: AU$149.95
Logitech Speaker System Z523 – RRP: AU$199.95
Logitech Speaker System Z520 – RRP : AU$249.95
Logitech Speakers are expected in Australia from September
Source: Logitech Australia Press Release, Sydney, August 6, 2009