Note: This is a guest post written by Aileen Clarke – Are you tired of playing Candy Crush or other Match 3 games on your tiny mobile screen? It can be frustrating to squint your eyes and strain your neck trying to make out the details of the game. But fear not, there's a solution that can transform your gaming experience.
Have you ever considered playing on a laptop? With a larger screen, you'll be able to see all the vibrant colors and intricate patterns of the game in full detail. Plus, you'll have more space to plan and strategize your moves.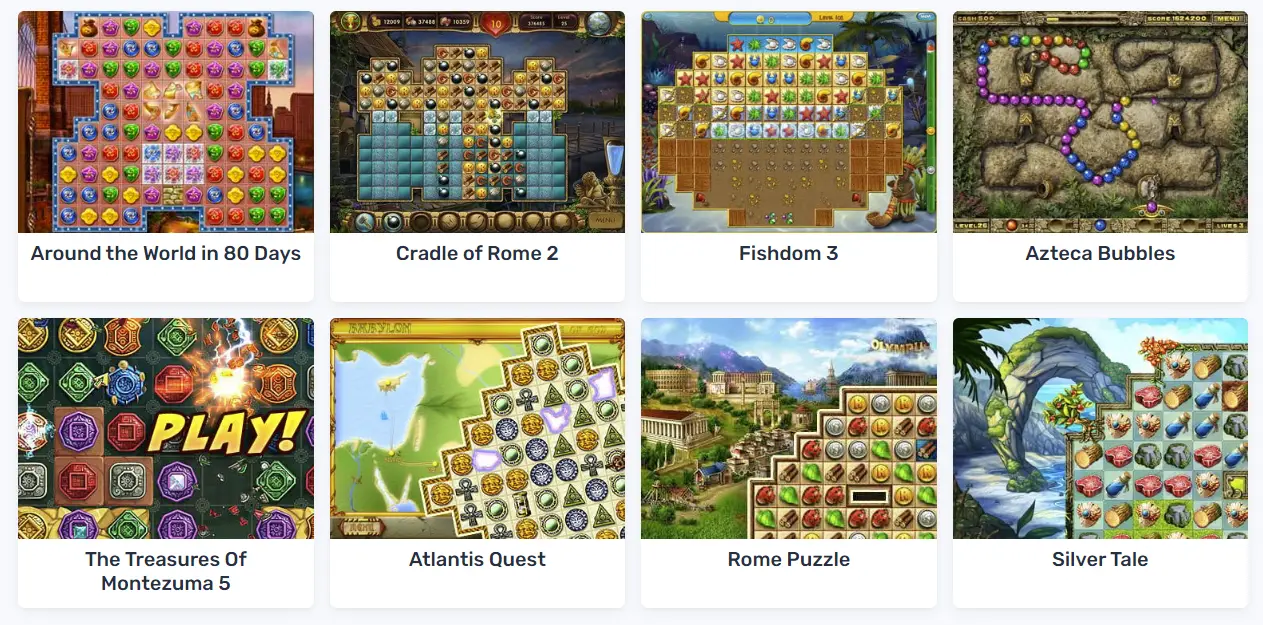 GameTop offers the best free match 3 games that all puzzle lovers will enjoy. From classic bubble shooters to exciting new games like Fishdom, there's something for everyone. And the best part? All of their games are completely free to download and play!
So why not take a break from work or school and immerse yourself in the world of match 3 games?
List of games:
Fishdom
Welcome to Fishdom 3 – the ultimate underwater match 3 game where you get to create your own virtual aquarium! Get ready to dive in and match your way to the top of the reef.
Each level is a new challenge, with unique goals and obstacles that'll make you feel like a true fish whisperer. Whether it's collecting a school of clownfish or ridding the board of pesky gold tiles, you'll be hooked from the very start.
But it's not all just matching and collecting, oh no! As you progress through the game, you'll earn coins and gems that you can use to pimp out your aquarium like a true diva. Think: sparkling new fish, lush decorations, and blinged-out accessories that'll make your tank the talk of the ocean.
So what are you waiting for? Dive right in and start matching those tiles to create the ultimate underwater oasis. Just be warned – once you start playing, you won't be able to stop. Fishdom 3: Where every day is a new adventure and every fish is a friend.
Rome Puzzle
Welcome to Rome Puzzle, where you can indulge your inner emperor and become the mastermind behind the greatest empire in history! Get ready to put your puzzle-solving skills to the test as you journey back in time to ancient Rome.
Your mission, should you choose to accept it, is to build an empire that will go down in history as the envy of all others. How, you ask? By solving challenging match 3 puzzles, of course! With each level you conquer, you'll unlock magnificent structures that will help you build your empire and cement your place in history.
But don't let the easy early levels fool you – as you progress, the challenges will get tougher and the stakes higher. You'll need to strategize and plan your moves carefully to outwit your opponents and come out on top.
Azteca Bubbles
This game is the perfect blend of bubble popping fun and historical adventure. You'll fire colorful orbs, pop long bubble chains, and collect valuable treasures and orbs along the way. And let's be real, who doesn't love a good treasure hunt?
If you're a fan of bubble shooters, then you're in for a treat with Azteca Bubbles. It's like Bubble Witch, but with a cultural twist. So put on your explorer hat, grab your bubble shooter, and get ready to journey deep into the heart of ancient civilization.
And who knows, maybe you'll even discover the secret to the Aztec's bubble-popping prowess. It's a mystery that's been lost to time, but with Azteca Bubbles, you just might be the one to crack the code. So what are you waiting for? Let's pop some bubbles!
Atlantis Quest
Get ready to dive deep into the mysterious world of Atlantis with the most epic match 3 game of all time – Atlantis Quest! You're about to embark on a journey that will make you forget all your worldly woes and transport you to an underwater wonderland filled with ancient ruins, puzzling challenges and hidden treasures.
As you explore the lost city of Atlantis, you'll unravel the secrets of this mysterious civilization, one match 3 puzzle at a time. But beware, the deeper you dive, the trickier the challenges become! You'll need to use all your wit and skill to conquer the puzzles and unlock the secrets of the city.
The underwater world of Atlantis Quest is like nothing you've ever seen before. The sparkling sea creatures, mysterious ruins, and ancient artifacts will leave you spellbound. And the challenges will keep you coming back for more – until you've uncovered every last secret of Atlantis.
Around the World in 80 Days
Ready to set sail on an adventure of a lifetime? Look no further than Around the World in 80 Days, the ultimate match 3 game inspired by Jules Verne's timeless novel! Join the dashing Phileas Fogg and his trusty companion Passepartout as they embark on a quest to circle the globe in just 80 days.
But hold on to your hats, folks, because this ain't your ordinary sightseeing trip. You'll encounter treacherous obstacles, daunting challenges, and unexpected surprises at every turn. But fear not! With your keen eye for matching jewels and your strategic puzzle-solving skills, you'll help our heroes conquer each hurdle that comes their way.
As you journey through exotic locations, from bustling cities to breathtaking landscapes, you'll feel like you're right alongside Fogg and Passepartout, experiencing the thrills and chills of their epic journey. So grab your passport, pack your bags, and let's go! The adventure of a lifetime awaits in Around the World in 80 Days!
The Treasures Of Montezuma 5
As I start playing The Treasures of Montezuma 5, I can't help but feel a rush of excitement. I'm about to go on an adventure through the ruins of an ancient Aztec civilization and uncover lost artifacts that have been buried for centuries.
As I dive into the first level, I see a grid of colorful gems and crystals waiting for me to match them up. I know I'll have to use my puzzle-solving skills to get through each level, but I'm ready for the challenge.
As I start making matches, I can feel the adrenaline pumping through my veins. Each level presents a new challenge, and I know I'll have to think carefully about each move I make. The pressure is on, but I'm determined to unlock the treasures hidden within the game.
The more I play, the more I feel like a true treasure hunter, searching for clues and unlocking ancient secrets. I know I'll have to be quick on my feet if I want to beat the clock and move on to the next level. But the satisfaction of making a perfect match and seeing the treasures light up on my screen makes it all worth it.
As I progress through the levels, I feel like I'm getting closer and closer to uncovering the secrets of Montezuma himself. I know I have a long way to go, but with each match, I'm one step closer to becoming a true treasure hunter. Bring it on, Aztec gods! I'm ready for whatever you have in store for me.
Benefits of playing match 3 games
First off, these games are the perfect stress-busters. Feeling anxious? Overwhelmed? Match up some colorful gems and watch your worries melt away faster than a popsicle in the desert.
And let's not forget the entertainment factor! The graphics, sound effects, and music make these games a hoot and a half. I mean, who doesn't love seeing cartoon animals cheering you on as you make matches like a boss?
But the real kicker? These games can seriously boost your mood. There's nothing quite like the feeling of triumph that comes with making a killer combo and watching those pieces disappear like a magician's trick. It's like you're the king or queen of the world, ruling over your very own match-3 kingdom.
And let's be real, who doesn't want to improve their hand-eye coordination? You'll be moving those pieces around the board like a pro, faster than a jackrabbit on caffeine.
So, if you're ready to take on the toughest levels and get that dopamine rush of winning, head on over to GameTop and download your free games today! It's time to have some fun and give your brain a workout at the same time.