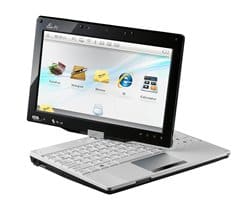 ASUS Australia just added the Eee PC T91 to the Eee PC line-up. The T91 (it reminds me of a Terminator model :)) is the first to sport an 8.9″ swivel touch screen and a suite of touch-optimized software that enables users to get the most out of finger or stylus input.
The Eee PC T91 can be folded flat so you can comfortably use it while standing up. You can read notes, sketch ideas/drawings directly onto the screen, and do other stuffs while walking. It accepts fingertip input and handwriting, ensuring easiness in scrolling through documents or web pages.
The Eee PC T91 unique software applications, known as TouchSuite, include:
FotoFun
Organize, edit, and browse through your photos collection with just the flick of a finger.
Memos
Jot down handwritten notes easily with your finger (which can then be attached to your desktop).
TouchGate
Switch between different user interfaces on the fly.
Eee PC T91 Specifications
Dimension: 225 cm by 164 cm
Weight: 0.96 kg
Display: 8.9″
Wi-Fi 802.11n and Bluetooth connectivity
Super Hybrid Engine – reduces energy consumption up to 15%
CPU: Intel Atom Z520
Chipset: Intel US15W
Memory: 1 GB (DDR2)
3 in 1 card reader (MMC, SD, SDHC flash card slot
The ASUS Eee PC T91 will be available in August 2009 with an RRP of AU$999.
Source: ASUS Australia Press Release, Sydney, 29 July 2009.