ROG Strix Scope RX TKL Wireless Deluxe Review – Despite the product's long name, the ROG Strix Scope RX TKL Wireless Deluxe keyboard is easily one of the favourite gaming keyboards that I have reviewed so far. It weighs 850 grams without cable, a well construction of sleek dark grey aluminium alloy chassis and the space saving being TKL (TenKeyLess) keyboard model. This keyboard could easily complete your gaming setup.
ROG Strix Scope RX TKL Wireless Deluxe Review – Features
ROG Strix Scope RX TKL Wireless Deluxe can operate in 3 modes: wireless, Bluetooth, and traditional wired mode while charging it at the same time. Charging cable is supplied alongside with a dongle extender for keyboard receiver to get a lag-free connection. With Bluetooth mode, the keyboard works well with my Apple iPad and allows connection to up to three devices.
I'm always a sucker of TKL keyboard designs. Measured only at 356mm length x 136 width  x 39mm height, ROG Strix Scope RX TKL is compact, flexible to move around, and looks good on the table with the space saving. As a casual competitive gamer, TKL keyboard design helps me to keep all my hands situated at the centre with my ROG Chakram X gaming mouse (review coming up soon). Additionally, the compact design is portable enough to fit my backpack. 
It also has an excellent battery life. I worked and played with the ROG Strix Scope RX TKL for 7 days with RGB lights set to medium brightness and it didn't run out of juice compared to ROG's claim up to 76 hours of battery life with default lighting settings. In fact, the keyboard still has more than 50% battery left after being used heavily. The need to charge less is definitely a thumbs up for me and makes me wish my headphones can last that long. The ROG logo backlight shows the current battery level and is a neat touch.
If you fancy all those bright RGB lights in gaming rigs, RGB lights in ROG Strix Scope RX TKL are customisable through Asus Armour Crate software. It's backed with Asus Aura Sync to enhance light integration among other Asus peripherals.
ROG Strix Scope RX TKL Wireless Deluxe Review – Performance
Typing with the ROG Strix Scope RX TKL keyboard is pleasant and yet comfortable, thanks to the easily-detachable magnetic wrist pad. With the sound dampening foam installed, typing noise is greatly minimised than typical with standard mechanical keyboards in the market. The word 'RX' in the model indicates the keyboard comes with the custom ROG RX optical switches achieving 100% anti ghosting making sure every key registration is accurate. PBT material on the keycaps provides solid typing feel and excellent durability. 
'Ctrl' key ROG Strix Scope RX TKL is wider in size than you can find on a typical keyboard. I appreciate this subtle approach during gaming or even productivity tasks since the Ctrl key is easier to reach and press.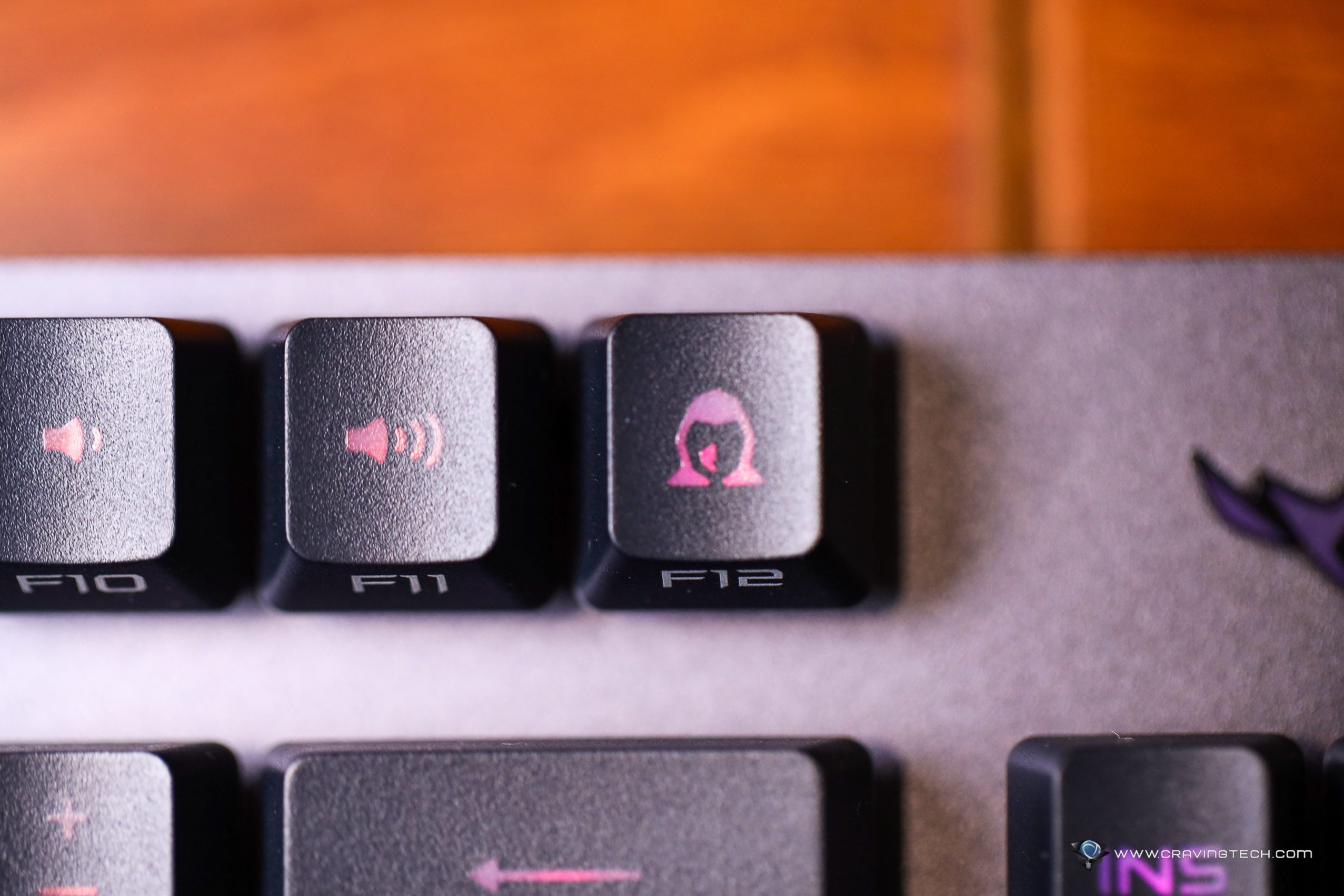 Macro and keyboard profiles are standard inclusions and they are all customisable through Asus Armour Crate software.
Media hotkeys are accessible with pressing FN and INS keys, and these keys switches the top row keys between function keys and media shortcut commands. The Stealth key, which is exclusive to ROG Strix Scope, enables a quick shortcut to disable sound and minimise all applications if instant privacy is urgently needed.
Gaming performance is great. Every key registration feels confident and solid to press. I don't like pressing mushy keys and ROG Strix scope RX TKL Wireless Deluxe keys are definitely on the premium side. Being TKL design and combined with an ROG Chakram X wireless mouse while gaming, my hands are placed at the centre. And this is proven to offer better hand coordination, aim accuracy, and to avoid unnecessary injury.
As today's norm, all gaming peripherals come with software to enhance the experience further. Installing Asus Armour Crate software is a must, in my opinion.
ROG Strix Scope RX TKL Wireless Deluxe Review Conclusion
In conclusion, I like the sleek look-and-feel of the ROG Strix Scope RX TKL Wireless Deluxe. The 'RX' indicates custom ROG optical key switches that bring your gaming and typing experience to another level. The 'TKL' indicates a compact keyboard design without numpads and saves space, yet shows beauty on the desk. The Wireless indicates 3 flexible modes: Bluetooth to ensure compatibility with most portable devices, a lag-free, RF 2.4 GHz wireless mode, and wired.
ROG Strix Scope RX TKL Wireless Deluxe is priced at 299 AUD and available now at most computer stores in Australia.
Note: ROG Strix Scope RX TKL Wireless Deluxe review sample was supplied for reviewing
ROG Strix Scope RX TKL Wireless Deluxe Review
Summary
A premium, wireless, TKL gaming keyboard from ROG, equipped with own Optical switches