Sphero Star Wars BB-8 Droid Review – Remember that cute little droid on the upcoming Star Wars The Force Awakens trailers and teasers? Its name is BB-8 and you can now own one at the comfort of your home.
Sure, this BB-8 Droid by Sphero cannot navigate you through a Nebula or fix your car, but man, this is probably the most appealing Star Wars toy (and toy in general) ever made.
It's basically an app-controlled droid with rechargeable battery that will make you smile and grin for hours and hours. Well, about one hour in that matter, before you have to recharge it again (for about 2-3 hours).
Don't really know what this little toy can do? I don't want to bore you with the details as you can read about the Sphero Star Wars BB-8 Droid yourself or watch the promotional video here:
I'll instead be focusing more on my hands on experience with the little guy here on this review post.
Sphero BB-8 Droid Review – Packaging
Sphero BB-8 Droid Review – Design & Features
Sphero BB-8 includes a charging cradle with inductive charging – which means you can simply place the BB-8 on the cradle and it will auto-recharge. There is no fiddling around with charging port and cable (you only plug the cable once to the cradle).
If BB-8 is still active, charging it will also make BB-8's head swirl around every once a while as if it's alive, which is really cool and cute.
Apart from being able to drive BB-8 around with your phone or tablet, you can set it to "Patrol Mode", make it do stuffs (like nodding, etc), and play/record video messages.
Driving BB-8
If you look at how the "real" BB-8 travels from the upcoming Star Wars, you'll be happy to know that you will get the exact same experience.
Movement is smooth and responsive, even when it's controlled by an app. And yes, the BB-8 will roll around while keeping its head on top (watch how Sphero BB-8 works). It's innovative and very well executed. BB-8 will also rotate its head and look at the direction you point it to.
Using the Force iPhone 6s to drive the BB-8 gives an enjoyable and thrilling experience. It's smart to use a device you already have as the controller, because there are no extra batteries to charge or replace. New features can also be added easily in the future.
Patrol Mode
You can set BB-8 to do its own thing in "Patrol mode". BB-8 will stroll around the house or office, rolling and looking around, and… of course, banging at objects and walls.
It doesn't seem to have a mapping function to scan the room it's in, since Sphero BB-8 doesn't actually have a camera. So I assume it would just stroll around aimlessly and randomly.
There are fun logs in the app as BB-8 tracks how long it has traveled and when it bangs into stuffs.
I actually thought earlier that this mode is the most fun of all, but in real life, it can get annoying when you try to concentrate and BB-8 keeps on making noises by bumping into stuffs.
BB-8 Commands
Commands can be executed by pressing a button on the app which can make BB-8 nod or shake its head, and a few other things while making funny noises. Note that these noises don't come from BB-8 itself. It does not have a speaker. Rather, all sound and noise come from your device, which is a little disappointing.
Here is a fun video we made in the office with BB-8 (note: commands were activated through a few taps on my iPhone manually):
Sphero BB-8 will also respond to voice commands such as "It's a Trap!", "Run away!", or "Look around!". Since firmware and app can be updated remotely, expect more fun voice commands to be added in the future.
As you can see from my short video above, there are tons of stories to make and things to play around with – which relies on your imagination. However, this also means that playing around with the BB-8 by yourself can get stale and boring quickly. It's more fun to do when there are others around, like your kids, a partner, or guests. Thankfully, BB-8 looks great as a display.
Holographic Video Message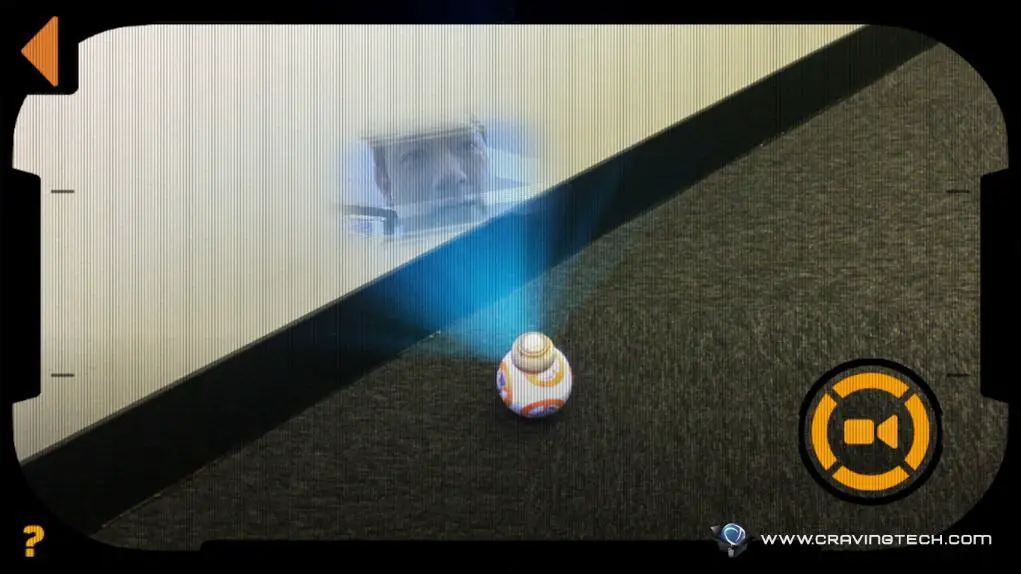 When I watched the official video about it, I got too excited thinking that the Sphero BB-8 actually has a projection tool onto a wall to display recorded video messages.
Apparently, it's not how BB-8 holographic messaging works. You actually have to see the video message in the app. However, you can set where BB-8 should project the video to (augmented reality), which is kind of neat.
There doesn't seem to be a way to send video messages just yet on the iOS, but I did receive a video message from a stranger a few days ago. I received the notification on my iPhone and managed to view the recorded video with BB-8's help. It's unclear who it was and how the message could get to me. So at this moment, it looks like it's still a work-in-progress, but expect something fun where you can send short video messages to other BB-8 owners.
Sphero Star Wars BB-8 Droid Review Conclusion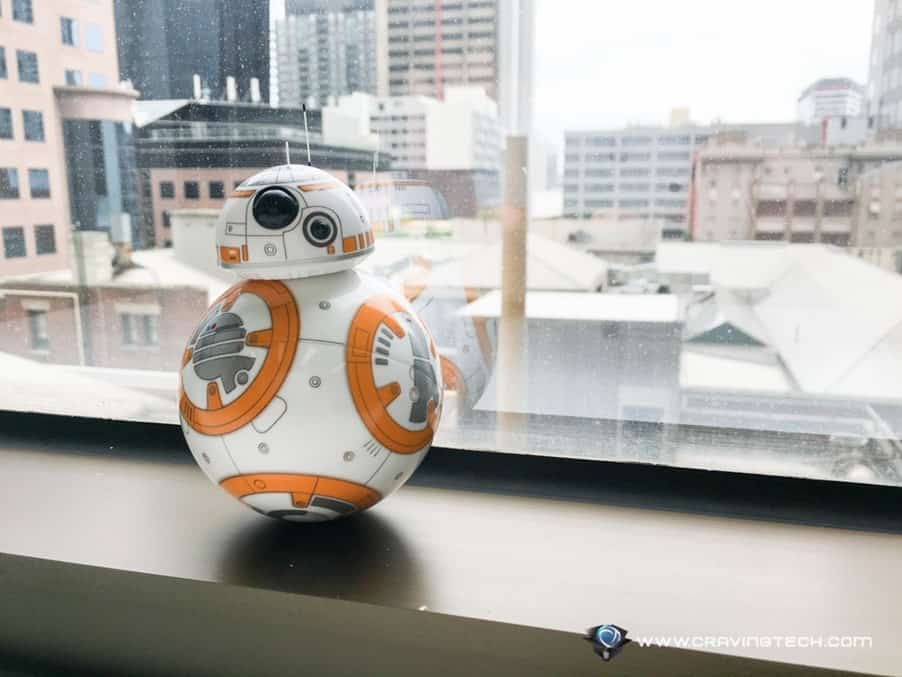 Sphero BB-8 Droid is a very well designed and very well made toy. It is fun, cool, cute, engaging, innovative, and thrilling to play around with.
It can't really do anything useful though like letting you know by bouncing around excitedly when you have new emails, or cleaning dirt and dust on the floor.
I have to admit that because BB-8 is so well-designed and executed, I wish it can do more. The lack of speaker and camera means everything it does is heavily-reliant on the app.
As a toy, however, Sphero BB-8 breaks the boundaries of remote controlled toys and brings the Star Wars droid that we are all going to love from December 2015 to our home.
You can purchase Sphero BB-8 at Mobile Zap or at many other Australian retailers.
Disclosure: Review sample sponsored by MobileZap that also sells other iPhone 6s accessories like cases, portable chargers, and more.