LEGO Super Mario Review – Have I told you how much I loved LEGO when I was little? Back in the 90s (yes, I'm old), I always asked for a LEGO as my birthday present every year (for 5-6 consecutive years). But I guess after PC gaming and Nintendo made their debut, my passion in LEGO sort of died down.
But what LEGO and Nintendo have done together recently, is more than just amazing. They are combining the best of both worlds into something creative, fun, and definitely bring nostalgia back to some, including myself.
LEGO Super Mario allows kids to see their favourite character, Mario from Nintendo (whether the old, classic Super Mario World back in the 90s or the most recent Super Mario Odyssey on Nintendo Switch) comes to life. Using clever design and technology, you can creatively create your own Mario course, collect virtual coins, and replay the game over and over in a different manner.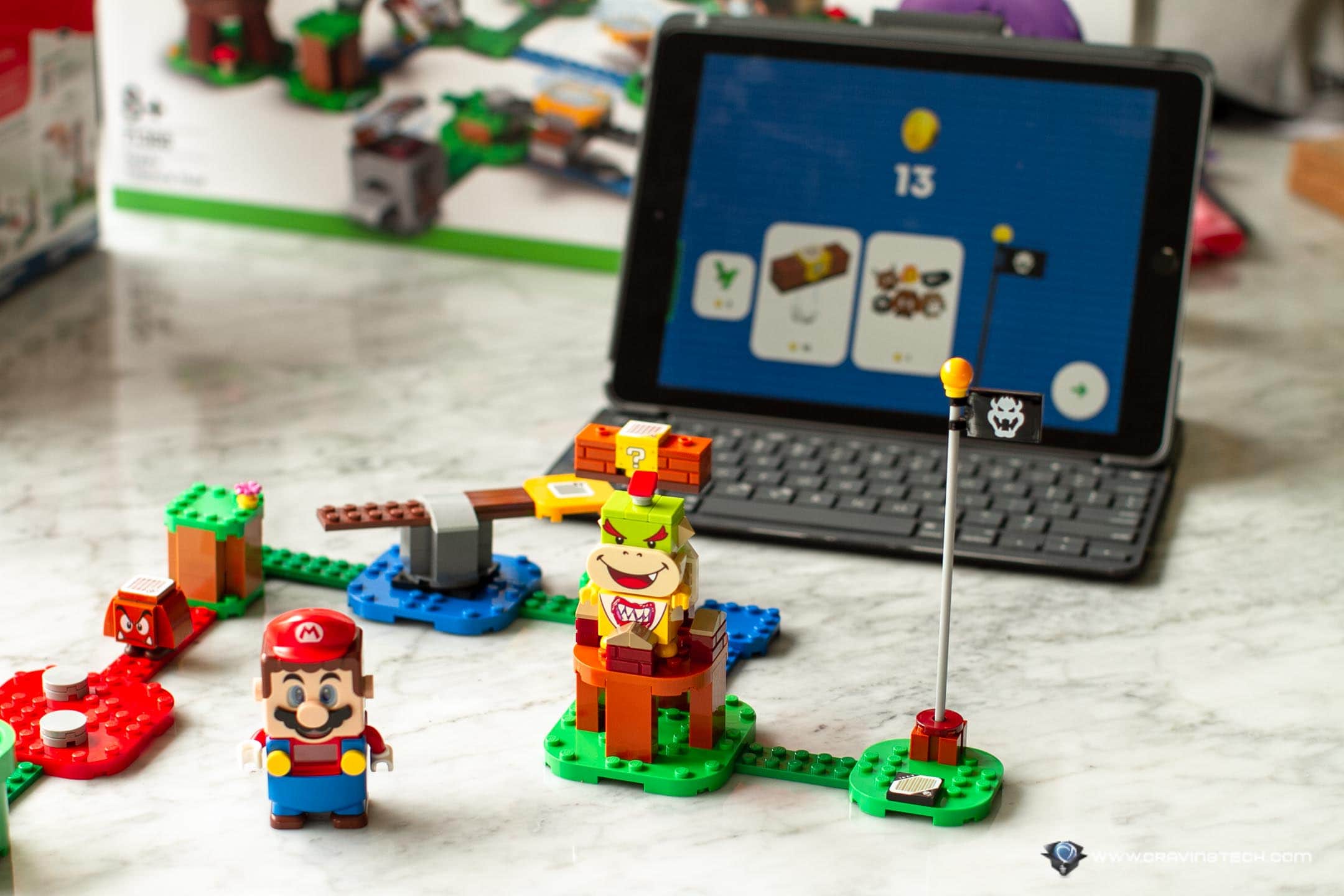 This is LEGO on steroids. LEGO Mario is not just a brick with smiley stickers. He is actually equipped with colour & motion sensors, LCD screens and built-in speakers so you can see him doing different expressions and shouts. In fact, there are over 100 different reactions, all borrowed from the iconic sound and music from the official game. Powered by 2 x AAA batteries, LEGO Mario is interactive and will certainly make kids smile.
The most fun experience from LEGO is gathering and building your LEGO pieces to create shapes and objects. With LEGO Super Mario, it's as fun to build all the pieces together through the help of an interactive iPad app.
Once you've built everything, thankfully the fun is not all over yet. You can mix and match your own course, or even grab the expansion packs to further expand the course and interactions in the game!
Adventures with Mario Starter Course is a great starter pack to play LEGO Super Mario and it contains 231 pieces of LEGO to build different objects and tracks. The pack also has 7 action bricks with different interactions as you play the game – which is done by moving the LEGO Mario on top of the action brick. This will trigger the sensor below Mario to identify what action brick it is and what should happen (i.e the sound LEGO Mario should make, the number of coins you can get, or what sort of interaction you need to do on that action brick).
For an example, there is a rotating platform where you are supposed to hop LEGO Mario on the action brick and rotate the platform to get coins. Sure, you don't really need to, but doing this properly will earn coins and of course, solving the course's challenge in a proper manner.
Thanks to the colour sensor, LEGO Mario can also detect the bricks colour and decide what's going to happen when LEGO Mario walks on top of it (blue=water, green=grass, yellow=sand, and red=fire). A built-in motion sensor also helps to identify when LEGO Mario walks, jumps high, going round in circles, and more. Really high end stuffs going into the little LEGO Mario apparently!
LEGO is a company I admire, not just because I was in love with LEGO when I was little, but because the company never stops innovating and does not just stand still in this moving, digital world. They evolve and are still being relevant even when devices and technology are taking over kids' toys.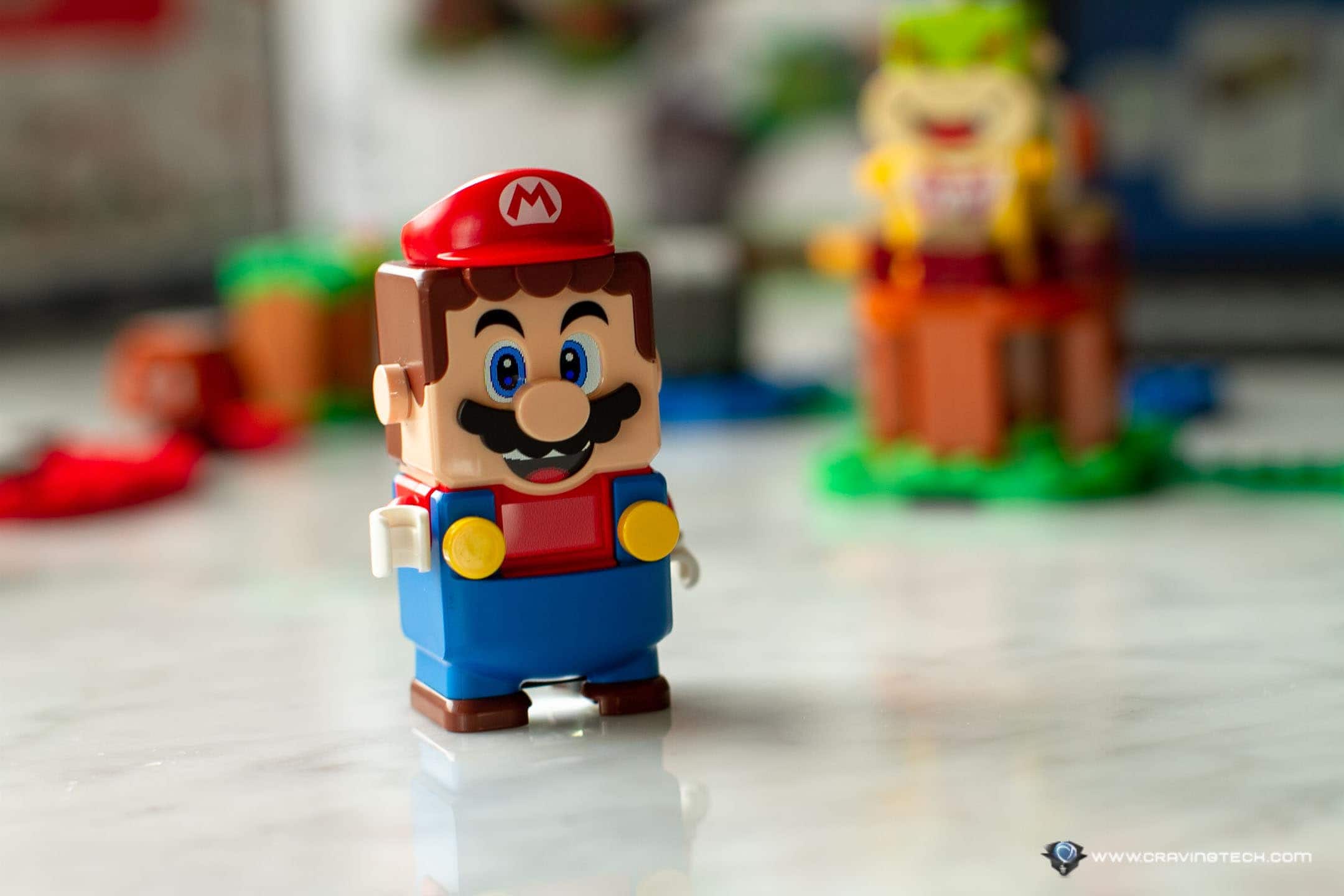 Thanks to the collaboration with Nintendo, LEGO Super Mario is a fun, cool, and creative game for kids while being challenging and rewarding at the same time. The Adventures with Mario Starter Course retails for AU$89.95 and just like when I was little, you can always buy expansion packs for your kids' birthday one at a time and they will love it.
There are many expansion packs to grab too: Bowser's Castle Boss Battle, Toad's Treasure Hunt, Guarded Fortress, and more. These don't just add more LEGO pieces and action bricks, but also more iconic characters from the game like Toad, Bowser, Koopa Troopa, etc.
It doesn't just stop there. There is also an upgrade to LEGO Mario suit called Fire Mario Power-Up Pack that doesn't just give LEGO Mario a whole new suit and pants, but a new ability to throw the iconic fire attack (imaginatively, of course). Of course, there are many others.
To be honest, once you grab your kids the starter pack, I promise you'll never run out of ideas anymore on what to get for their birthday or Christmas.
Disclosure: The Adventures with Mario Starter Course & Toad's Treasure Hunt review samples were supplied for reviewing but all opinions are mine and not paid
LEGO Super Mario Review
Summary
It's LEGO, it's Nintendo. What do you get when you combine the best of both worlds? Fun and creativity for sure!
Pros
Super fast Bluetooth connection
Creative building, very strong replayability
Brings imagination to life with the help of visual and sound
Fun
It's LEGO
It's Mario
Cons
Be prepared to buy never-ending expansion packs for your kids!