GoCube Edge Smart Cube Review – Solving a Rubik's cube has always been on my bucket list. Even though I have been playing with Rubik's cube for years, I never could solve it 100%. During last year's lockdown, I almost solved the Rubik's cube for the first time where there were two squares left. However, it took countless YouTube videos to get there. I spent much time writing down all the moves and rewatching many videos to understand the necessary steps.
Well, those tedious steps are redundant now, thanks to GoCube Edge Smart Cube. It is a Rubik's cube that connects to your phone/tablet and can detect your moves in real-time so that you can practice easily.
What's in the box?
GoCube Edge Smart Cube
Customised USB charger
Charging stand (will hold your phone as well)
A travel pouch
First impression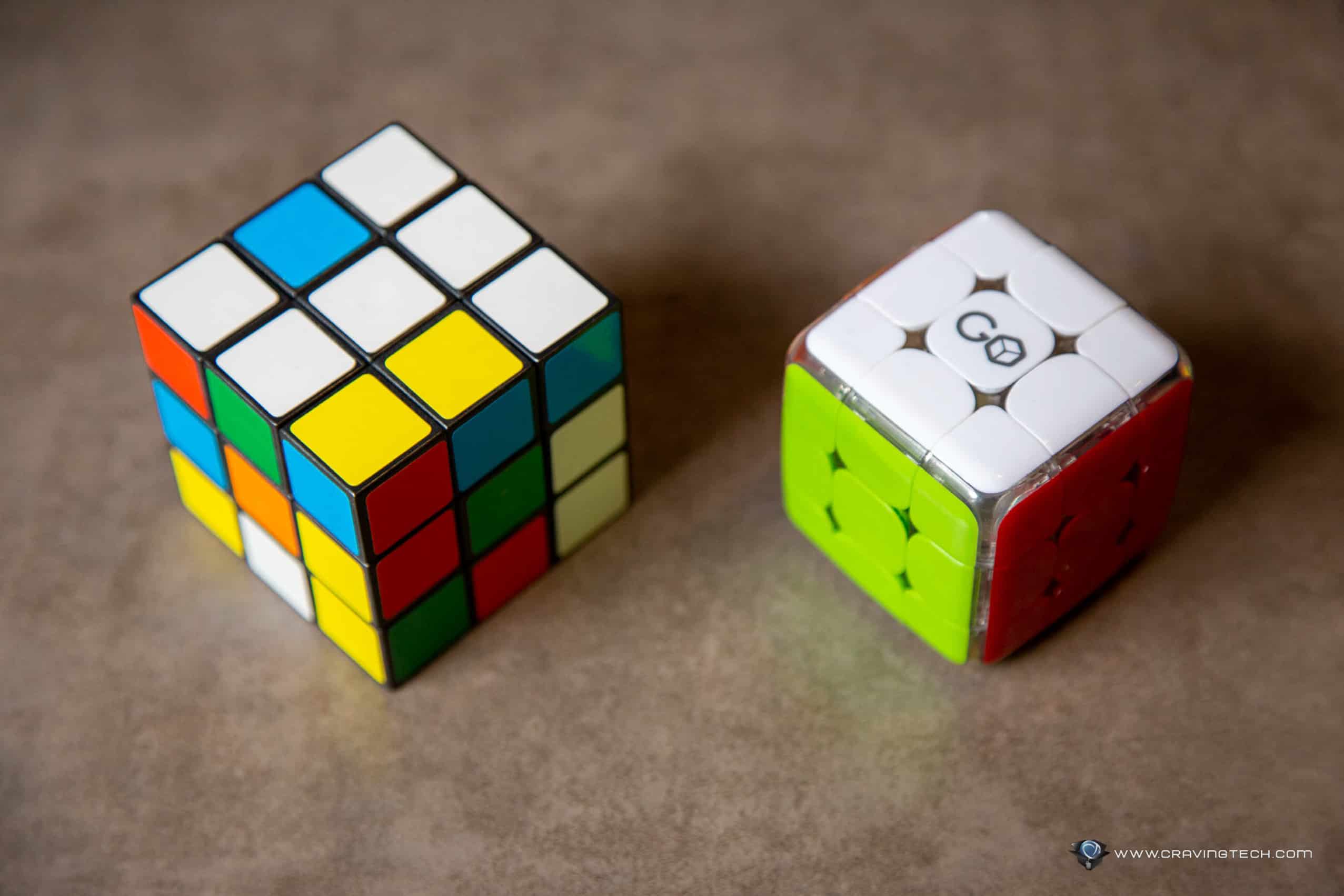 The dimension is 5.5cm x 5.5cm x 5.5cm. This makes the rounded edged GoCube slightly smaller than the regular size Rubik's cube. 
So if you're already used to playing with the original one, it will fit into your hand perfectly. It has cool lighting where it lights up when you're using it. Firstly, you need to download the app and register a free account before using this smart cube. It's free to sign up. Once signed in, the app will pair your GoCube automatically via Bluetooth. You don't have to pair it manually like the other Bluetooth devices. 
What does it do?
Initially, you'll have to go through some basic tutorials, where the app teaches you the basic movements. This is so useful if you're not too familiar with the basic rotations (like Up, Down, Right, Left, Front, and Back). All moves can either be counterclockwise or clockwise.
The cube has a built-in gyroscope and accelerometer that detect your movement in real-time. It is the coolest factor of this, I reckon. It's pretty revolutionary if you compare it with the traditional cube as you can improve your skills in a short time. It shows you in 3D what you have to do (the rotational turns).
Plus, there are lots of statistics that you can analyse in the app. It will eventually make you a better player for sure.
You can compete with other players, but I must admit, I am not confident enough to challenge anyone at this point. I must practice a lot first before playing against other people.
Well, this GoCube certainly provides me with the tools to practice with ease. Furthermore, there are also plenty of mini-games that are fun to play.
The battery life is great too, considering I've only charged it once in the past two weeks.
Should you get one?
Yes, you should get one if you are a fan of Rubik's cube and would like to upgrade your solving skills. 
Or you should buy one for your kids especially when they have spent too much time on Netflix or video games during this lockdown.
You can buy GoCube Edge Full Pack at GoCube's website for A$129 at the time of writing. Alternatively, you can also get it at your local JB-HiFi for the same price.
Disclosure: GoCube Edge Smart Cube review sample was supplied for reviewing
GoCube Edge Smart Cube Review
Pros
Easy pairing with Bluetooth 5.0
Brilliant app with lots of features
Well-built and feels solid
Cons
Proprietary charging cable – perhaps USB-C for the next generation?