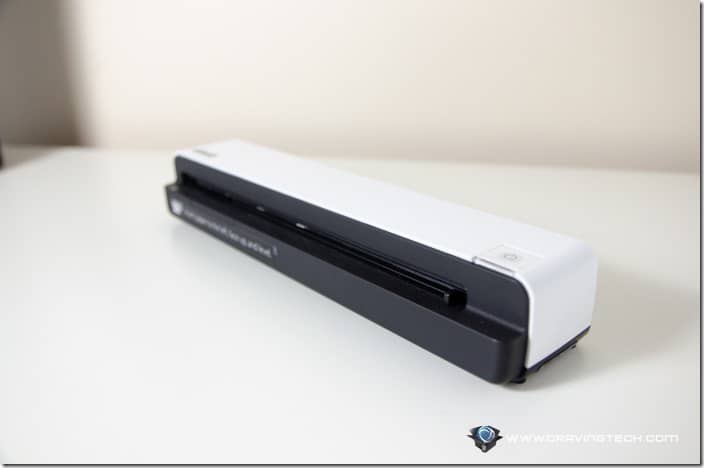 Doxie Go Wi-Fi Review – Doxie scanners are so popular that you've probably known or read about them somewhere. Almost every "going paperless" guide or article mentions about getting a Doxie scanner. I've been following and reviewing their line of products ever since the first Doxie scanner came out in 2010 and these awesome scanners just get better and better.
If you want to know more about their previous line of products, feel free to check my past reviews out: Original Doxie, Doxie Go, Doxie One, and Doxie Flip. Their latest Doxie scanner is called the Doxie Go Wi-Fi and as the name suggests, it can be treated as the enhanced version of the Doxie Go.
With Doxie Go, you need an Eye-Fi card (a memory card with built-in Wi-Fi in a nutshell) if you want to import your scans from Doxie Go into your computer via your wireless network. It can be tedious as you have to install a separate software and do some set-ups with your computer. This Doxie Go Wi-Fi now has a built-in Wi-Fi, battery, and memory, which makes it the ultimate, portable scanner to have!
Doxie Go Wi-Fi Review – Packaging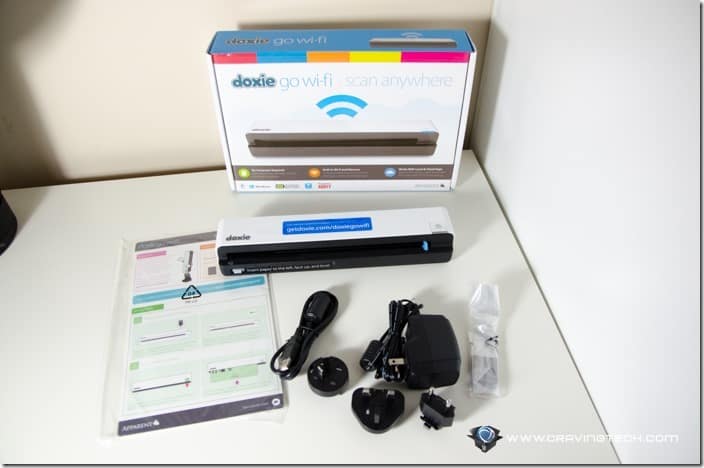 Doxie Go Wi-Fi Review – Design & Features
It's so small and portable that you can carry it with you everywhere inside a bag (you may want to grab the luxurious hard case if you travel often for style and protection). Even if you are going to scan documents at the comfort of your home, you'll appreciate how easy it is to store the scanner away inside a drawer.
Thanks to its built-in rechargeable battery and memory, you practically don't need to carry any cables with you while you travel with Doxie Go Wi-Fi. According to Doxie, you can scan around 300 A4 pages per charge (at 300dpi resolution) and stores up to 1,800 color documents (or photos) inside its internal memory. It basically has more storage than you ever need (since you can import the scans into a computer and remove them from the scanner's memory). You can also scan while the scanner is being charged, which is a plus.
Scanning is very simple – simply feed a photo or paper into the scanning slot and it will automatically be processed through the feeder.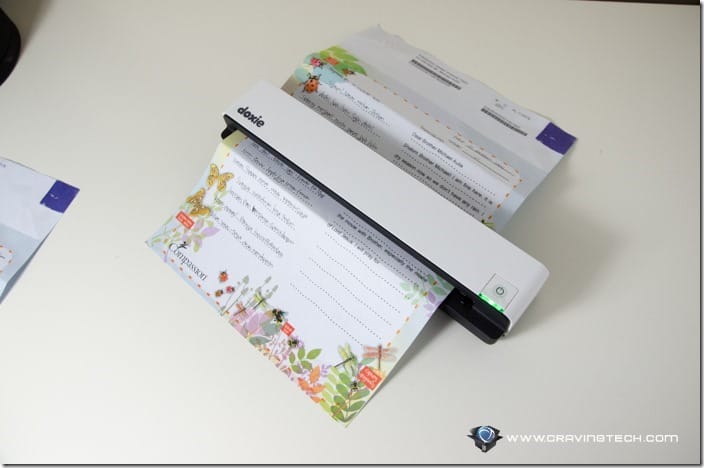 I'm pretty happy with the speed of color scanning documents at 300dpi, which still gives me high quality scans. You can switch between 300 and 600dpi scanning easily with a tap of the power button, a great option if you want to alternate between scanning documents and photos without having to change the settings through a computer.
Doxie Go Wi-Fi features a built-in dual Wi-Fi: it can create a separate Wi-Fi access point of its own (so you can get your device or computer to connect to its own Wi-Fi network) or join your home/office wireless network. I'd prefer to do the later because that means you don't need to get your computer to switch to a different network each time you want to import the scans.
Thankfully, Doxie Go Wi-Fi is also smart enough to switch back to its own Wi-Fi when it can no longer connect to your wireless network. Connecting to your wireless network can be done through a simple process using the Doxie software installed on the computer (need to hook it up first with the included USB cable – which can also be used to sync your scans over).
Simply pressing the Wi-Fi tiny button on the scanner will turn its Wi-Fi capability on. I'm not sure why it's not being turned on automatically when you turn the scanner on, but I suspect it's needed to save battery life (after all, you only need the Wi-Fi on when you want to import the scans over to your computer or mobile device). The process of connecting it to your network can take to half a minute, which hopefully can be improved in a future firmware update.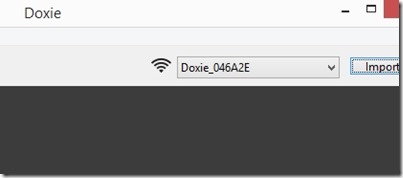 Once you sync the scans to a computer, you can staple the scans together and save them as a single PDF file (a feature that I love most about Doxie). There are also other options such as saving the scans in JPEG format or to upload them to the cloud (Dropbox, etc). You can also grab the scans to your iPhone or iPad with Doxie's free iOS app. Pretty cool stuffs here.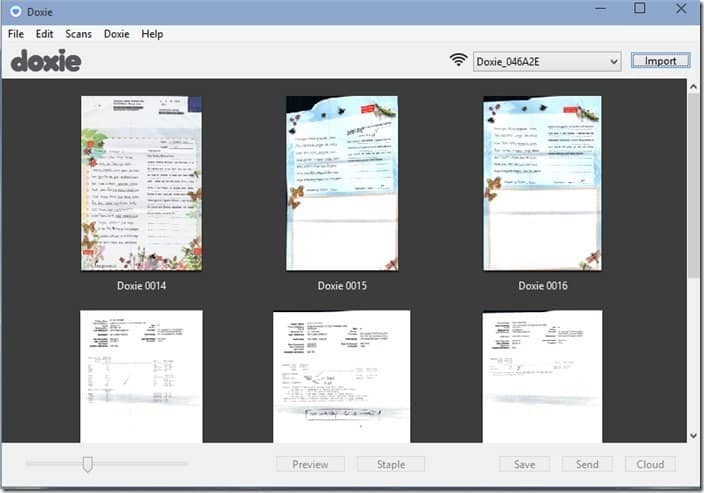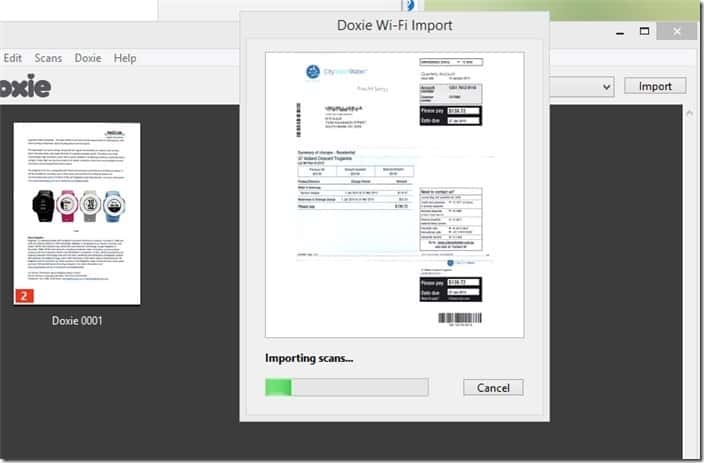 Doxie Go Wi-Fi Review Conclusion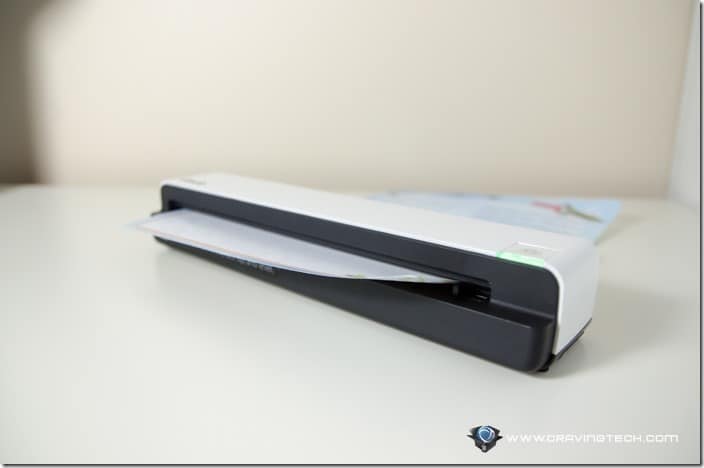 Thanks to Doxie Go Wi-Fi portable scanner, I'm now going paperless (yeah, I know I'm quite late for the party). Scanning with Doxie Go Wi-Fi is quick, easy, fun, and seamless. With just a press of a button, I can do sync all the scans into my computer after I'm done scanning via my home wireless network. No memory card to move around and no cable to plug in.
Sure, I have an Epson WF-7620 printer that can scan and do other funky things, but it can never be as fun and easy as scanning with a Doxie scanner. Combined with a long battery life, smart Wi-Fi feature, portability, minimalistic & elegant design, and large built-in internal memory capacity, the team at Doxie somehow can somehow still manage to make Doxie small, lightweight, and portable. I really don't know how I can live without my Doxie Go Wi-Fi. I'll tell you about my story on going paperless with it, but let's leave it for another post.
Disclosure: Sample was sponsored for the review but all opinions are 100% mine and not paid
[AMAZONPRODUCTS asin="B00FT7RJ8A"]