CZUR Aura Review – Scanning documents, especially books, is normally an awful and tedious experience. Sure, we have plenty of cool and funky scanners nowadays to make things easier, but it still requires you to align papers properly or wait for too long for the scanning process to finish.
And if you have a dedicated scanner, most likely it'll have to stay inside a cabinet and only let it out when you need something scanned, thanks to its bulky size.
This new scanner from CZUR will definitely change the perspective you have on traditional scanners.
CZUR Aura is not the first scanner made by CZUR. They claim to have shipped over 3400 CZUR scanners worldwide during their previous crowdfunding campaign in 2016. And now, a newer model is up for this year's campaign and it already has received 350% more than the original goal by the time this review is written! Check out CZUR Aura's Indiegogo campaign page.
CZUR Aura Review – Official Video
CZUR Aura Review – Packaging
Packaging includes all the things you need to get it working such as a power cable (optional batteries sold separately), a USB cable to be hooked up to a PC to scan, a foot pedal to execute scanning, finger cots (to help scan books where you need your fingers to hold the opened books), a black mat to help with the scanning process (and great as a desk mat overall), and an optional magnetic side light to be installed on the lamp (for scanning glossy materials like photos).
There's supposed to be a user guide and software CD but they seem to be missing from my review sample box. However, I managed to learn everything without the need of a guide. All you need to do is download the software for the PC (there is a mobile app but it doesn't do much apart from controlling the lights).
CZUR Aura Review – Design & Features
Unlike traditional scanners, CZUR Aura is also acts as a great looking, stylish lamp with 4 lighting settings: Smart lighting mode at night (3000K), Computer mode (3000K), Reading Light mode (4000K), and Natural Light mode (4800K).
Its design somehow reminds me of the Dyson CSYS LED desk lamp and I like it. Compared to a traditional bulky scanner, the Aura doesn't take that much space in a sense. And since it can function as a desk lamp and add an aesthetic value to the desk, it's definitely worth the space (especially when this means you'll have access to scanning anytime, instantly). You do need it to be near a PC for scanning, though.
With CZUR Aura, you place whatever you want to scan underneath its sensor and use the handy foot pedal to grab a snapshot/scan (or click on the Scan button through the PC software). Using the foot pedal makes the scanning process much quicker when scanning multi-pages books since you can focus on using your hands to open the following pages to scan. You can switch the Aura function from a desk lamp to a scanner with the press of a button on the Aura. There's also a handy, small LCD screen on top of Aura to see whether your item is within range of the scanner.
At around 2-3 seconds of scanning time per page, this is actually the fastest scanner I've ever tried and reviewed on (apart from using my  smartphone with Scannable app). It does not provide the highest quality of scans compared to line-by-line scanning on a multifunction printer, but the scanned results are pretty good. On harder-to-scan documents (such as old documents), you can tweak the quality further through the software.
To be honest, I'm happy enough for CZUR Aura to stop here, but apparently CZUR has more in mind. With an additional Proprietary AI Algorithm and Software Technology, CZUR Aura has more tricks up its sleeves. For example, it can straighten book curves, split books paging, and also auto align your scan if you don't do it correctly (something that happens too often when you scan stuffs).
All these are done via the CZUR Scanner Software installed on your PC after the scanning process. Scans will be saved to your Documents folder which will then be ready to be manipulated. In the software, you can change the contrasts and much more and then apply them in batch (i.e apply to multiple scanned items). Very handy.
Scans can be converted into Word Document or PDF with OCR (Optical Character Recognition) in up to 187 different languages, making the words searchable and recognisable in PDF readers. I found it quite surprising how good this works, as I tested converting a few pages to a Word document. If you ever wrote your own book in the past, you can easily convert them into digital this way for sure.
The software struggles a bit to find the center of a binded document if you try the "auto-split two pages into a scanned image each" feature. You can, thankfully, split them up manually in the software, or re-align a few times. Books work flawlessly, however.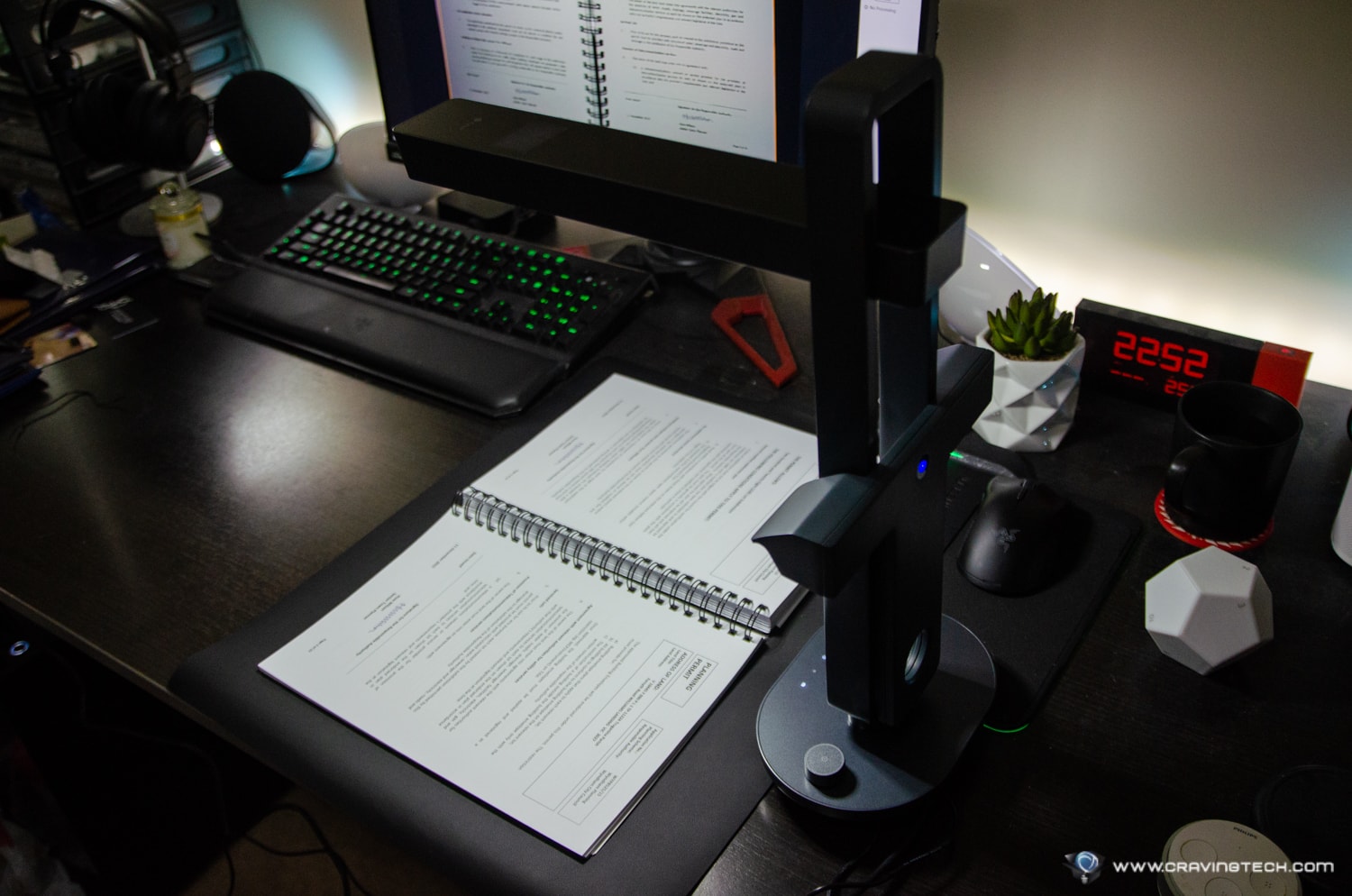 Proprietary AI Algorithm and Software Technology are quite amazing, actually. I don't exactly place the book in perfect alignment, but as you can see from my screenshot on the right below, CZUR software manages to split the pages apart and align them neatly.
For scanning something glossy, switching the lights to side lights will help tremendously to prevent the light reflection on the surface while scanning.
Left (while using the Aura's main lights) vs Right (using Side Lights):
As you can see from the results above, however, CZUR Aura is definitely not the perfect scanner for scanning photos in high quality.
CZUR Aura Review – Who is it for?
If you are only scanning your utility bills every now and then, then you might not need to get CZUR Aura. I've used my smartphone to scan bills and invoices, and it works well. But owning CZUR Aura means you CAN scan these flawlessly and easily, among other things.
If I need need to get higher quality document scans, I'd probably use either my Epson multi-function printer or the Doxie portable scanner. However, it does get tedious whenever I need to scan 20-30 pages of documents, books, or many invoices at the same time. I'd also be out of luck if I ever wanted to scan drawings on a non-A4 (or smaller) paper (such as structural, engineering, or house design). CZUR Aura will be really handy here.
CZUR Aura Review Conclusion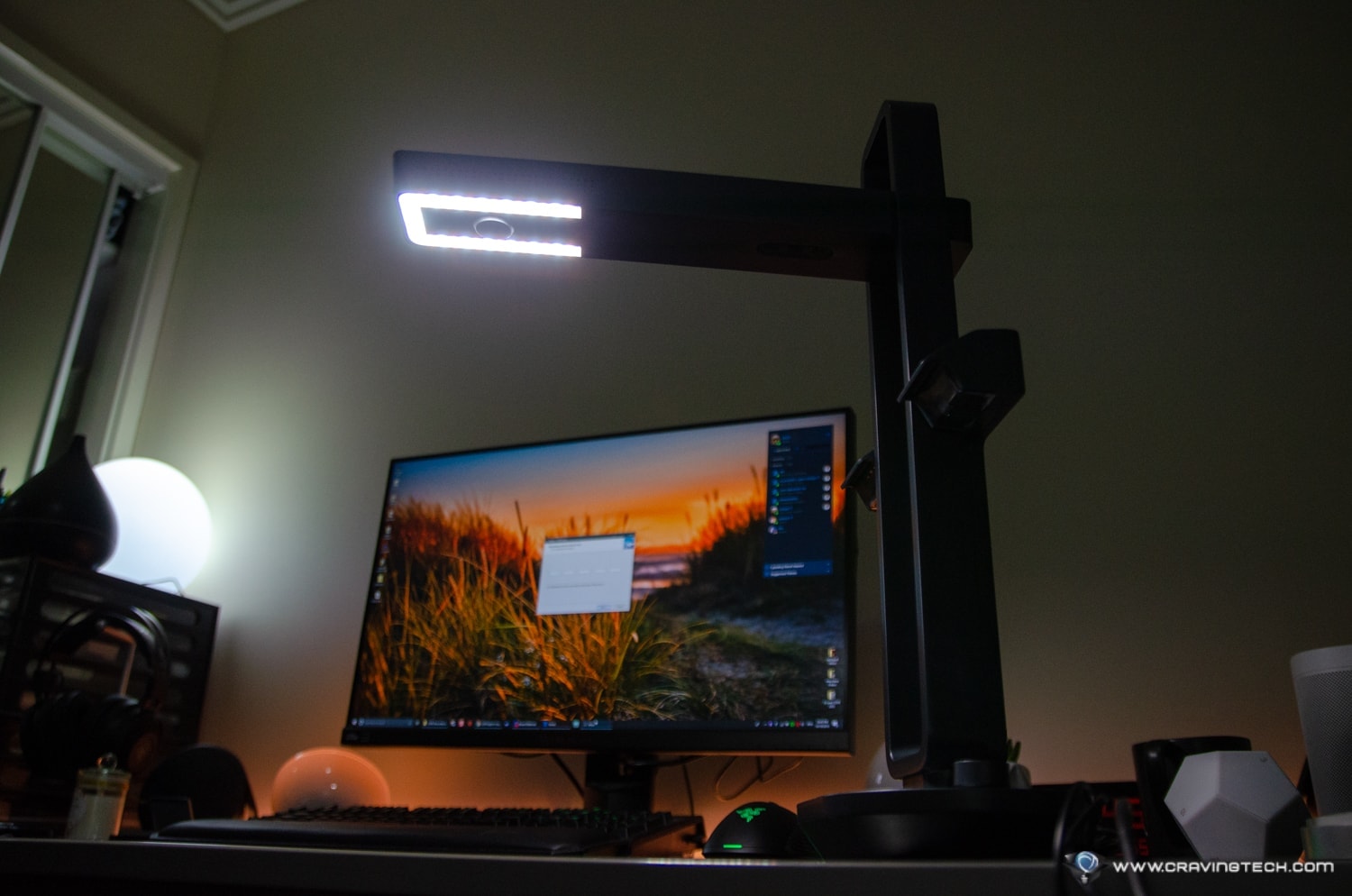 CZUR Aura is definitely full of surprises. As a desk lamp, it's stylish and offers different lighting ambience and its intensity can be easily adjusted with the knob dial. As a scanner, it offers a fast and efficient way to scan harder-to-scan items like books. The included software can convert your scans to text-readable PDFs or even Microsoft Word documents, a very powerful feature.
CZUR Aura can scan a bunch of documents, contracts, architectural drawing, and books efficiently with just the tap of your foot – leaving your hands free to flip through the next page. And when you are not scanning stuffs away, it acts as a stylish desk lamp on the desk to increase the room's aesthetics. It's like getting two different products for the price of one!
But note that CZUR Aura doesn't do the highest quality scans for photo scanning, so if you are a professional photographer and looking for scanners to scan your work, then you might want to pass on this one.
The design and what's included in the packaging show that the team behind CZUR Aura has definitely thought all scenarios & possibilities through, and have gone through various testing conditions. As a result, CZUR Aura doesn't disappoint in doing what it does best and with the help of CZUR Proprietary AI Algorithm and Software Technology, you'll do half the work of having to adjust and re-align your documents every single time.
Make sure to visit its Indiegogo campaign page and order while it's on special price before the launch!
Disclosure: CZUR Aura review sample was supplied for reviewing but all opinions are mine and not paid