Disclosure: Brought to you by Nuffnang and Epson
Epson WorkForce WF-7620 Review – Epson's new line of PrecisionCore inkjet printers are here to challenge laser printers in terms of speed/performance, cost, and quality. The new technology allows high quality printing, thanks to the Micro TFP (Thin Film Piezo) print chip which is normally used in commercial large-format printers.
At the heart of PrecisionCore printers is the ability to print dots as small as 1/100 the thickness of a human hair for an unbeatable detailed printing at its finest. Along with affordability, these high-performance printers are perfect for both personal and professional use. Bringing technology from high-end commercial printers to consumer printers is no small feat, so I love what Epson has done to revolutionise the printing industry.
Epson PrecisionCore printers offer up to 50% lower printing costs and 70% lower energy cost than laser printers. We all like savings as much as quality, so these should bring a smile to your face. For SOHO (Small Office/Home Office) use, PrecisionCore printers are perfect for delivering quality and performance with less expense in the long run.
To test it all out, Epson has kindly sponsored me an Epson PrecisionCore printer, the WorkForce WF-7620, to try the technology out. And I wasn't disappointed.
Features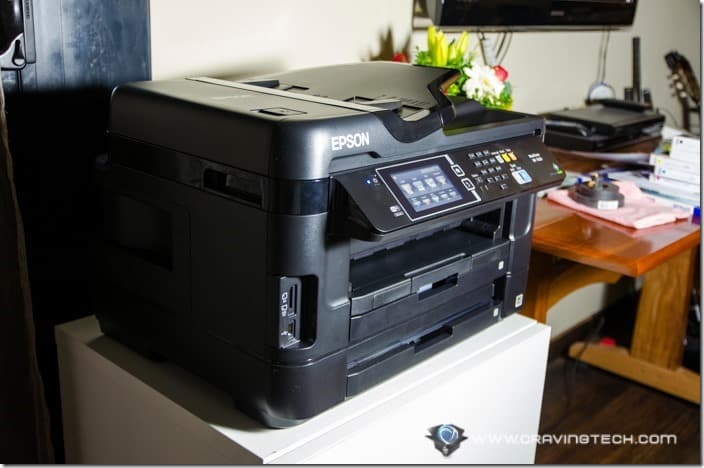 Any PrecisionCore printer is a 4-in-1 printer which supports printing, photocopying, scanning, and faxing. By owning one, you can save plenty of workspace area by throwing your fax machine and scanner away.
Most interactions can be done through a somewhat simplistic interface on an LCD touch screen. I like how simple to understand the menus are and how responsive the touch screen is.
Printing on any of the PrecisionCore printers can be done through different number of ways:
Wi-Fi Direct: Directly print from any Wi-Fi enabled device, straight to the printer (without a wireless router). This is for those who don't have a wireless router at home (or at the office).
Wi-Fi: If you are connected to a local Wi-Fi network, you can connect the printer by going through the Setup menu on the LCD screen.
Apple AirPrint and Google CloudPrint: Using my iPhone and a free Epson iPrint app, I could easily send a photo in my Photo Library straight to the printer. Both the app and the printer will warn if you haven't chosen the right paper format for the job. You could even send an attachment (like a PDF document) in Mail straight to print using the iOS 7's Share option. It's simple and magical.
Epson Connect – print from anywhere. You can take a photo from the other side of the world and print it straight to your printer at home. Or print related documents for your staff in the office while you are at a client's meeting miles away.
USB connection, an external USB flash drive, or an SD card. Place your files in and print away.
This flexibility means you can pretty much print from anything, anytime, with just a few steps needed. It makes printing simple, fast, and fun.
The WorkForce WF-7620 supports printing in A3, has 2x 250-sheet front loading paper trays (500-sheet capacity in total), and a rear specialty tray for handling specialty media.
The printer will automatically prompt you to set a tray's paper format and size every time you load one in.
Printing Quality
Being an Inkjet printer, I'm totally amazed at the printing quality. Epson was kind enough to send me some premium glossy and matte photo papers so I could test printing some photos out.
Epson WorkForce WF-7620 in action, printing on an Epson's Matte A4 paper:
On a Premium Glossy: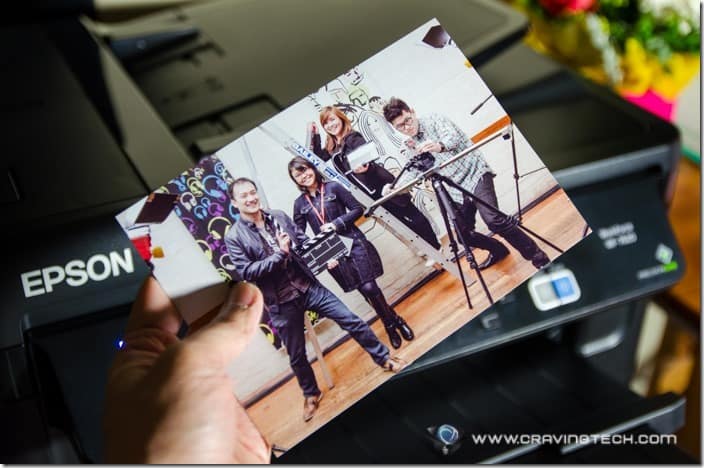 The prints were pretty quick and I could instantly hold the photos as they made their ways out to the output tray. And oh, the details were staggering. They look so good that you should now stop going to a photo printing service. Or in fact, you can probably open up your own printing business with this print quality.
I've also tested printing some documents out though I assumed you'd be more excited seeing photo print-out results. According to Epson, the printer can print around 32 pages-per-minute (Black only, A4) or 20-pages-per-minute (Color, A4).
Should you ever run out of inks, original ink cartridges and papers can be bought over at Epson's Shop Online (you can monitor the ink levels at any time). The standard capacity cartridges cost around $19.99 each and allow you to print approximately 300-350 pages.
Epson PrecisionCore Printer (WF-7620) Review Conclusion

Epson wasn't boasting when they mentioned about their PrecisionCore technology being better than laser. I almost swore an oath to never go back to Inkjet printers but the Epson PrecisionCore printers have won me back over, a hundred times.
With such high performance, versatile ways of printing, and superb quality, there are plenty of reasons to grab a PrecisionCore printer. I honestly haven't covered everything in this review. I haven't even mentioned that you can scan a document or photo and save it straight to a hooked USB flash drive. Or that it can support printing envelopes. There are lots to talk about and it feels like there is nothing that this printer cannot do.
Starting at $249 for the entry level printer (i.e the WorkForce WF-3620), you'll definitely get more than what you expect out of these PrecisionCore printers. To find out more, check out Better than Laser page.
If you own a PrecisionCore printer, how would you put it to use?