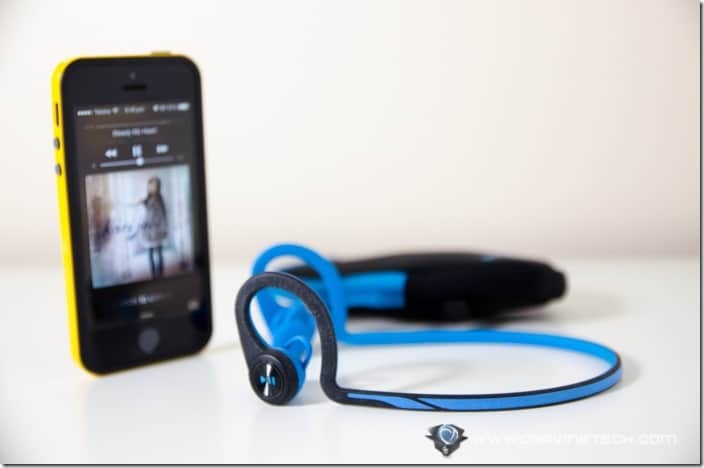 Plantronics BackBeat FIT Review – Listening to music has now been a part of our daily lives. We listen to it while we work, sleep, or even during an exercise. The problem is that listening to music while you jog or lift weights with a regular, wired headset does not offer the most enjoyable experience.
Cords get in a way, sweat sticks around, and so on. With those points in mind, Plantronics have the answer for you: the BackBeat FIT.
Plantronics BackBeat FIT is a wireless stereo headset with sweat proof design, made specifically for those who like to be active. Whether you like to jog or workout in a gym, BackBeat FIT will fit right in (pun intended).
It comes in 2 bright shiny color themes: Blue and Green (the review sample I have is the Blue, which thankfully matches my running shoes – if you care about that sort of thing). They might release more colors in the future (Pink, perhaps?) but for now, it's either Blue or Green for you. I do like the overall bright and vivid color on the FIT. They stand out and make the headset shine.
BackBeat FIT also comes with a neoprene carrying case that can be transformed smartly into an armband case, so you can strap it around your arm and carry your phone (or mp3 player) within. As a carrying case (say, when you are traveling for business in your suits), the outer layer will be in black for subtlety and the strap can be snugged safely inside. As an armband case (say, when you jog or gym after work), the outer layer will be in bright blue (or green) color.
These bright colors (on the headset and armband case) are not just for the looks, however. On the road, especially at night, they quite stand out (especially if you are wearing the armband case), so they are also for safety. The bright layer will give plenty of warnings to car drivers or cyclists while you jog.
To further improve safety for joggers/runners, BackBeat FIT's eartip design let you hear your surroundings, rather than letting you be completely immersed in your music. Those who like a complete noise isolation from the outside world will not like BackBeat FIT. Sounds from traffic such as cars' engines, truck's breaking, or trains passing can be heard clearly, making it harder to listen to a podcast outdoor. However, this is necessary and intended for safety reasons.
Outside, you do need to listen to your surroundings clearly – such as sirens or when someone shouts at you. For music listening, though, this won't be a big deal because the volume is loud enough for you to be able to enjoy your music. For a home, office, or quiet environment, however, BackBeat FIT is not the best headset to pick.
BackBeat FIT can also be used to answer and make calls (Siri on iOS works), thanks to its built-in microphone. There are no noise and wind cancellation mics like the ones in Voyager Legend, so you may have to speak louder on a windy or noisy environment. I did have an occasion once when my caller couldn't hear me on a windy Melbourne morning.
The headset, according to Plantronics, has "up to 8 hours of listening time, 6 hours of talk time, 14 days of standby time". It also has a DeepSleep mode that will put the headset to hibernation to prolong battery for weeks. In my tests, however, the battery doesn't seem to last that long (not even a week even if I only use it for about an hour a day listening to music) but I probably need to do more tests in the weeks to come. I like how the headset powers itself off after about 10 minutes of inactivity (such as when you turn the Bluetooth off on your smartphone).
The controls are also intuitive and minimalist. You can do pretty much everything with just a few buttons on the headset, which includes going back to the previous track or skipping a track to the next. The headset is also comfortable to wear though I find that the BackBeat 903+ is still more comfortable (but it was made with different materials so probably rather unfair to compare). There are also no smaller (or larger) ear tips and I find that the ones they ship in the packaging are a bit too large for my tiny ears. They don't cause discomfort because they are not supposed to go into your ear canals, but I've always been a fan of smaller ear tips and wish there is a choice given.
Plantronics BackBeat FIT Review – Conclusion
I love how I can now jog without having to hold my phone in my hands, thanks to the handy neoprene armband case that can be transformed into a regular carrying case. There are no dangling cables to be felt on my chest as well and thanks to the reflective design, I know I can be seen clearly by the drivers on the road.
Even when I don't jog, I can still use and wear BackBeat FIT to listen to my music while I commute to work and go to the gym. You may need to make sure that it has plenty of juice before you exercise, however.
Disclosure: Review sample was sponsored for the review. All opinions are mine and not paid.
[AMAZONPRODUCTS asin="B00KJLMBQQ"]