Doxie Go SE Review – Doxie is a portable scanner that you can easily carry with you to scan documents, photos, receipts, etc.
We've covered almost every single Doxie scanner unit here at Craving Tech (such as the Doxie Go Wi-Fi, Doxie Flip, and Doxie One) for the past few years and always been satistifed with the quality, portability, and simplicity.
The latest and newest Doxie Go SE takes all the good things from the previous models and combines it into a single product that will work with any setups you have at work, or at home.
Doxie Go SE Review – Packaging
Doxie Go SE Review – Design & Features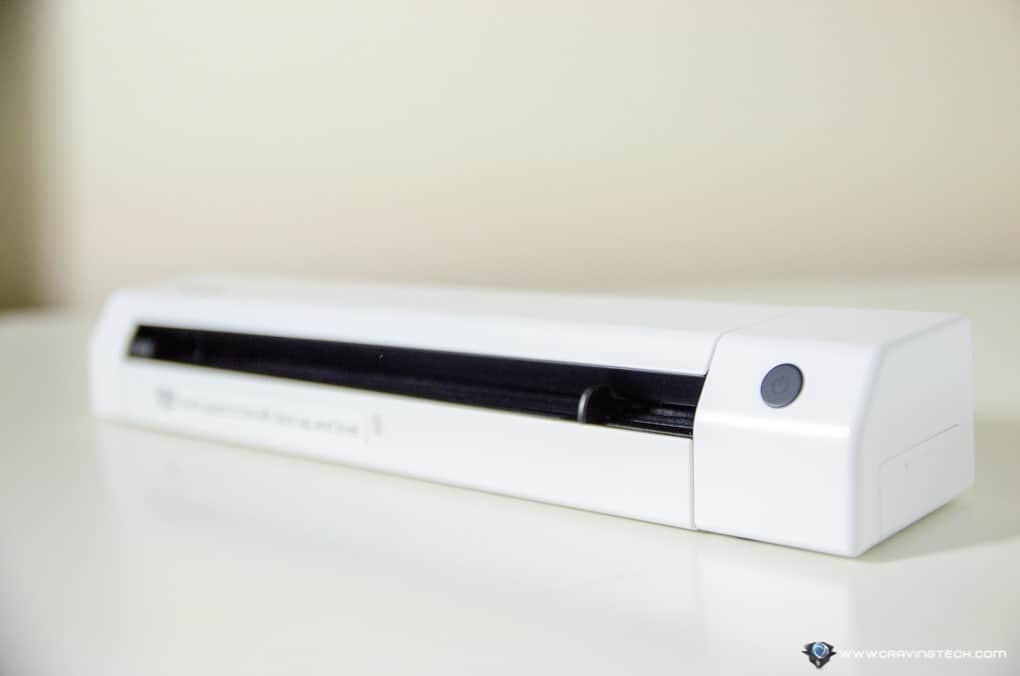 Doxie Go SE (like the other Doxie products) is a portable scanner that you can carry in a bag or backpack to scan documents, photos, or receipts wherever you go. Or if you plan to use it at home or at work, it has a small footprint that would not take much space at all on the desk.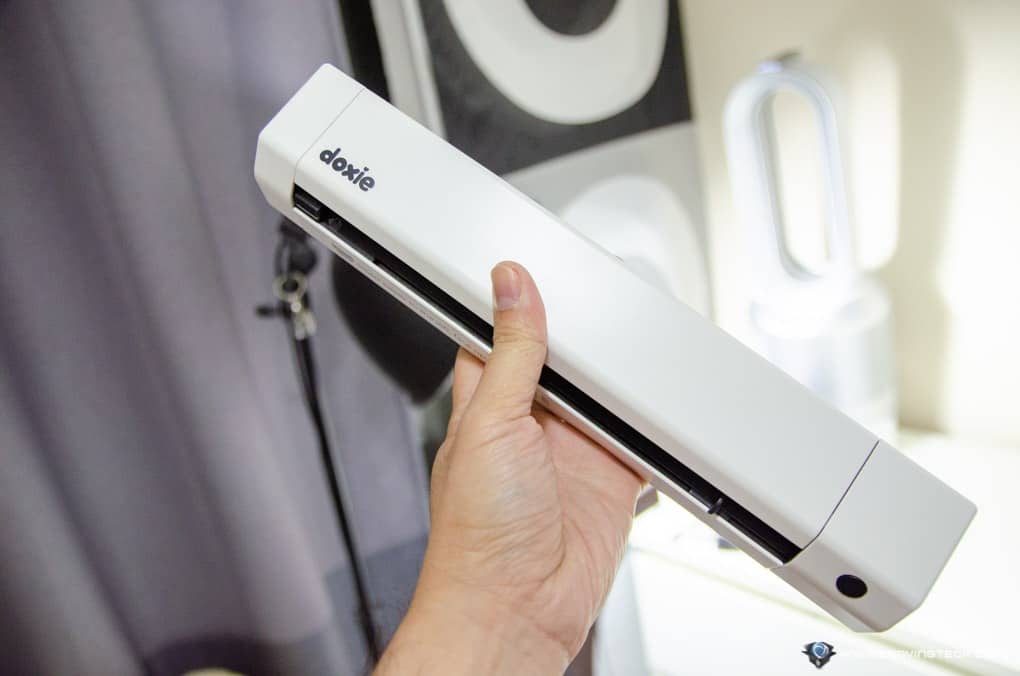 Unlike most scanners that need to be hooked up to a computer, Doxie Go SE works fine on its own. It has a rechargeable battery inside (charged through a microUSB cable) so you can use it cordless and keep the cable somewhere else. According to Doxie, the battery can last around 400 scans per charge.
All scans will be stored inside an SD card (included) automatically where you can sync or copy them whenever you want to. I usually take it out and insert it into my PC's card reader, but you can do a Wi-Fi or App sync so you'd never need to take the card out, ever (only in Doxie Go SE Wi-Fi edition, which is the review sample I have here).
For Wi-Fi syncing through a PC, you can connect to the Doxie's Wi-Fi access point or make it connect to your home or office Wi-Fi using the guide here.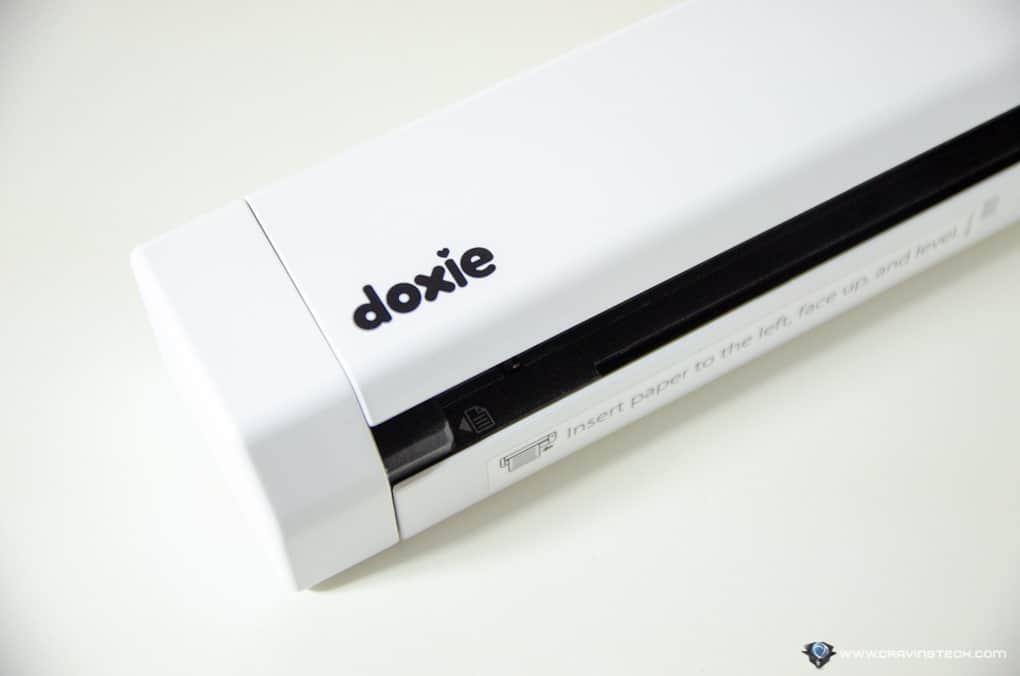 It also offers another interesting feature which is its integration to iOS app that allows you to scan and send your scans to Dropbox, Evernote, iCloud Drive, or Microsoft OneNote. Really nifty.
You can also go "traditional" and sync your scans via USB (just like the original, first Doxie scanner released back in 2010).
Scanning is straight forward and delivers great results in either 300 dpi or 600 dpi. Simply turn Doxie Go SE on and start feeding it with paper.
It's reasonably quick and seamless to scan too. This is done with 300 dpi, full colour scanning:
Scanning with @Doxie Go SE pic.twitter.com/sSIGKTMqVd

— Michael Aulia ?? (@michaelaulia) June 25, 2018
With the camera technologies in smartphones these days, I find myself quite frequently using Scannable app to "scan" some documents with my iPhone X. However, sometimes there are challenging items such as a terms and conditions section in a contract (i.e pages with many, tiny texts) or a long receipt from the Dentist or Harvey Norman. Using a phone app, I'd get awkward results and sometimes texts can get blurry. This is where Doxie shines and still relevant.
The good experience does not stop here. Doxie app (free, can be installed on Mac and Windows) also has these nifty features for your post-scanning tweaks:
Auto adjust and make corrections to your scans (brightness/contrast, etc)
Staple multiple scans into a single PDF file with multiple pages (which I use all the time)
Create searchable PDFs thanks to the integration with ABBYY OCR technology.
I've scanned quite a good variety of documents and receipts with the Doxie Go SE and impressed with the results. I could also tweak the scans to make sure they came out perfect in the final export.
Doxie Go SE Review – Conclusion
Doxie Go SE is a rechargeable, portable, and handy scanner to have at home, at work, or while you are travelling for business. Scanning with Doxie Go SE is really simple and straightforward – just turn it on and start feeding it with papers.
It's also versatile enough that you can adjust your scans to perfection and upload them to many of the supported platforms such as Evernote, OneNote, and Dropbox. Or you can export it as JPG/PDF and attach them to emails.
With Doxie Go SE + Wi-Fi Edition, you can take this experience further by syncing all your scans via Wi-Fi – which is handy if you don't have a card reader or travelling with a laptop.
Compared to an app using the smartphone's camera (like Scannable, Office Lens), Doxie definitely scans better in terms of quality. Plus, you can get awkward results if you are using a phone app for scanning long receipts or documents with many, tiny texts on a single page. For scanning contracts and formal documents or letters, I'd definitely suggest using a proper scanner like Doxie!
Doxie Go SE + Wi-Fi is a complete package to professional, mobile scanning!
Disclosure: Doxie Go SE + Wi-Fi review sample was supplied for reviewing but all opinions are mine and not paid