Apple iPhone X Review – Apple iPhone X is one of the most anticipated iPhone releases as it offers an all new edge-to-edge design with OLED screen, wireless charging support, and more.
I've been using the iPhone X since its launch day (3 November 2017) and loving it so far. I'll try to skip explaining what's new and get on to my impressions, since you are probably well aware of them by now.
But before that, I apologise for having the Moshi Airfoil Glass screen protector on my iPhone X shots.
Apple iPhone X Review – Packaging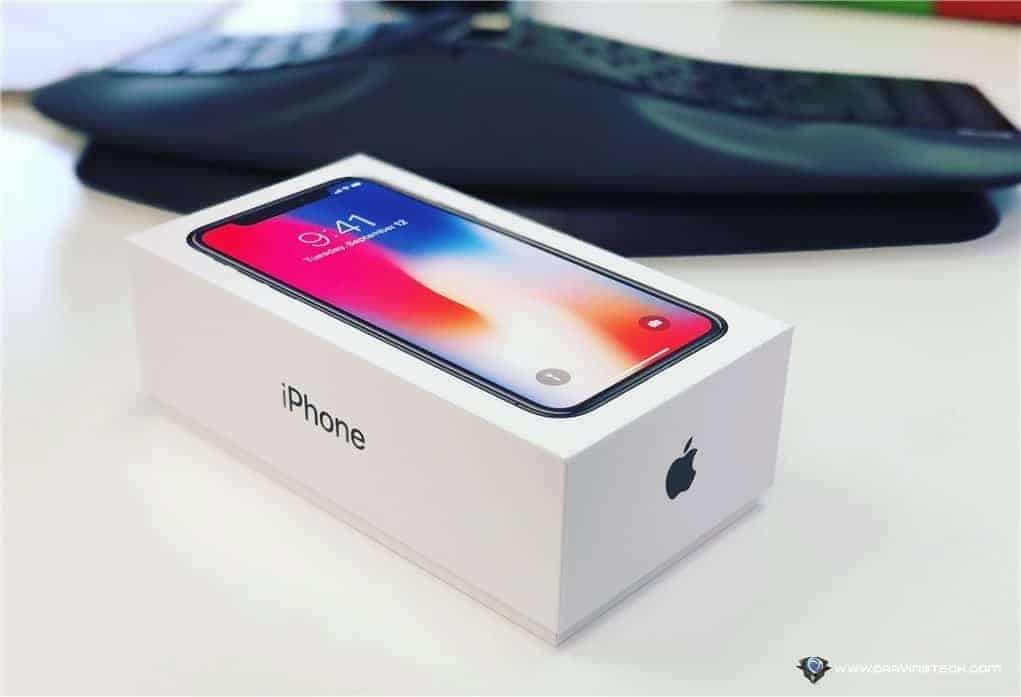 Apple iPhone X Review – Design & Features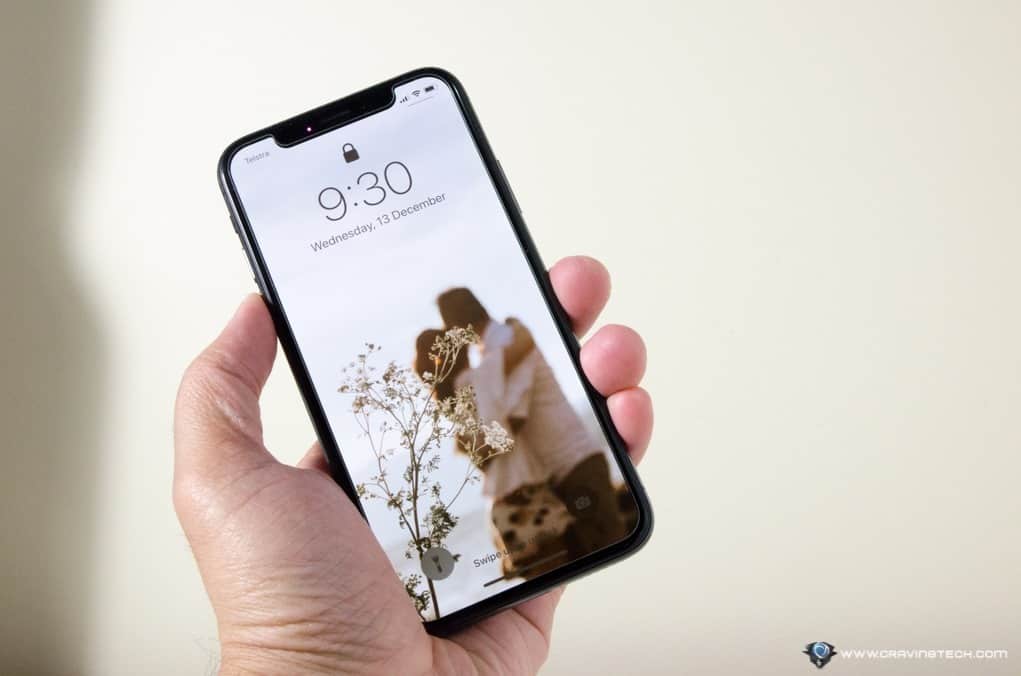 After using the iPhone 7 Plus for many months, the iPhone X feels smaller and even though the screen looks like it's actually bigger, it doesn't feel that way sometimes. When you are in a chat app, there's this gap at the bottom that takes some screen space away for your gestures (since there is no more Home button now).
However, when you are watching a video or using apps that take advantage of the whole screen, the experience is doubled. In my opinion, the notch is not a bother and people overreact too much. It does feel funny at first when you watch a full screen video with the notch covering a small part of the video, but you can always double-tap to make the video "smaller" and make the notch go away.
FaceID is definitely a worthy change from TouchID. I do find TouchID can unlock my iPhone a bit faster than TouchID, but looking on the screen does not feel like doing an extra step like putting your thumb on a Home button to unlock. So it somewhat gives you a feel of speed and seamless.
There are times when FaceID works really well, and sometimes there are times when you need to repeat the process. For example, if you place the iPhone X on the desk, you now have to forcefully move your head/face in front of it. Or if I put my hands on the chin while unlocking, FaceID will not work.
Considering how TouchID does not work when your fingers are wet, it's a fair trade-off and after a while, the experience is kind of similar with FaceID (i.e you'll be required to use your PIN code every now and then).
However, one thing that I like most about FaceID is (no, not Animoji), is how notification contents stay hidden unless if FaceID recognises my face and I'm also looking at the screen. This is great because sometimes you place your phone on a table and a notification from a chat app can pop up. If the content is confidential or your friends are not supposed to read it, there is no way to prevent this from happening. Now, the contents are locked and they can't even see the recipient.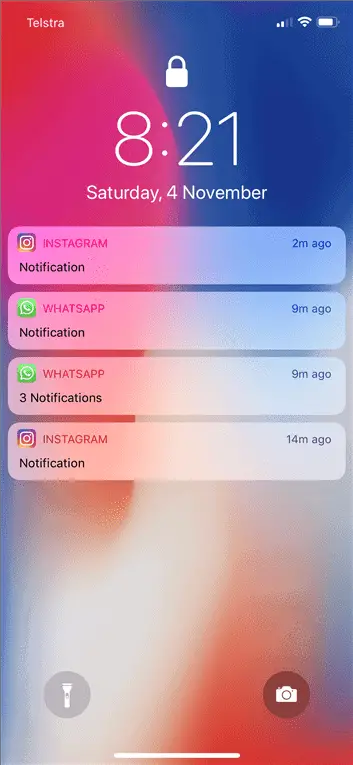 Overall, Apple's FaceID is definitely a breakthrough in facial recognition as it's fast, secure, and seamless. Compared to Samsung's Iris Unlock (in Samsung Galaxy Note8 – check my review out) which requires exact distance, angle, and X seconds to unlock, or other facial recognition system that can be fooled by a photo, Apple's technology is at least a year or two ahead from the competitions.
Here's a short video showing how FaceID works by The Verge:
Here's how the iPhone X's Face ID works pic.twitter.com/MbcpFPe7JA

— The Verge (@verge) November 4, 2017
Without the Home button, there are new gestures to learn but I found that I was adjusting to these new gestures really quick, and they feel natural. In fact, it's so natural that if I hold a different touchscreen device, I end up using iPhone X gestures even when it does not support it. I don't reallly like the extra steps needed to close an app from the Most Recent apps screen, and going back and forth from one app to another is not always consistent (i.e swiping from left to right if you have not interacted with the app/screen, or left-to-right and then right-to-left if you have).
I'm also amazed at the iPhone X speakers' loudness and clarity. Upon playing the new Justice League trailer when I got the iPhone X, I was completely blown away. The iPhone X managed to output rich sound and I could even hear the atmospheric details (such as the breeze of the wind, birds chirping) clearly without having to place the phone next to my ears. It's a definite step up from the previous generations and should have been highlighted more by Apple. I watched a whole Netflix movie inside my car once and the experience actually felt amazing (PS: I never wanted to watch a movie on a phone).
The OLED screen is also amazing and different than other OLED screen smartphones. Apple said that they have calibrated and perfected it, so, even though it's Samsung who manufactures the OLED screen for Apple, Apple has done something to it to improve its colour accuracy and contrast. Compared to the Samsung Galaxy Note8, the colour feels more natural and brighter when you take the phone out for an afternoon walk outside.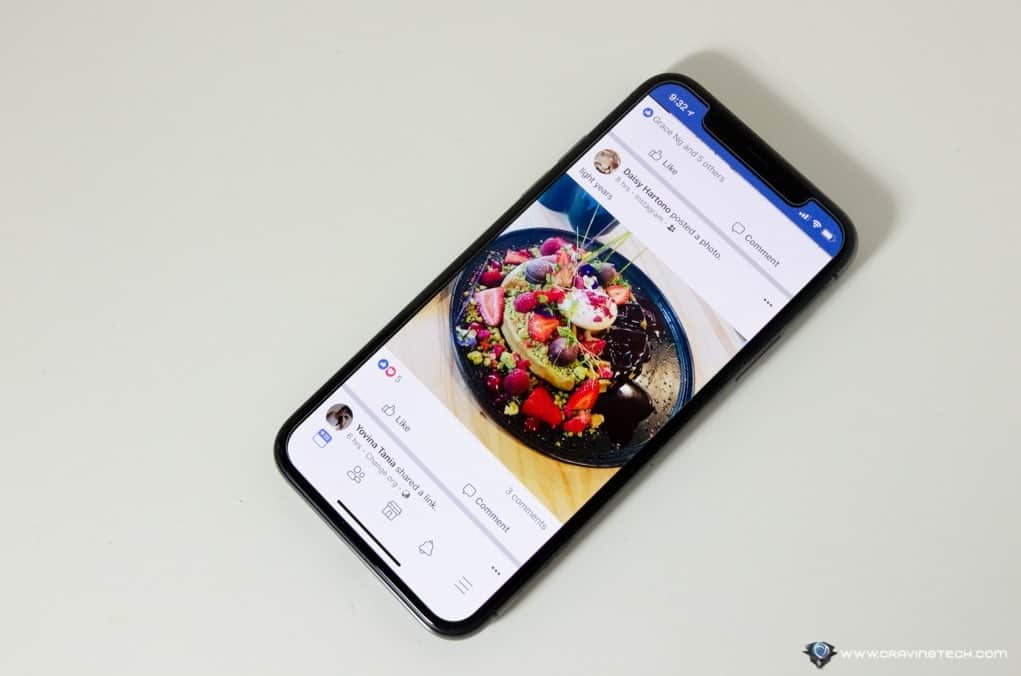 While the new iPhone X is now mostly covered in glass, that does not mean it's more durable. In fact, it's as fragile as any other smartphones. However, I do like gripping the iPhone X as it does not feel as slippery as the iPhone 7 Plus, or the iPhone 6s. The new body design is also because Apple has enabled wireless charging on the iPhone. Unfortunately, the phone is very pricey this time so I've put on a Caudabe Veil XT slim case.
Sure, wireless charging is not new but iPhone owners can surely rejoice now, especially that all Qi-compatible wireless charging pads work with the iPhone X. I've tested some wireless charging pads and they all work flawlessly: Belkin BOOST UP Wireless Charging Pad and Dodocool Wireless Charger. I'm also reviewing Cygnett POWERBASE and it's working great.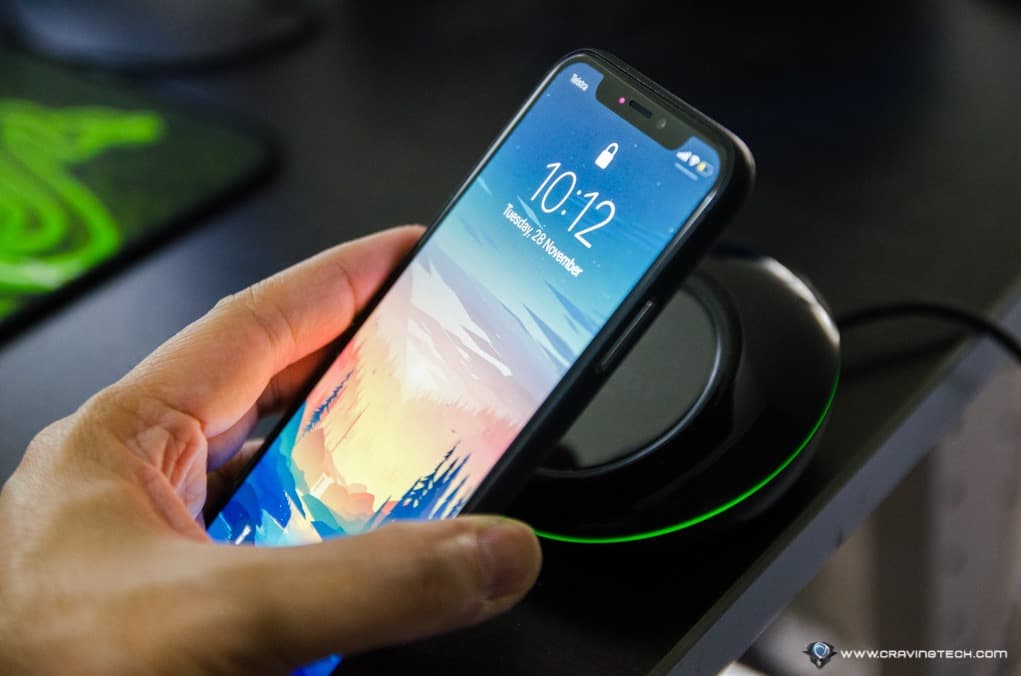 Though wireless charging is not new, Apple is known as the trend setter. Once they've enabled wireless charging on the iPhone product line, we'd expect all hell to break loose. More wireless charger products will be available, and expect more free wireless charging pads at public places too. It's a great news all around, even for Android users with wireless-charging-capable phones.
Apple iPhone X Review – Camera
This time, Apple has also added OIS (Optical Image Stabilisation) on the iPhone X Telephoto Lens, giving Portrait photos an upgrade in low lit situations and iPhone X also shoots much better quality photos overall compared to the previous model. But let results speak themselves – here are some photos taken by my iPhone X (unedited, except a resize).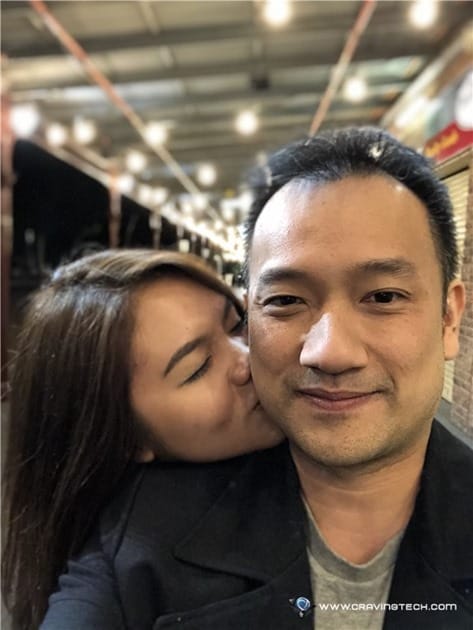 Portrait Mode:
Wide Angle Lens: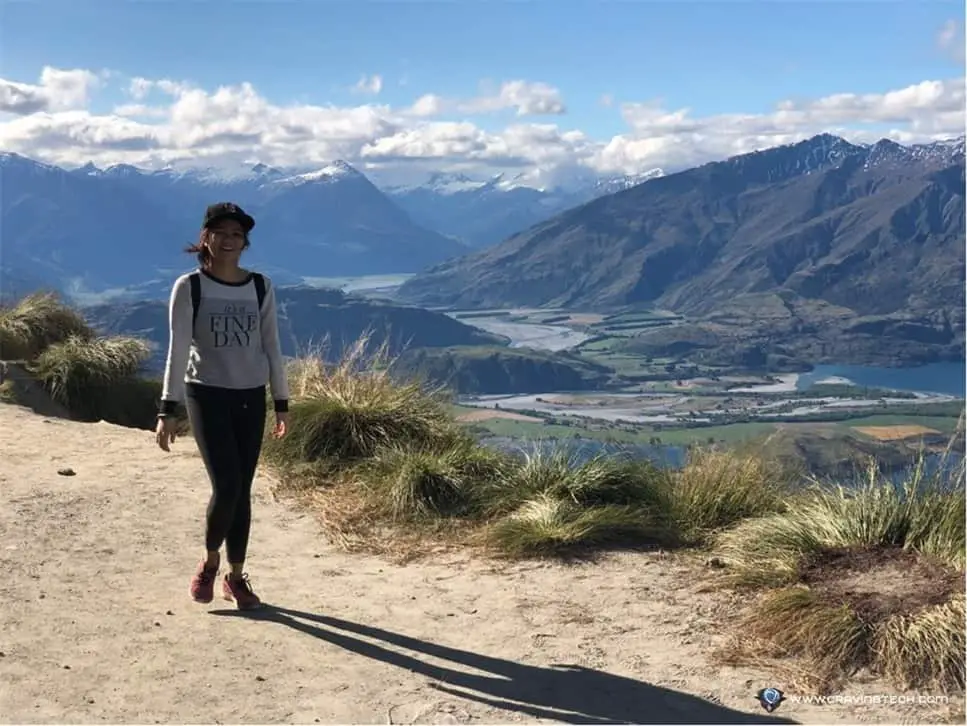 Low Lights:
Panorama shot at Roys Peak, New Zealand: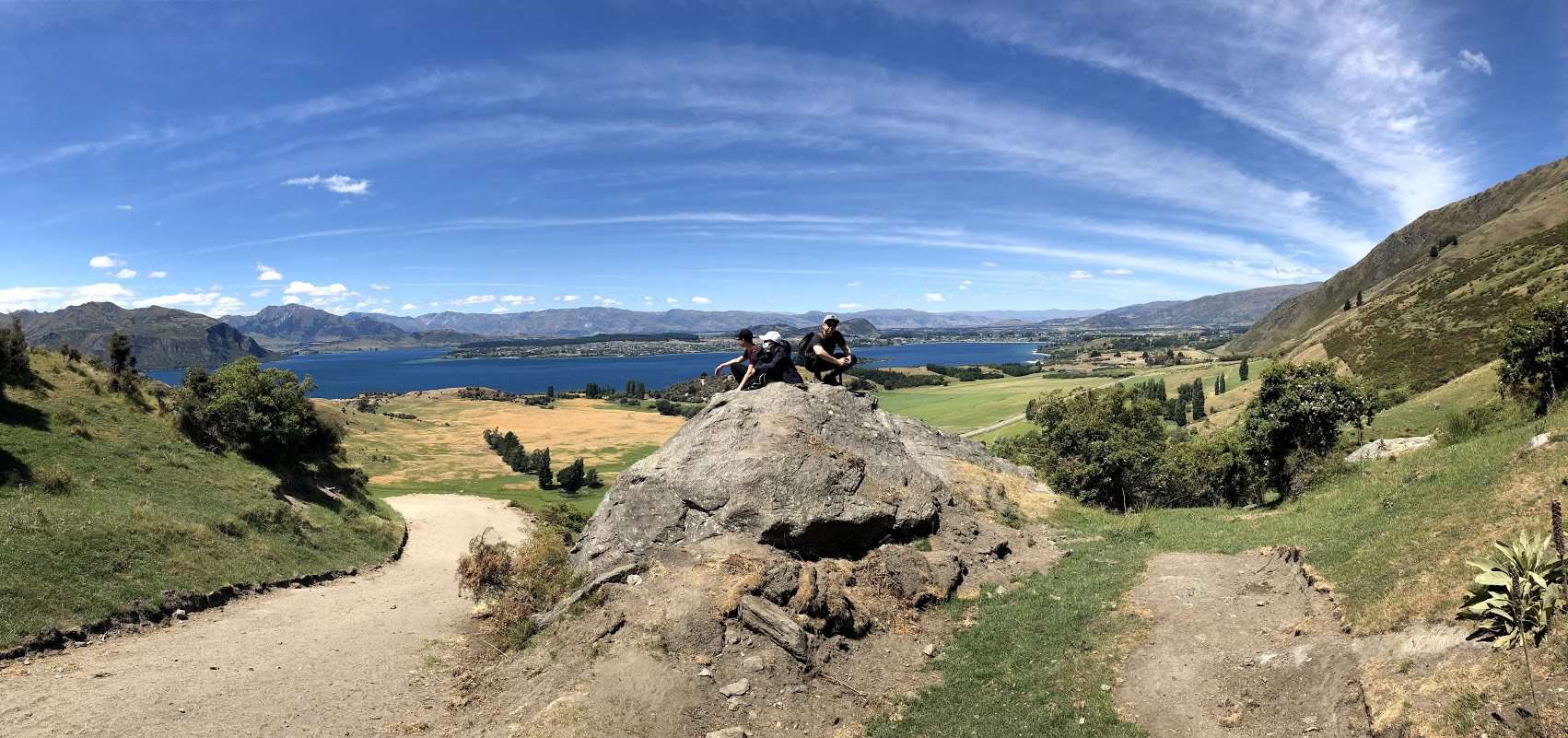 I also shot many short video clips using the iPhone X during our New Zealand trip last week (1080p, 30fps) and compiled them into a single video. All clips were shot by iPhone X (except the one at Hanmer Spring, shot on the iPhone 7 Plus):
iPhone X Review Conclusion
Apart from the new design and the changes, iPhone X is a very powerful phone and if you check the benchmarks, they are off the charts. In fact, the iPhone X is said to be more powerful than the new MacBook Pro. It shows when you intereact with the phone – everything is really smooth with no lag noticed, even when you quickly scroll or do every gestures like swiping from one app to another.
As we'd probably all expect, each iPhone iteration means better, faster iPhone and this time, it's no different. I do find that if you already have an iPhone 7 Plus, there is no apparent need to upgrade to an iPhone X if you are on a budget. However, if you are an iPhone or Apple fan and you have the money, you will not be disappointed with the iPhone X. The size is perfect in hand, it shoots better, sharper photos and clips, buttery smooth experience and performance, and supports wireless charging so you can just place your phone on a charging pad while you go to bed.

A couple of gestures are awkward and you now have lots more actions to remember (how to take a screenshot, how to activate Siri, how to force restart, etc), but we are hoping iOS 12 to save the day by bringing something new and cool for the iPhone X and beyond. I really like Samsung's "Always On Display" on the Galaxy Note8 that takes advantage of the OLED screen's battery saver. Hoping Apple can come up with something too.