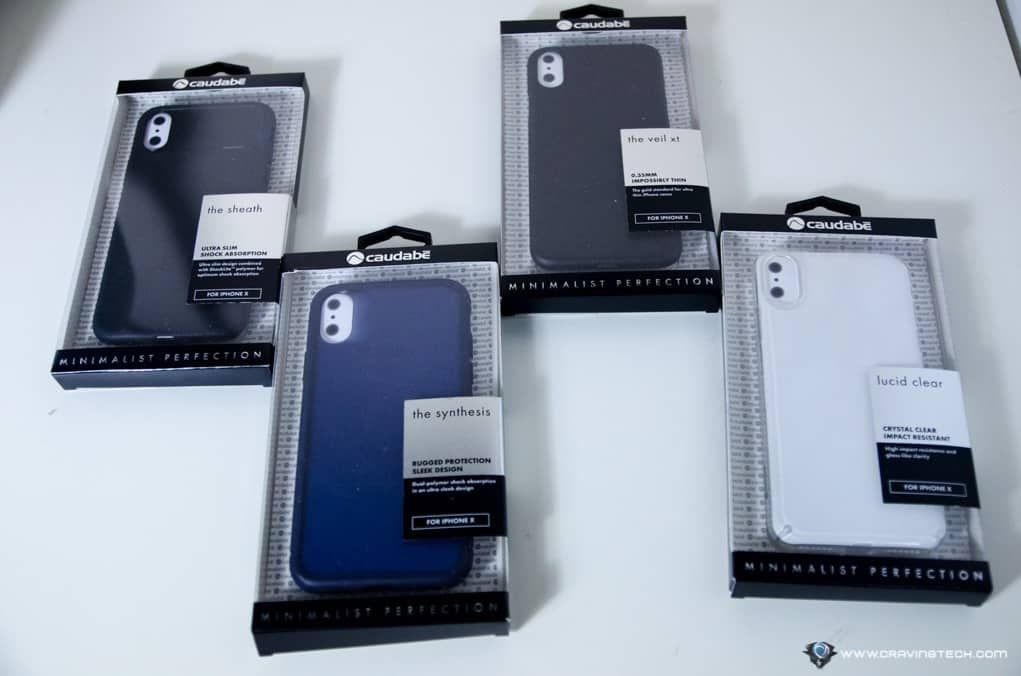 With numerous amounts of iPhone X cases out there, Caudabe is offering minimalist options that I really love. Caudabe cases are not bulky and it also features one of the thinnest/slimmest iPhone Case out there.
I was loving the iPhone 7/7 Plus' Caudabe The Veil XT case before I got the new iPhone X last Friday. (UPDATE: Check out my iPhone X review if you haven't).
So if you are thinking to get an iPhone X case from Caudabe, here are some of their range of cases.
Caudabe The Veil XT for iPhone X
Still my favourite, The Veil XT for iPhone X is very slim and thin. At a mere 0.35mm in thickness, it looks as if your iPhone is not wearing a case at all and it's the thinnest case that Caudabe can offer at the moment.
It fits like a glove and you'll be surprised how many friends of mine did not even realise I'm wearing a case on my iPhone X when I had The Veil XT. Obviously, it does not give the highest amount of drop protection, but if you are a minimalist like myself, you'll love The Veil XT thin profile.
The buttons are also uncovered so you are pressing the iPhone X hard buttons themselves, making the experience feels like home.
Caudabe The Sheath for iPhone X
The Sheath is thicker than the Veil XT, upgrading its protection level a little bit further. It's 0.55mm thicker than the Veil XT (i.e 0.9mm thickness), but it has better shock absorption.
According to Caudabe, it has also been drop-tested from 2 meters (6.6 feet). It has a laser etched, carbon fiber pattern next to the rear camera. I believe it's also there to protect the massively bump rear camera.
The buttons are covered for added protection, but making them a bit stiffer to press as a result.
Caudabe Lucid Clear for iPhone X
Like the Sheath, the Lucid Clear has been drop-tested from 2 meters / 6.6 feet, despite of its fragile looks. The case itself is in fact, a hard plastic which material is being used in bulletproof glass, making it highly durable from impact and all that. I do find the material is kind of prone to hairline scratches, but at least your phone is safely protected.
It also gives a nice transparent look to your iPhone X body. If you are the type who don't like to see the iPhone's engineering beauty covered by case materials, this is it.
Caudabe The Synthesis for iPhone X
But what if you want the best protection Caudabe can offer, without being too bulky like an Otterbox case, for example? Well, the Synthesis case is the answer. The case has been drop-tested to 3 meters / 9.8 feet. Now, 1 meter difference (compared to the other two cases mentioned above) may not sound much, but it's a huge difference, considering how fragile your phone is.
According to Caudabe, the case is "a fusion of a soft, flexible perimeter manufactured from ShockLiteTM, our shock-absorbing polymer, and a hard, micro-etched, matte back shell". 
The Synthesis is definitely the most rugged among the four, giving plenty of protection and you'll feel it. All buttons are covered but at the expense of making them even stiffer to press. It's also harder to reach the Mute toggle on the iPhone X when it's on this case. But if you drop your phone every now and then, or worry about dropping it, than this is the case that will give you the safest of mind.
If you look at the case closer, it offers a lot of little details that you might have missed at a glance. It has unique design all around to protect the specific part of the phone, such as the rear camera, or the screen itself.
And most interestingly, every case I mentioned here on this post supports wireless charging. Yes, including the thicker Synthesis case! So, head off to Caudabe website to pick on the case you like the most, and most importantly, fit your needs!
I'd strongly suggest getting the Veil XT if you are not of the clumsy type, or always take good care of your iPhone in the past. It's slim profile is just too good to pass on! But if you want more protection, get a pick based on what you like most – especially the looks.
Disclosure: Caudabe iPhone X cases were supplied for reviewing but all opinions are mine and not paid