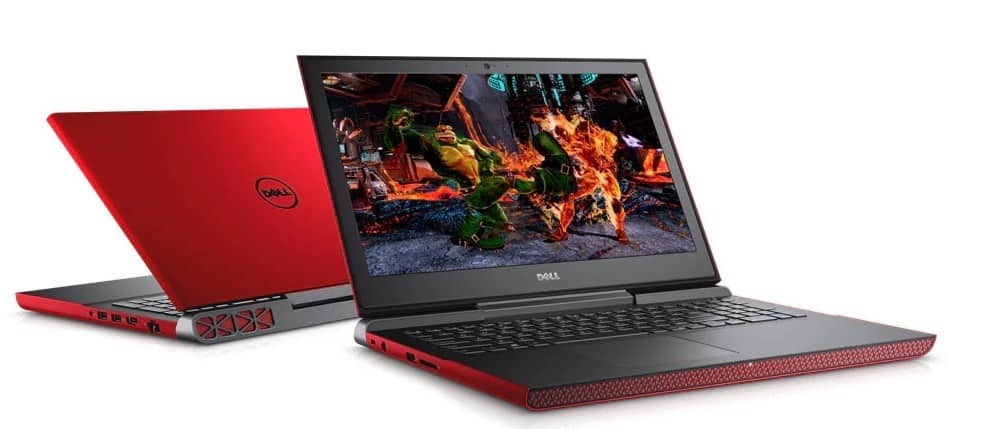 Dell Inspiron 15 7000 Review – This is my very first time to review a Dell gaming laptop. Dell, a computer manufacturer company that owns Alienware (which is a top end gaming laptop brand), is now making a gaming range laptop available for the consumer market.
Here are the four things that I find outstanding on the Dell Inspiron 15 7000 (7567) during my 2-week period with it.
Dell Inspiron 15 7000 Review – Build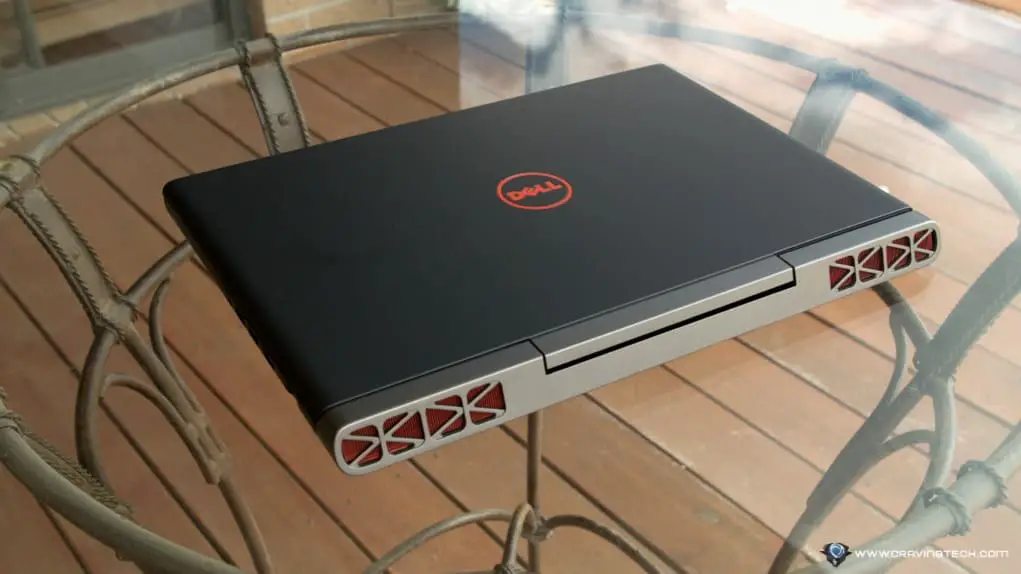 Dell Inspiron 15 7000 is truly a laptop with a solid build, full stop. Overall, the laptop construction is mostly hard plastic but feels sturdy. Flex is really minimal unless you give it a deliberate force. I can comment that Dell Inspiron 15 7000 build quality is above average than the other laptops with similar build material. Kudos to Dell's engineering here.
The Dell Inspiron 15 7000's lid is a soft touch hard plastic finish with a red Dell logo (without backlighting). The red accent can also be found on the rear and front sections of the unit. There are two colour options available on the model: Black and Red. I prefer the classic colour on this review unit I have here, which is black.
Dell Inspiron 15 7000 Review – Upgradability
I think upgradeability is one of the very distinct points that Dell wins over the other laptop brands in my opinion. There is room for upgrade with the easiest attempt to do it. The Dell Inspiron 15 only has one single screw to give you access to all of its internal components.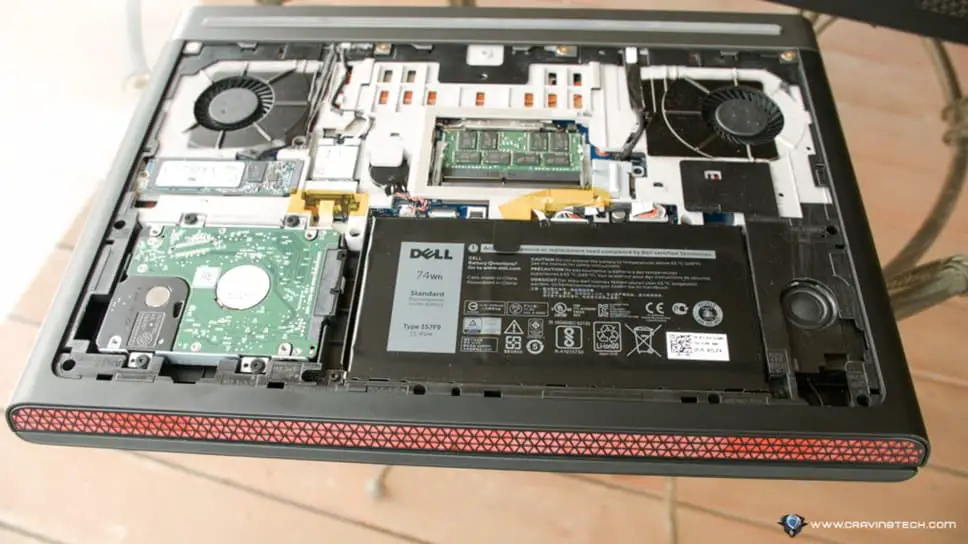 You have an option to upgrade the memory to 32GB of RAM, a faster M.2 storage, and a faster 2.5" SSD. You can even clean install the dual fan which should accumulate dust as the time passes.
Dell Inspiron 15 7000 Review – Display
Dell Inspiron 15 7000 comes with an IPS panel instead of TN (which is not what I expected). There are clear advantages with IPS panel such as better colour reproduction and wider viewing angle compared to a TN panel. But with that, the IPS panel doesn't offer high refresh rates like a gaming TN panel. No G-Sync here unfortunately, but that would shoot the price to the roof.
So, what makes Dell Inspiron 15 display great then? The display offers a space in the market for both casual gamer and content creators which require decent quality display in a laptop. It also comes with an SD card reader, which is perfect for content creators.
Furthermore, an anti glare coating on the panel is a breeze of fresh air – making it more bearable to be taken outdoor than a laptop with glossy screen (which reflects lights and offers a rather annoying viewing experience). Unfortunately, the coating introduces a slight colour shift which can be a deal breaker for serious content creators who demand a 100% perfect colour accuracy.
Dell Inspiron 15 7000 Review – Performance
Dell Inspiron 15 7000 comes with a Quad core 7th generation Intel Core i7 7700HQ at 2.8 GHz speed (with turbo boost to a maximum of 3.8 Ghz), an NVIDIA GTX 1050Ti 4GB with Pascal chip, and 16GB DDR4 RAM. It's a beast of semiconductors combination for gaming and video content editing!
Gaming wise, getting 60fps on Overwatch with the higher settings is not a problem. MMO games such as Guild Wars 2 or WoW that require CPU power more than the GPU, can also be cranked to Ultra. Video editing on 4K is viable, thanks to the NVIDIA GTX 1050 Ti. GTX 1050 Ti definitely offers the best ratio between dollar and performance.
The thermal management in Dell Inspiron 15 is great due to the smart, dual heat sink exhausts design with vents located at the rear of the laptop. The fans are fairly quiet, except when the machine is under heavy load or during intense gaming sessions.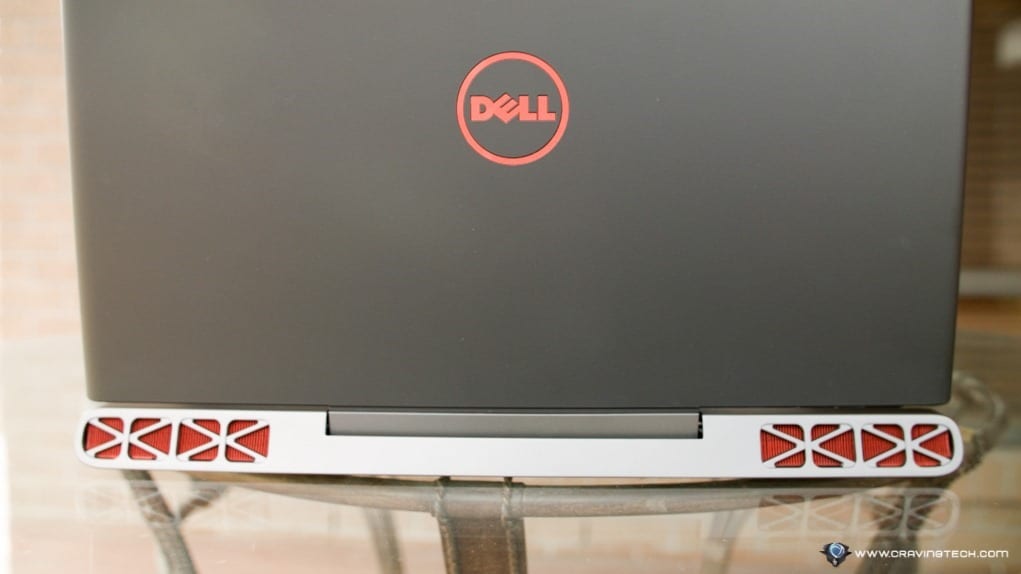 Dell Inspiron 15 7000 has a huge battery 74Whr, medium weight of 2.6kg with 25.3mm thickness. For regular use, the battery can last around 6-8 hours, but when used for gaming (30fps on battery mode), it would drop to around 1 hour.
The webcam is 720p, which is decent enough for Skype video calls. Sound output is very good when the machine is laid on a hard surface, thanks to the single subwoofer which gives that nice Bass. When placed on your lap, however, the audio can be quite muffled.
The Trackpad comes with an excellent Windows precision driver with awesome clicky-feel around the half-bottom of the trackpad, and Palm rejection detection. The keyboard keys are all backlit in Red and have 3 controllable levels of Intensity: Off, Low and Bright.
As for ports and jacks, the Dell Inspiron 15 7000 is equipped with a combo headphone-microphone jack, 3x USB 3.0 slots, 1 HDMI out, an SD card reader, an a traditional RJ45 for wired connection. Sadly, no USB Type C or even Thunderbolt 3 slots are present.
Dell Inspiron 15 7000 Review – Conclusion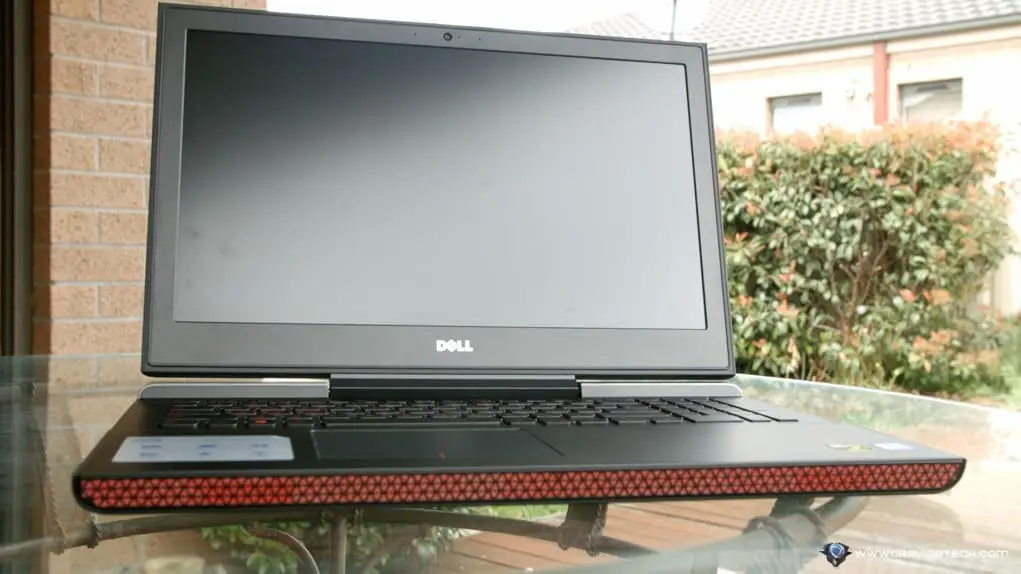 Pricing wise, the Dell Inspiron 15 7000 Gaming Laptop starts at AU$ 1,499 which comes with the i5 7300HQ and 8GB RAM. The review unit that I have here is priced at AU$ 1,999. With that price point, the laptop serves as an excellent balance between gaming and productivity such as video editing, when weight is not a problem.


My recommendation to buy Dell Inspiron 15 7000 is simple. If you're a content creator that involves in video editing and you have a budget to keep, get the Dell Inspiron 15 7000 than the Dell XPS 15 which has a more premium build and premium screen display, but less power on the included graphic card.
If you're a gamer, definitely get this laptop and save more than getting the pricey Alienware's.