Samsung Galaxy Note8 Review – It has been a while since I've got my hands on a Galaxy Note (the last one was back in 2013 for reviewing the Samsung Galaxy Note2). Our editor, Indra, reviewed the Note3.
Lots of things have changed since then and I have to say, I'm really impressed with the Samsung Galaxy Note8 and I can now see what the hype is all about. This is one of Samsung's finest creations and it has things done right.
Samsung Galaxy Note8 Review – Design & Features
Samsung Galaxy Note8 is truly a beautiful phone, thanks to its curvy glass and aluminium body. It makes the Note8 look and feel premium, yet non-slippery. The phone is somewhat a fingerprint magnet due to the materials, but easily wiped and cleaned.
One of the best features of Samsung Galaxy Note8 is definitely the edge-to-edge display that Samsung calls "Infinity Display" with 18.5:9 aspect ratio. With a 6.3″ display that can support Quad HD+ (WQHD+) resolution, the display is simply stunning. Samsung loves colours so we also find that the Galaxy Note8 is saturated with bright and vivid colours. As a result, icon colours, photos, and videos really pop on the screen.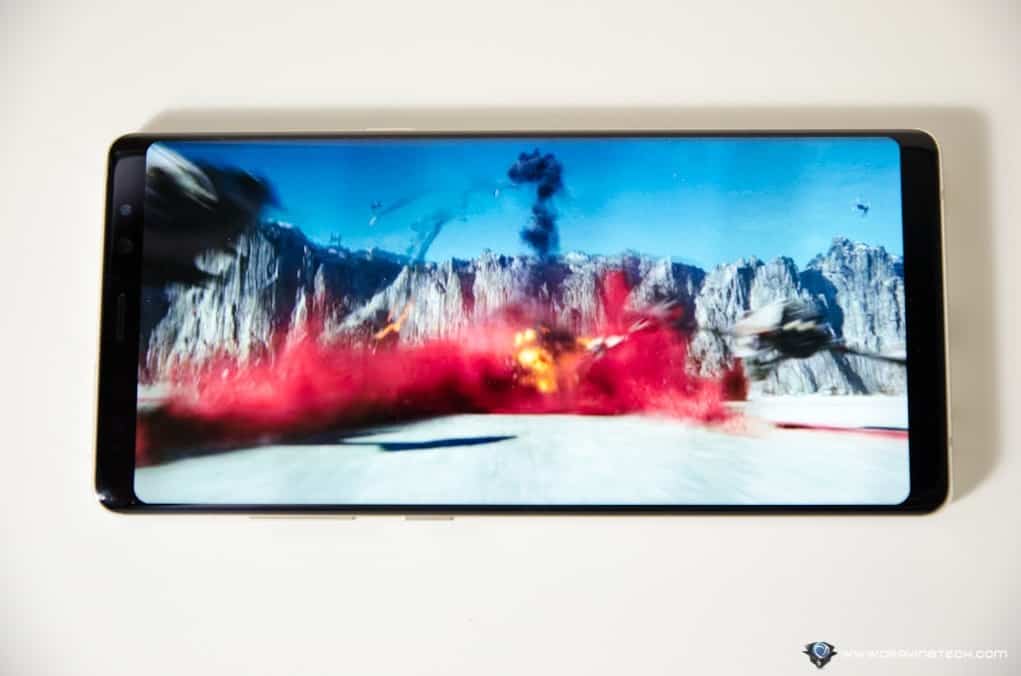 When I got my hands with a Samsung Galaxy Note2 back in the days, it felt quite large for daily use (when the term "phablet" was still a thing). However, things have changed now and I'm really in love with the Note8 gorgeous and expansive display.
I personally really like the "Always On Display" that displays app notification icons and date/time (customisable) when the phone is on standby. By utilising the AMOLED screen's technology that does not use power to display black pixels, Samsung manage to keep the power consumption to a minimum (probably around 1% of battery life per hour or two?).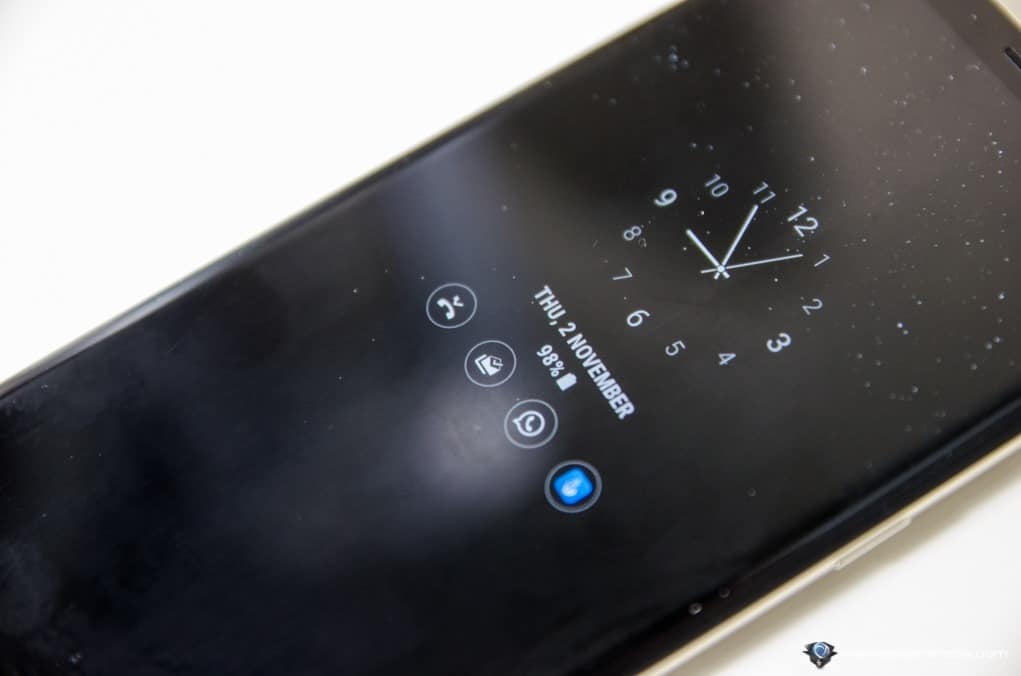 The "Always On Display" can be turned off but I really find it pleasing to look at and useful at the same time. Rather than having to wake the phone and periodically check any missed notifications, I can just have a quick glance to decide whether I should take actions and respond to the notifications. The feature sounds gimmicky, but it's not.
Performance wise, everything is so smooth that I couldn't find any faults or stutter anywhere while I'm using the phone, even while scrolling through my endless Twitter stream. As Samsung calls it, "Powerfully fast"!
The S Pen is obviously the main highlight of getting a Samsung Galaxy Note8. If you like sketching or jotting down ideas with a pen and paper, then you'll definitely love the Note8. I rarely used it when reviewing the device, but I did like how I could take the S Pen out when the phone was on standby and started writing notes on the screen.
The note can then be pinned to your lock screen which is a great, quick reminder that you can trash after! The experience in writing and sketching is also smooth.
And now, the Camera. Galaxy Note8 gets a high score from DxOMark and it's easy to understand why. The camera takes stunning pictures, thanks to the dual lens camera with dual OIS (Optical Image Stabilisation). As a result, Portrait photos (or Samsung calls it "Live Focus") look sharp and amazing, even in low lit condition.
Zoom:
Food shots:
Low Light Shots:
You can also adjust the background blur after taking the shot, which I thought I wouldn't care, but ended up liking it a lot. For example, when you take a portrait with a landscape background, you can adjust the background blur intensity later to make the background more prominent, or less.
These are Samsung Galaxy Note8 big features, but the phone actually offers much more such as wireless charging, Samsung Dex Station support that connects your phone to a TV or PC, Bixby voice assistant, more S Pen functionalities, Multi Window mode, etc. You'll explore, find, and love these extra things as you are using your Note8.
And oh, I also like the Game Tools that let you mute notifications when you just don't want to be disturbed when playing games.
The fingerprint sensor is in an okay position, at least it's not in the middle so I can use my finger-muscle memory to scan without problems. I also tried Iris unlock but not too happy using that as it requires quite a precise positioning in terms of distance and angle. The fingerprint unlock is definitely faster to unlock the phone.
Samsung Galaxy Note8 Review Conclusion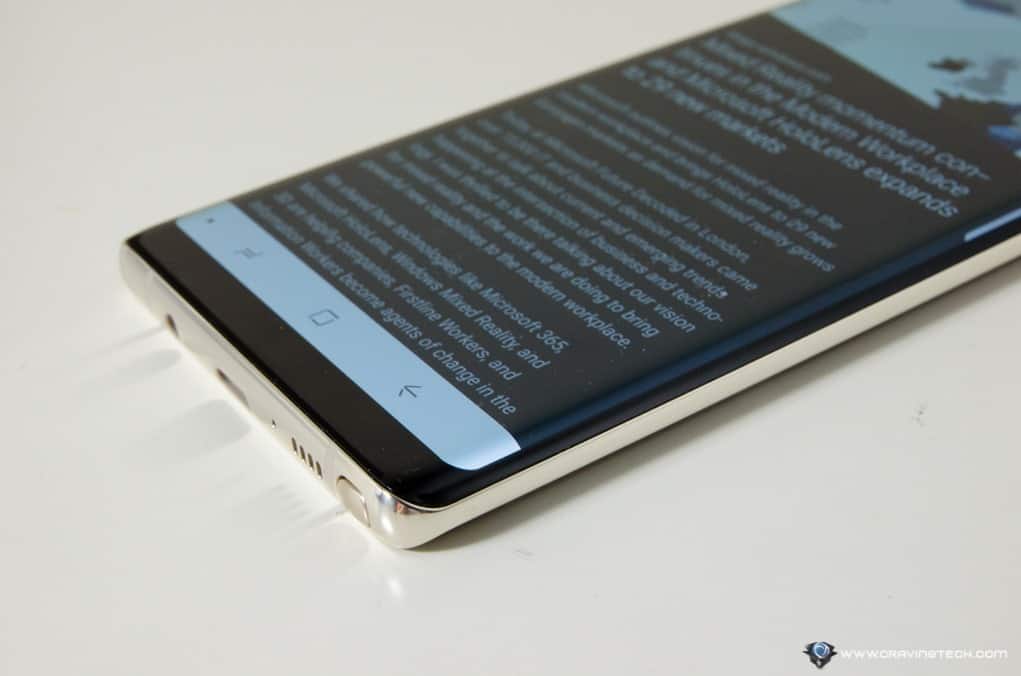 Samsung Galaxy Note8 is definitely a monster powerhouse running the Android operating system. It offers the best experience on an Android phone, thanks to its performance, edge-to-edge screen which brings immersion, and dual-lens rear camera that takes great shots that will be talked and compared-to by reviewers for many months to come.


If you don't use the S-Pen, I believe the Samsung Galaxy S8 offers similar features and performance, but with slimmer footprint and design. But if you want the best of the best that Samsung can offer, even having the S-Pen will be very useful in certain situations. For example when someone calls and you have to write a note (and you are not on your desk), simply take the S-Pen out and scribble directly on screen. It's that simple and useful.