Samsung GALAXY Note 3 is my very first "phablet" that I have ever used. Having used GALAY Note 3 for a few weeks now, I have compiled a few interesting things, personal thoughts, and wish lists on this new handset.
There are some items in Samsung GALAXY Note 3 box that deserve some noticing:
1. Charger
Samsung GALAXY Note 3 uses a new iteration of the microUSB that is microUSB 3.0. This cable allows faster charger whilst also transferring data at a faster speed when connected to a computer.
The smartphone is still compatible with the existing microUSB 2.0 charger.
The USB power plug is the same as the others from Samsung GALAXY range with the USB plug on the side, which in my opinion can pose an issue when placed next to other power plugs. It just so happens that in my current circumstance, my other chargers seem to be playing quite nicely with it.
2. S Pen Refill Kit
The box also contains what I call the S Pen Refill Kit, which might of something new to your eye if you are a new user of Samsung GALAXY Note range.
The packet does contain a QR code, however using this QR code might be proven a challenge. First, there seems to be no QR reader app installed in the handset (none could be found in the apps, widgets, or even using S Finder). Then, after I finally installed a third-party QR reader app from Google Play, the QR code seems to be too small to be captured by the camera, and using the zoom did not work as it lost focus. The Quick Start Guide also doesn't mention anything about this kit.
The S Pen Refill Kit has 5 S Pen replacement tips for when it becomes dull after long use, as well as the pin to help you pull it out from the pen.
3. Earphones
The earphones included in the box are of standard inclusion of the Samsung GALAXY range. The earphones have standard long cables with several additional interchangeable tips to best suit your ears.
Samsung GALAXY Note 3 Hands-on Review
Handset
Samsung GALAXY Note 3, despite being a large 'phablet', is actually of the decent size to still allow most people to grip it well with one hand. My own manual measurement puts GALAXY Note 3 at 15cm height, 7.9cm width and the thickness of 0.9cm (on the thickest part which includes the camera).
Despite being recognised as a "phablet", it actually grips quite well with only one hand for my daily use. When compared to gripping my GALAXY S4 Active, I can actually feel the significant difference in terms of the weight and thickness: GALAXY Note 3 is much lighter and thinner.
However, using the GALAXY Note 3 on the go using only one hand is an entirely different story. When using my thumb to navigate, I would have to constantly rearrange my grip in order to reach display items on the other ends of the screen, reducing the strength of my grip on the phone. Based on my experience, if you regularly find yourself standing on a bus during your daily commute, it is perhaps not the best time to use your GALAXY Note 3.
Below are the comparison pictures between the GALAXY Note 3 and GALAXY S4 Active: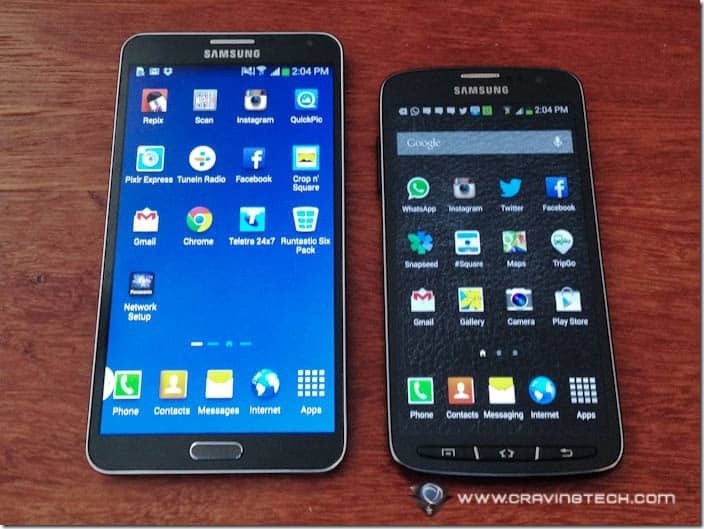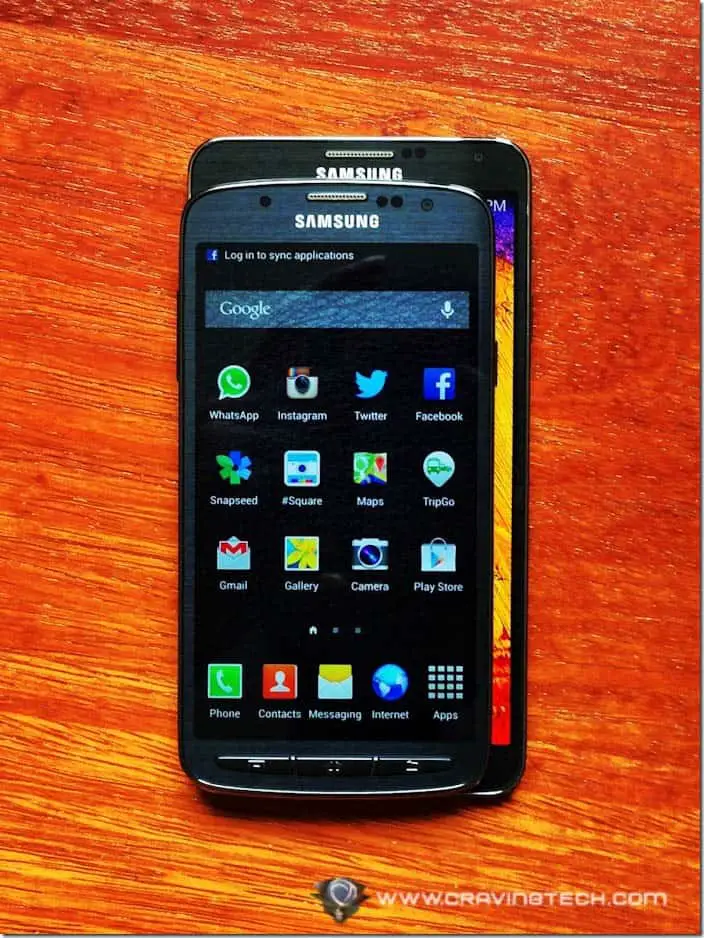 One thing that is quite unique with GALAXY Note 3 is the new, interchangeable leather-like back cover that I say is very impressive. In the functional aspect, the material feels nice and it is sturdy when hold against your palm. It also feels tougher in a sense that I no longer have to consciously think of whether or not I will scratch the back cover when I put it on a hard surface as it will not scratch (up to a certain degree).
In the presentation aspect, it looks very premium and really makes it stand out from previous GALAXY products.
Display
The GALAXY Note 3 display is very clear and I love the crisp resolution display of this device. Even pictures that are taken with lower megapixel settings look quite stunning when viewed here.
The screen size is also very advantageous. I view a lot of full-site pages and I find it very satisfying to be able to see them clearly without the need to zoom and/or scroll too much to get a clearer view.
Battery Life
The batter life is also quite impressive, considering the phone packs a big battery. With regular out-and-about use and Bluetooth turned on, I could take the device up for a whole day use and still have about one third of a battery life left.
S Pen
The GALAXY Note 3 stylus, S Pen, now has more features attached to it. When you slide it out of the phone, a round menu of S Pen options will appear at the bottom right of your screen.
The side button on the S Pen allows you to cancel and/or initiate the S Pen menu when hovering on the display screen. I did expect this button to be functional even when distanced from the smartphone, but this is not the case, as the S Pen is not connected via Wi-Fi Bluetooth or any other means.
Going forward, I would love for this button to be able to act as a confirmation selection as an alternative to tapping, especially there is a screen display feedback (the circle) when the pen is hovering the screen.
I also enjoy using the S Finder with handwriting capabilities that allows searching things extensively, with quite acceptable handwriting recognition ability (yes, there are some room for improvement).
The S Pen is also proven quite helpful in assisting my regular tasks of filling out full HTML forms that have radio buttons and checkboxes without sacrificing the responsiveness of selecting small radio buttons and checkboxes even when done very quickly.
One advantage of using S Pen is the ability to unlock your screen using a signature (although it doesn't let you use simple signatures).
One of the new features that can be used using S Pen is the Pen Window, which allows you to draw a box to open selected apps (Calculator, Clock, YouTube, Phone, Contacts, ChatON, Hangouts. Internet) on your screen on top of whatever screen you are on. You can minimise the window and make it a floating icon on your screen, maximise it, or close it when you are done with it. The feature requires an action of drawing a square on the screen, which I think is a fancy way of opening a new window.
Another feature in GALAXY Note 3 the updated Multi Window, which allows you to open two windows on your screen and cross-interact between these apps using drag-and-drop (with touch or S Pen). At the moment, the feature is very limited – I can't even drag an address from a browser to a Google Maps app. It is also still limited to only a few selected apps, although I would be confident to see this being extended to also allow third-party apps.
Overal, The S Pen is more of a "something nice" rather than necessity for most people, except for those who regularly draw on their handsets. Writing is also a lot slower than typing, especially when you (consciously or subconsciously) try to slow down and write neater just to make sure the software would get the letters right.
Camera
The camera performs quite well in many situations. Here are some pictures that I took with the Samsung GALAXY Note 3 camera: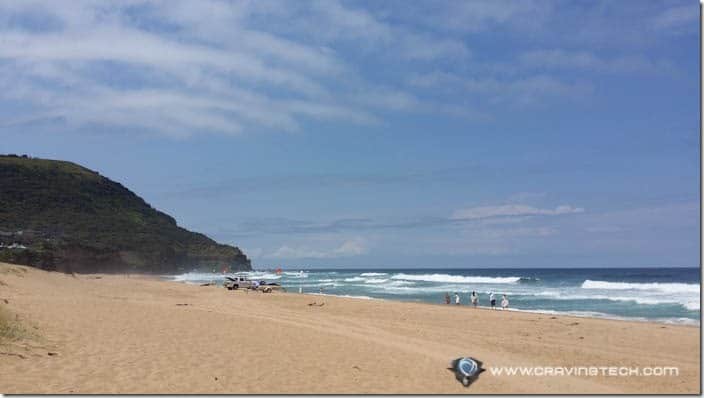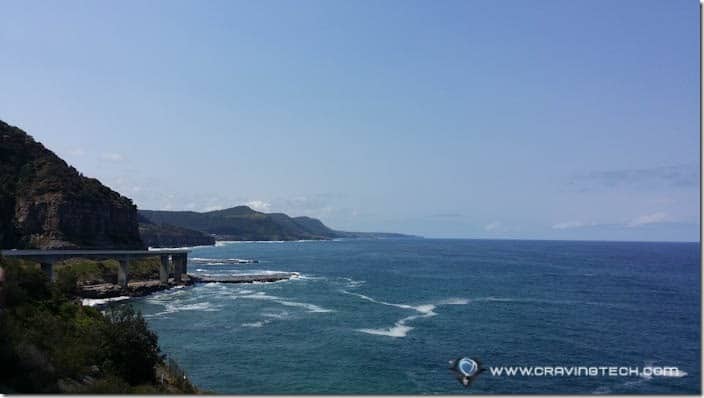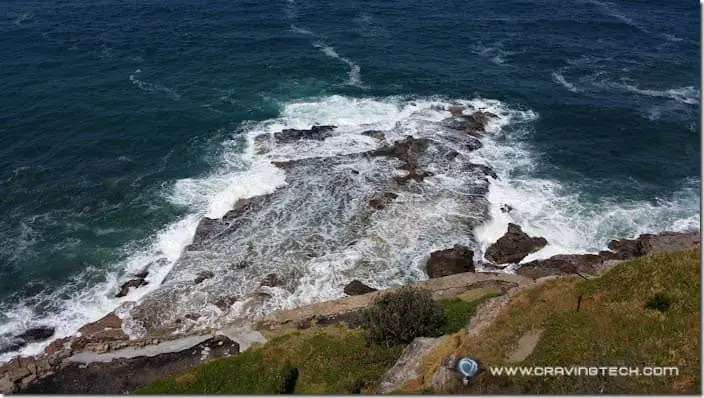 I do have slight reservations in regards to taking short-distance object shots. It has a slight delay of getting it to focus on the objects, although the software is providing a great feedback on the screen when it fails to zoom by showing a red box (plus lower-note sound feedback) if it fails to focus, and green box (plus higher-note sound feedback) when it successfully does the focusing.
Please be aware that since this is a large device, it is a little bit susceptible to stability issues when taking pictures.
Sadly, the camera app doesn't have a Night mode (perhaps because it is almost impossible to keep your hand still for a few seconds with this large device) so you are pretty much left with almost nothing to work with when it comes to taking pictures at low-light conditions.
Apps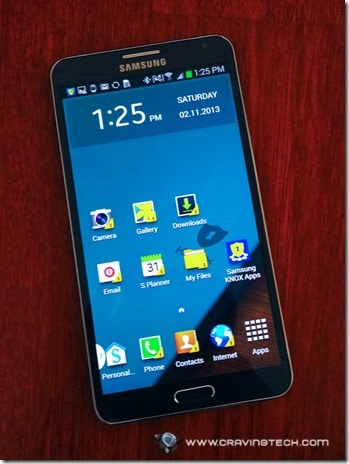 GALAXY Note 3 has Dropbox, Evernote, Flipboard and Sketchbook for Galaxy pre-installed under their Galaxy Plus folder.
In addition to the above apps, GALAXY Note 3 also comes with a link to an app called KNOX (not pre-installed). It is a "comprehensive mobile solution for work" to "keep your applications and data safe in your own secure space" by creating "another, private mobile within your device, complete with its own home screen, application, and widgets."
Basically, this free app allows you to create a container to separate your work-related smartphone activity on a different app and securing it with a password. The app feels like having a second phone with most of the features available. I say "most" because not all apps are compatible: Google Play is not there and you cannot perform screenshot on this environment. You can however download Knox-compatible apps in there (from the Samsung app).
Exiting KNOX app is as simple as sliding the top menu and click on the Exit button on the Knox notification line.
Samsung GALAXY Note 3 Review Summary
GALAXY Note 3 is obviously a good top-of-the-range device available in the market right now, with great and beautiful hardware design, well-thought features, both necessary and additional non-essential features.
I previously wasn't a firm believer of using a phablet, but after using GALAXY Note 3 for a few weeks I am convinced that this is a great product.
[AMAZONPRODUCTS asin="B00F33OE06″]