Doxie One Review – The newest portable scanner by Doxie, Doxie One, is more or less the same like their previous models, the original Doxie and Doxie Go (click the links to check my reviews on the previous models), with some subtle differences.
If you haven't heard about Doxie scanners before, it's basically a small, portable scanner that can easily be carried around while you travel and on some models, you don't even need to carry any cable to start scanning. Scanning is easy and the included free software is powerful and also easy to use. You can also convert the scanned documents into PDFs or share it on the net.
Doxie One is powered by AC power or 4x non-Alkaline AAA batteries and includes a 2GB SD card so you can scan papers anywhere.
Doxie One Review – Packaging
The packaging includes:
Doxie One scanner
Power Adapter & Plugs (US, UK, Europe, and Australia); great if you travel a lot
A 2 GB SD card
Photo Sleeve
Calibration Sheet
Cleaning Swab
USB Cable
User Guide
Doxie One Review – Design
Doxie One comes with a black finish but you can "skin" it with all sort of different colors just by paying $10 extra.
Without the skins, Doxie One itself already looks elegant and quite minimalist. It does look fairly similar with the original Doxie and Doxie Go, but if the design works, why change it, right?
It has a power button to turn Doxie One on and off, which also works as an indicator if something goes during the scanning process, when it's ready to scan, and other status indicators. It has an SD card slot (a 2GB SD card included), port for plugging Doxie One to a USB slot, and another for the power.
Doxie One Review – Features and Impressions
Doxie One is powered by a regular AC outlet or 4x rechargeable AAA batteries (which are not included in the packaging). However, it's a pity that it does not accept the regular Alkaline AAA batteries so if you are thinking to use Doxie One without connecting it to the power, you need to get the eneloop® rechargeable batteries + charger from its store ($25). I found that Doxie One would turn on but couldn't scan when I was using Alkaline AAA batteries (I wasn't aware at first that I wasn't meant to use them). Unlike the Doxie Go, Doxie One does not have a built-in rechargeable battery.
Scanning is pretty simple. Once you plug Doxie One to the power (or use batteries), you simply insert the papers you want to scan one at a time through it. The scanning process is pretty quick (less than 10 seconds) and you can pretty much queue up the next paper to the slot while Doxie One is saving the previous scan into the SD card. Scanning is pretty much seamless.
Doxie One scans at 300 DPI only (unlike the other Doxie scanners) but in my opinion, it's already good enough. The quality of the scan is superb and you can even tweak it further using the free software downloadable from their website.
With the Doxie One, you can scan as many as you like, as long as the SD card holds (of course, you can obviously swap with your own SD cards for "unlimited" scans). The file size varies but they are about 750KB-800KB each (JPG file).
To get the scans from the Doxie One, you can either take the SD card out and plug it into your computer using an SD Card reader or use the included USB cable. You can import the scans using the Doxie software to further post-process them, staple them together into a single PDF, and more. If you have one of those Eye-Fi SD card (click for my review), you can transfer the files to your computer wireless.
Unfortunately, importing these scans (either directly through the USB cable or from the SD card) take quite a while. In my test, it took roughly about half a minute just to import 4 scanned files through the USB cable. Apparently the software also applies an automatic contrast boost which makes the scans look much better, though at the expense of some extra seconds of operation (this setting can be turned off or changed)
If you don't need to bundle them together or do other funky things with the software, you can just copy the JPG files from the SD card and use them directly. However, I do find that the auto contrast boost really helps to make the scans come out better as you can see from the comparisons below. The first image is taken straight out of the SD card and the second one is exported from the Doxie software:
The only thing I wish Doxie One can do is to be able to draw power when it's plugged via USB. I want Doxie One to be able to scan while it's plugged into the computer (just like the original Doxie). Thanks to the SD card capability, scanning and importing the scans into the computer do not require much effort.
If you get the iPad SD Reader accessory (either the old 30-pin or the new lightning connector), you can import the scans directly into your iPad Photo Library (the import interface will load up once you plug the reader in).
Doxie One Review – Conclusion
Doxie One
Doxie One is an awesome portable scanner that scan papers effortlessly and flawlessly. It's really easy to use, easy to store, and the quality of the scans is also amazing. You do need to have an AC power outlet nearby to be able to use Doxie One (or get the special rechargeable batteries + charger on their store).
Unfortunately, it does not support the Alkaline batteries and you cannot scan with Doxie One while it's connected to the USB. Despite of this, however, I really like Doxie One and it's also more affordable than the Doxie Go.
In the end, you'll probably going to have a hard time trying to compare and find which Doxie scanner is the right one for you. I just wish they can make an ultimate Doxie scanner – where it has a rechargeable built-in battery like Doxie Go, option to use Alkaline AAA batteries like Doxie One, 600DPI support like the original Doxie and Doxie Go, capable to save into an SD card like Doxie One and Go, and you can scan directly with a USB cable like the original Doxie without any extra power support.
Ah well, perhaps another day.
Confused? Don't be. Check out the easy comparison page for the Original Doxie vs Doxie Go vs Doxie One. You wouldn't regret with getting either one! At the moment, if you have the money, definitely go for the Doxie Go (you can either use the built-in rechargeable battery or an AC adapter and scan like the Doxie One)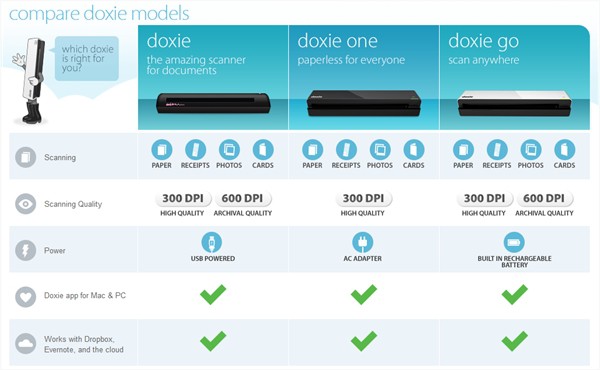 Note: Doxie One review sample was provided for the review