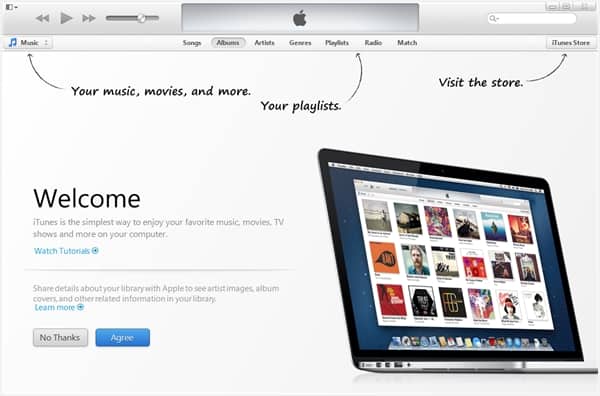 What's new on iTunes 11 – After the unexpected delays, Apple's iTunes 11 is finally here. You either hate or love iTunes. I don't normally use iTunes to play my music and I don't really fond of its complicated syncing process with my iOS devices. Nevertheless, some people love iTunes to manage their music collection, play their music, and do the other bits and pieces.
I disliked iTunes for being bloated and slow. However, iTunes 11 changes my perceptions after I finished updating it and had a play for a while.
The first thing to notice is definitely the new awesome interface. Gone were the old-style iTunes look and the new UI is somewhat refreshing and cool.
Your Library and the iTunes Store have their own full-size sections now compared to the previous. Browsing your Library (or the iTunes Store) can be done by clicking on the "Library" (or "iTunes Store") button at the top right corner.
There's a new feature called "Up Next" which shows you the next song that the music will be playing and also the ability to change it on the fly.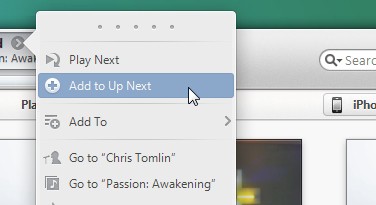 There's also a mini player now so you can use your desktop to work and push the iTunes player aside while your music is playing.
The mini player doesn't stop there. You can actually search for your songs, queue up your next music, and do other stuffs through this mini player. It's mini yet powerful enough that you won't probably ever need to switch back to the full iTunes player while listening to your music.
The new iTunes 11 feels much quicker to interact and things load faster compared to the previous iTunes. The left Sidebar on iTunes 11 is gone (at first), until you click on the "Show Menu bar" and then "View -> Show Sidebar":
This will bring the Sidebar back to iTunes 11, if you don't like the new UI change.
When you sync from an iOS device, you also need to press the "down arrow" button on the Status window to see what's happening behind the scene (again, normally you can take a peek from the left Sidebar area).
What I love best.. is that you can now drag and drop a music file to your iPhone through iTunes without having to create a playlist first (or maybe there was another way but I didn't know?)
What you need to do once you plug your iPhone (or iPad or iPod), is to go to the new section called "On This iPhone" to see all the apps, music, movies, and media on the plugged iOS device. Then there's a new button called "Add To…" to add your media straight to the iPhone. It still feels quirky, because you have to drag the file to the "On This iPhone" window and then drag it again to the iPhone's sidebar on the right to sync (why can't you just drag and drop it straight there??)
There are still other minor bugs and the old same annoyances to be fixed though on iTunes 11. For example, you can't seem to delete a music on your iPhone from the main Window (where you can see the list of all media in the iPhone). You have to go to that "Add To…" menu to delete the music.
I also saw some weird "DT" tags appearing on iTunes, next to an app or menu details. It seemed to happen rarely though as I couldn't replicate it anymore.
Also got a sync fail message once but that was not a big deal.
I think iTunes 11 is definitely a great looking music player and it's certainly heading to the right directions with all the new features, interface, and smoothness. However, it still has that same quirkiness of doing stuffs the way it wants you to do. It's still going to be hard explaining how to do an iTunes sync properly to someone who just owns an iPhone/iPad and is not technology literate.
Nevertheless, if you like iTunes or you have an iOS device, then this is definitely a must-update!