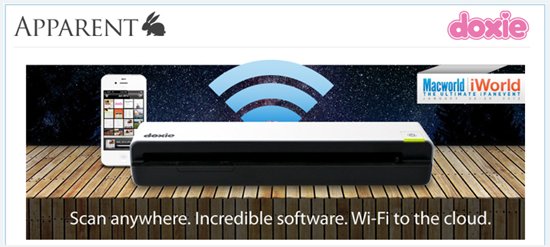 Doxie Go + Wi-Fi –  If you haven't check out the Doxie Go Review post, then you should. Doxie Go is a marvellous portable scanner but at the time the review was written, it wasn't bundled with an Eye-Fi card (which is needed to basically transfer the scan results/images into your computer wirelessly). Even better actually, you can even transfer them directly to your iPhone or iPad (through Wi-Fi) and even to Cloud services like Evernote or Flickr.
Doxie Go + Wi-Fi is priced at $239 and available to order worldwide. Packaging includes: the Doxie Go Scanner, companion software with award-winning ABBYY® OCR, and a bundled Eye-Fi™ wireless SD card. Doxie 2.1 software is included and the iOS sync app (to sync to iPhone or iPad) is free on the App Store.
When I reviewed Doxie Go earlier, there was no Eye-Fi included and as a result, I couldnt unlock Doxie Go's full potential.
A sample of the Eye-Fi card is being sent to me at the moment, so stay tuned to read my updated experience with Doxie Go!