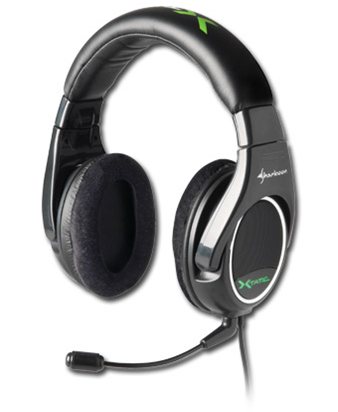 Note: This is a guest post from the writers at karaokemachineguide.com
Sharkoon X-Tatic True 5.1 – Gaming is a great hobby, but it's getting increasingly expensive with each year. In order to keep up with your competition, you need to have the right peripherals and upgrades for your home computer. That means new peripherals being added to your routine and the necessity to stretch your budget in order to buy them. It's nice to find an option that serves various purposes in one package to ultimately save you money in the long run. That's exactly what the Sharkoon X-Tatic provides, and it comes from one of the best headset manufacturers in the business. Sharkoon has built up a loyal fan base of PC and console gamers thanks to quality products that provide great value for your money.
When it comes to gaming, you need a headset that combines quality sound with flawless communication. Anything less might mean instant death on any virtual battleground these days. When people from around the world are using the best equipment at their disposal, you have to fight fire with fire. Users of the Sharkoon X-Tatic experience the advantage of customizable sound and quality chat features to make sure you're in tune with every moment of the action.
Four speakers in each earpiece and Dolby Digital 5.1 capabilities give you an immersive sound experience that takes your gaming to a whole new level. It's not just about visuals these days with your favorite games, you have to be able to hear each and every detail in order to crush your competition. There's the ability to use provided pre-sets to get into the action right away, but veterans will also appreciate the ability to add a healthy amount of customization. You can fine-tune different elements to concentrate on the most essential sounds while filtering out those that don't matter.
When it comes to chat functions, both the Xbox live and PS3 networks are fully supported. You'll be able to coordinate with teammates seamlessly while trash talking your competition at the same time. Volume is auto-adjusted so that you won't find yourself shouting into your microphone, and independent controls along the headset cord give you full access to master volume and mute functions. And since this is a non-wireless product, you don't have to worry about lag or deterioration in performance commonly associated with wireless products.
The true value in the Sharkoon X-Tatic lies in your ability to use it for so many purposes. Obviously its primary function is as a gaming headset, and it can be used across all major consoles and your PC. The sound control unit is easily connected to every major console (PS2, PS3, XBOX, and XBOX 360) and the optical output is also compatible with your PC. Even more, you can connect it easily to a DVD player, regular stereo system, or any other hi-fi device that could benefit from enhanced sound. All you have to do is attach the microphone and you've turned the product into a great set of headphones for television. And when it comes to home computing, you can use it for chat over Skype or text dictation as well. It works wonderfully with a program like Dragon NaturallySpeaking to give you a hands-off approach to basic operations or writing.
Depending on the time of year, you can find this product retailing for around $150. While that might seem expensive for some, keep in mind you're getting a multipurpose headset with a multitude of practical purposes. When you add in a lightweight design perfect for longer gaming sessions, you have a total package that pays for itself. It can make everyday computing a lot easier and more importantly for hard-core gamers, it will turn you into a competitor to be feared whenever you log into your favorite multiplayer game.
The Sharkoon X-Tactic is the best gaming headset in its price category for non-wireless products. This review comes to us from our friends at the karaokemachine guide.com where you can find further product information on home audio equipment, karaoke machines, or standard wireless headphones for TV.