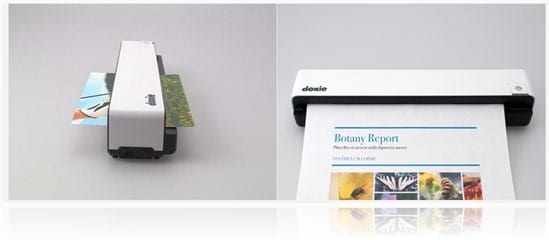 Doxie Go
Michael Aulia
Doxie Go Review – A portable, cordless, and wireless scanner.. I thought this was just a dream, until they announced the release of Doxie Go, an advanced version of the original Doxie scanner (check Craving Tech's Doxie scanner review).
Doxie Go has a built-in internal memory so you can scan anything, anywhere without the need of having a PC or notebook in front of you.
And there are still more to tell about this wonderful scanner.
Doxie Go Review – Packaging

Doxie Go Review – Design
The design is similar to the original Doxie though the "cuteness" look has been somewhat replaced with a more professional looking one (though it's still cute in a sense). Doxie Go is portable to carry around on the go and the fact that it doesn't actually need a cable to scan until you import them, makes it even easier to carry.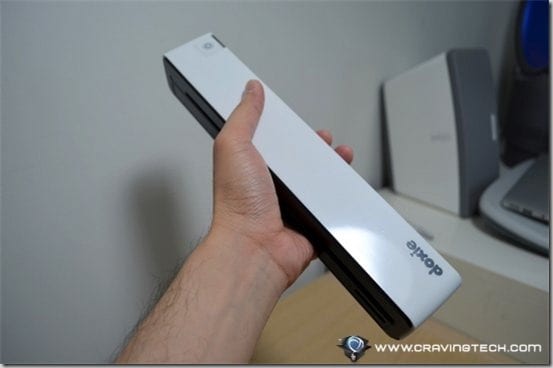 There is only one button – which is the power button to turn Doxie Go on and off. The same button is also used to change the scanning resolution from 300 to 600 dpi and vice versa.
The power button will change green to indicate scanning in 300 dpi and orange for 600 dpi.
Doxie Go has a built-in internal memory to hold roughly up to 600 pages or 2400 photos (based on 300 dpi color scanning). However, you can choose to scan into a USB flash drive or an SD card as Doxie Go provides a USB slot and an SD Card slot at the back of the body.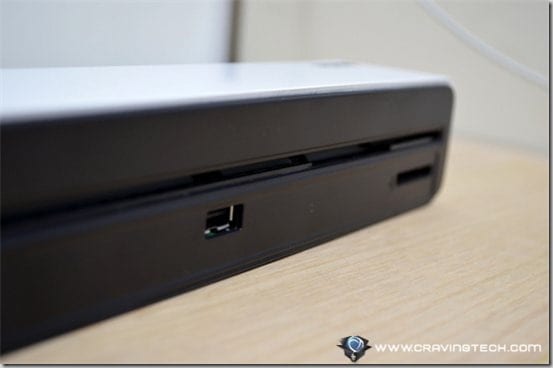 I did find however, that using a 64 GB (USB 3 supported) flash drive didn't work and Doxie Go chose to store the scan in its memory instead. However, after I used a smaller capacity (4 GB), Doxie Go could use it just fine. It's unclear whether this is because of the USB 3 support or because the former drive is too large for Doxie Go to use/read?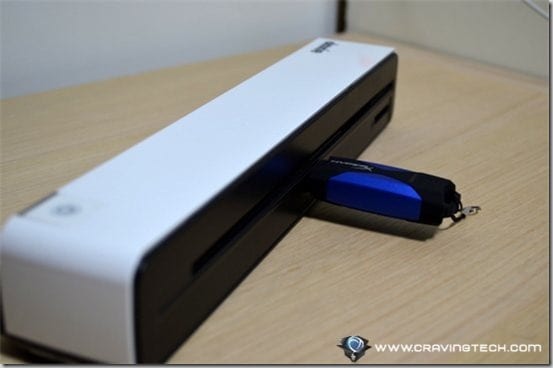 The included carrying case is a plus, though I wish it's a leather one like the original Doxie.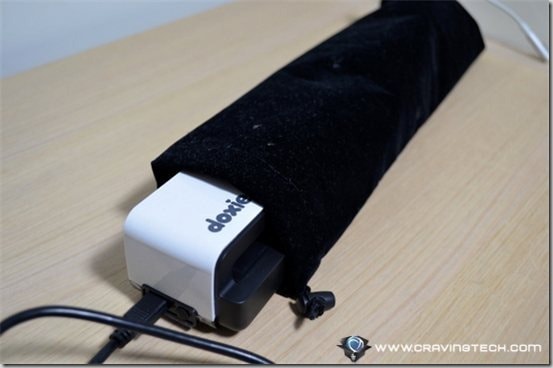 It's of standard quality and also a dust magnet but I guess it's better than not including a carrying case at all.
Doxie Go Review – Features and Impressions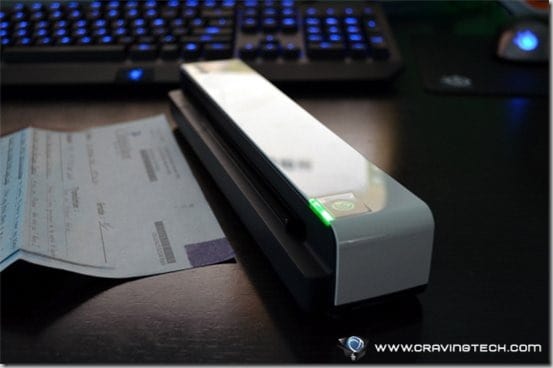 According to the specs, Doxie Go scans 8 seconds per page (in 300 dpi color) and 5 seconds per photo (4×6" in 300 dpi color). Scanning is really simple: Just slide through a paper or a photo (using the included photo sleeve) into the scanning slot and Doxie Go will auto feed the paper in and scan it.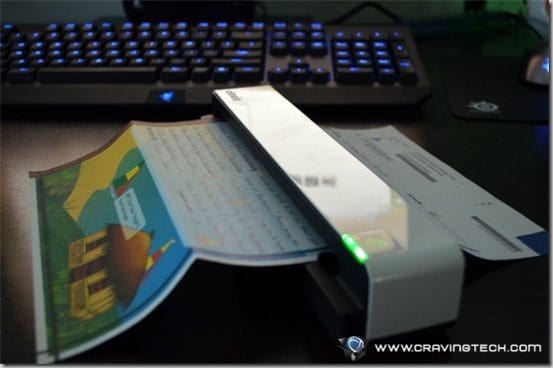 The scanned result will be stored as a high quality JPG image file into the built-in internal memory. They are stored as plain files so when you connect Doxie Go with the USB cable, you can simply copy paste the files from Windows Explorer.
But of course, you wouldn't want to do it this way, because Doxie has provided a smart software which allows you to "staple" these scanned files together into a single PDF file and do other funky things.
It's a pity though that the import process takes a while, even if there is only 1 scanned page to transfer. I hope that it can be improved through a patch in the future. You can also technically do a scan while Doxie Go is connected via the USB but the process will take even longer because Windows reconnects Doxie Go after each scan. So it's recommended to scan when Doxie Go is not plugged (as mentioned on the guide).
To staple multiple scans, simply select the scanned images and then press the Staple button. It's a really handy feature as you can staple bills and documents into one and label them as "December 2011 house bills", for example. Going paperless can never be easier. Or you can simply staple a document set.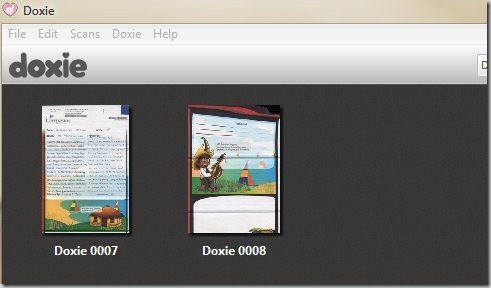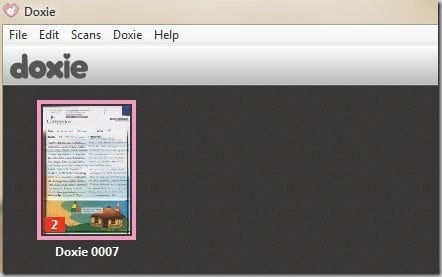 The software also allows you to rotate, crop, enhance, and even change a few properties: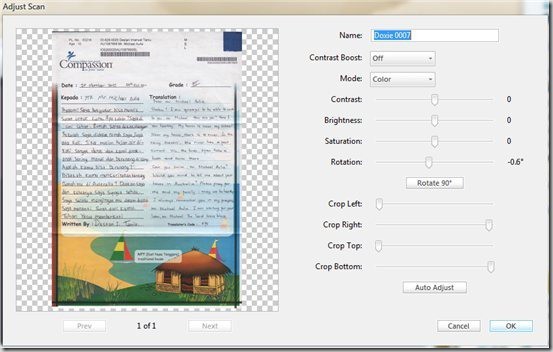 Then, you can save the edited scans and save them into a variety of formats such as PDF and share them online (to Google Docs, Flickr, Email, etc) directly from the software!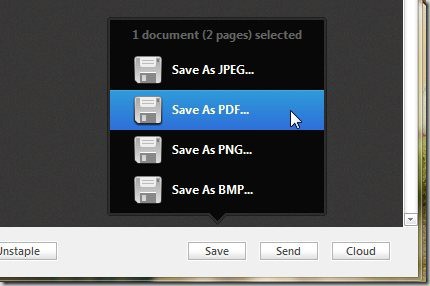 Though saving a bunch of scanned papers into a single PDF file (with multiple pages) is my favorite, I'm sure you will appreciate the fact that you can do much more than that.
Another great thing to add, if you have the Eye-Fi card, you can "level up" Doxie Go into a portable AND wireless scanner. There is a bundle called Doxie Go + Wi-Fi that includes this Eye-Fi card so if you want the full experience, buy the bundle!
If you don't have the Eye-Fi but has the iPhone/iPad Sync Kit ($39),  you can also scan directly to your iPhone/iPad photo roll.
With an Eye-Fi card bundle, you simply insert the 4 GB Eye-Fi wireless SD Card into the SD Card slot on the Doxie Go (though you need to set it up once with the included USB reader to connect to your wireless network first).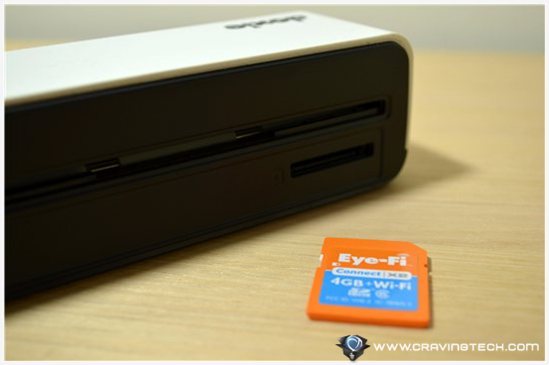 With the Eye-Fi card, scanning can never be easier! Simply start scanning papers and the Eye-Fi automatically uploads the JPG scans into your computer (on a specified Eye-Fi folder). Or, you can also set-it up to automatically upload the scans into Flickr, Picasa, Evernote, or an FTP account.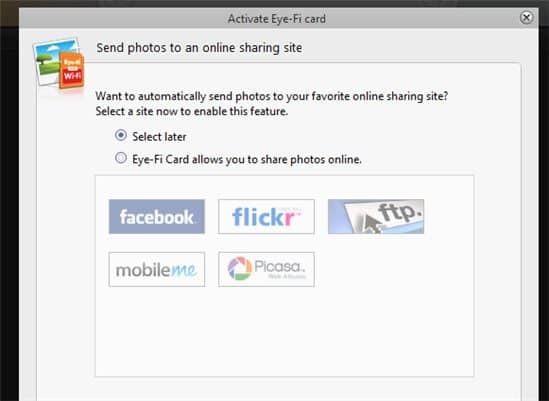 The upload from the card to the computer takes a few seconds which I hope can be made faster, but the ease of use is flawless here. You'll never ever need to connect Doxie Go anymore with a cable apart from charging its battery (or to plug it to an AC outlet power – cable can be bought separately). It's recommended to get the Wi-Fi bundle for the best experience with Doxie Go!
You can also use the Eye-Fi card for your digital camera and other devices that are using an SD memory card.
Doxie Go Review – Conclusion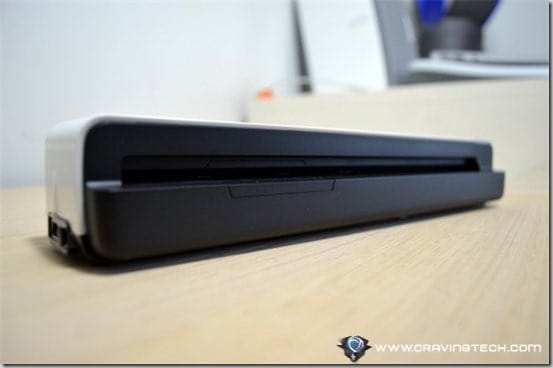 Doxie Go is a cordless (and wireless if you buy the Wi-Fi bundle) mobile scanner with its own built-in internal memory. That means you can carry Doxie Go anywhere you like and scan without having to carry a computer with you. Simply turn Doxie Go on and scan away!
Doxie Go takes the original Doxie scanner concept to the extreme and goes all out with more flexibility, functionality, and the wow factors. Going wireless can never be easier than this, thanks to Doxie Go.
Note: Doxie Go review unit was provided for the review
Doxie Go Review – Pros
+ Portable
+ Cordless, can store hundreds of scanned pages
+ Can scan 300 dpi and 600 dpi
+ Built-in rechargeable battery or use a power outlet
+ High quality scanning
+ Easy to use, fun to use
+ Supports USB flash drives and SD cards
+ Supports Eye-Fi to transfer scanned images wirelessly to the computer
+ Can sync to iPad/iPhone with the additional kit or an Eye-Fi card
Doxie Go Review – Cons
– Can only scan a paper at a time (can't scan books, etc)
– Import process takes a while
– Cheap carrying case
– No built-in WiFi access point