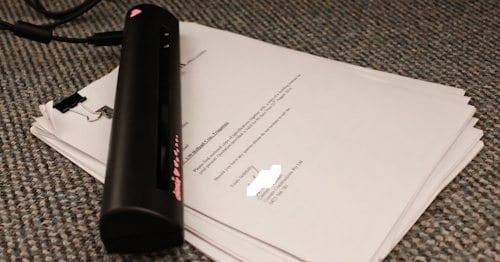 Doxie Review – The Doxie scanner is a portable, sexy looking, and powerful scanner. It doesn't look like your regular scanner and it doesn't really work like one. So what makes Doxie unique compared to other scanners out there in the market?
Doxie Review – Design
In terms of looks, Doxie is different as you can tell straight away from the photos I took.

It has a paper insertion slot and as you can probably guess, you roll a paper (or a photo) into the slot and Doxie will scan it for you. The best thing about Doxie is how portable it is. It's not just because Doxie is small (and includes a handy pouch) but because Doxie doesn't require an external power to run! That's right; Doxie scanner is only powered via the USB port. Now that itself already takes a lot of scanners in the market out of the competition! This way, you can bring Doxie comfortably to anywhere!
Doxie Review – Scanning
To scan documents or photos, you can use the Windows default fax and scan program or (recommended) to install the Doxie application which can be downloaded off their website. The application is truly what makes Doxie shines as I'll explain in a minute.
Back to the Doxie scanner unit, the scanner itself looks quite elegant although a little bit too girly, thanks to the heart symbols :) The packaging includes some custom labels should you want to make it more "manly" but unfortunately the Heart button cannot be changed, though. It is kinda necessary because the Heart symbol is needed to reflect the button's icon on the Doxie application, I guess.
Doxie is cute and the hearts' labels shouldn't turn you off (at least thank goodness they didn't design it in Pink! Although it would go well with the ladies). It only has 1 button that does different things depending on where you are on the Doxie's application. There is no light whatsoever on the scanner though, which is the only drawback from the Doxie unit. I'd love to see some LED feedback when I scan or when the scanner is ready to scan so I don't even need to look at my monitor to check. Perhaps in Doxie 2.0?
Doxie allows you to scan in different resolutions, from 75 dpi up to 600 dpi! As with other scanners, you can scan in Black & White, Grayscale, and also in Color. Scanning takes some time, depends on the quality and mode you choose. I find that when I switch from Color to Black and White, Doxie flies!
The best feature (in my opinion) in Doxie is that Doxie can convert your scanned documents on the fly into PDF files. Not just that, it can even create multiple pages in a single PDF file! This way, you can convert your 2 page documents, say, into a single PDF using Doxie easily.
Doxie Review – Experience
I converted all my Building contracts with Doxie early this week and totally loved Doxie because of this.
To scan, either press the Scan button on the Doxie application or press the Heart button on Doxie (make sure you have inserted a paper in the slot).
After the paper is scanned, you can insert a different paper and press the Doxie Heart button again on the scanner to scan the next page. No more going back and forth between your mouse (to press that scan button) and your scanner (remember the good old Windows default Fax and Scanner program?) .
Here is a screenshot of 30 pages scanned documents converted straight by Doxie into PDF:
I haven't had any print-out photos so unfortunately I couldn't test the quality of photo scanning with Doxie but I did scan a few colored documents and the quality was top-notch (depends on the dpi setting).
There was a problem though when I tried to scan all 50 pages of my Building contracts in Doxie. Doxie crashed with unhandled Out of Memory exception and made me lose all the scanned documents so far :(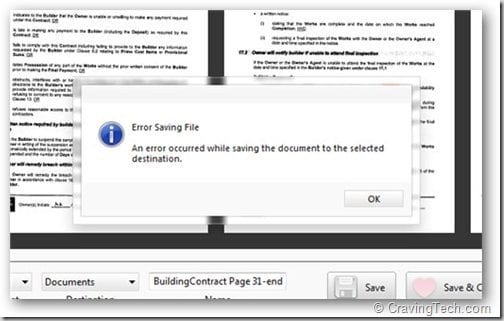 It was a 300dpi scan in Black and White. I have 3 GB DDR2 RAM although my drive C was only about 1.5 GB free. Not too sure what caused this but I could certainly replicate this 3 times. Just make sure you are not scanning more than 30 pages of PDF if you worry about losing all your hard work in scanning.
Doxie is not just a scanner though. It can automatically upload your scanned documents or photos online to Flickr, Google Docs, and other web services. Or you can even use Doxie's free Cloud service to turn your papers into short URLs so you can share them instantly via email or other social networking sites like Twitter. Or you can convert your scanned documents into iBooks format on your iPhone. Cool, eh?
Doxie Review Conclusion
Doxie is the most powerful scanner to date: it looks elegant, cute, intuitive, highly portable, and makes scanning fun! I had this urge to scan every single paper possible in my room just to play with Doxie. The experience was that good.
Doxie is of course, without problems. I couldn't scan more than 30 pages of documents (to be converted into a single PDF) and of course, there is a drawback in Doxie's design: you can only scan one single paper through it. Meaning, you cannot scan your books or a stapled documents pile.
However, I totally love Doxie to the max. Even though I was sent a review sample, this is truly my honest opinion. Doxie really rocks! It's small, cute, doesn't require external power, and packed with features. Doxie can scan your documents and convert them into a single PDF file to store and share. Doxie can scan your bills so you can then archive them into files and throw the papers away. Doxie can convert your old photos back in the 80's or 90's into high quality photo files. Doxie can help you to share your hard copy documents to others easily. Doxie simplifies the scanning process with the help of the Doxie application and the magic Heart button. Doxie is very affordable for a high quality scanner. Need I go more?
Now.. is there anything else that I can scan with Doxie? Hm.. *going to look for one*
Note: Doxie Review unit was provided for the review
Doxie Review – Pros
+ Portable
+ Looks cute and elegant
+ Makes scanning addictive somehow
+ Can scan into PDF with multiple pages!
+ Can change qualities easily
+ High quality scan
Doxie Review – Cons
– Can't scan a book or stapled documents
[AMAZONPRODUCTS asin="B003Y3YO7A"]