Brother Portable Document Scanner DS-940DW Review – Portable document scanners are not new and we've seen in fact a few popular ones in the market for the past few years. But, this is the first time I've ever encountered a portable scanner that can do double-sided (duplex) scanning in one scan!
Even some big, MFC printers like the Brother MFC-J5845DW can't do duplex scanning without turning the page and re-feeding the paper manually. But this small, portable, and wireless Brother DS-940DW can do it flawlessly.
Packaging
Packaging includes the USB cable, Quick Setup Guide, and a Calibration tool.
Design & Features
Brother Portable Document Scanner DS-940DW has a portable design that allows you to carry it inside your bag or backpack to scan on the go. It has a built-in 1,200mAh rechargeable battery that can last up to 320 scans (with the wireless LAN off, or 200 scans when it's on). Recharging the scanner through USB requires around 2.6 hours from 0 to 100.
It supports storing the scans in a microSD card (not included) and access them later using a microSD card reader on your computer.
What I like about the DS-940DW design is the simplicity. Sure, having many physical buttons like this scanner has may not satisfy the modern minimalists in terms of design, but they make it so easy and straightforward to use. It's like a step-by-step decision making when you are going to scan something: Do I want to scan in colour? JPG or PDF? One-sided or double-sided? These buttons are used only when you want to scan locally to a microSD. The LCD panel also displays your selection so you can double check everything before you start scanning.
You can also scan wirelessly to supported wireless devices like your smartphone using the Brother iPrint&Scan free app. What you do is to set your phone to connect to the scanner through its built-in Wi-Fi point, select the scan settings, feed the paper and press the Scan button on the app.
The scans can be saved as JPG or PDF files in either Mono or Colour. Afterwards, you can then save or attach them to another app on your smartphone. For example, you can attach them to a new email on Gmail:
You can also install a software on your computer if you are planning to do it more often through a PC or laptop. This does require you to plug the scanner to the computer's USB (while charging it at the same time). With this, you actually have a lot more options in terms of settings and advanced post-processing.
For example, you can change the scanning resolution and further customise the PDF options such as making the scans searchable, and even adding a password to lock the files. Really cool stuffs. You can also set the ADF (Automatic Document Feeder) to scan continuously so you can just feed the scanner with pages of papers non-stop and the scanner will automate the whole process.
So what sort of things can you scan? Apart from A4 documents, you can scan things like receipts and even plastic cards (up to 1mm thickness). If you are the sort that like to save physical receipts digitally, Brother DS-940DW portable scanner can help you do this more efficiently. While some people have opted to use their mobile phone to digitise their world, receipts (especially the long ones) are always the trickiest to scan with a phone.
Oh, there's one more thing here. Unlike Doxie portable scanners, Brother DS-940DW has a unique "U-path" design where scanned papers will glide over the top of the scanner. This means you don't need an extra space behind the scanner for the papers to go through. It looks like a small thing in terms of design, but will be loved by many. This means you can place the scanner next to a wall and don't have to move it if you ever want to scan something.
Brother DS-940DW Review Conclusion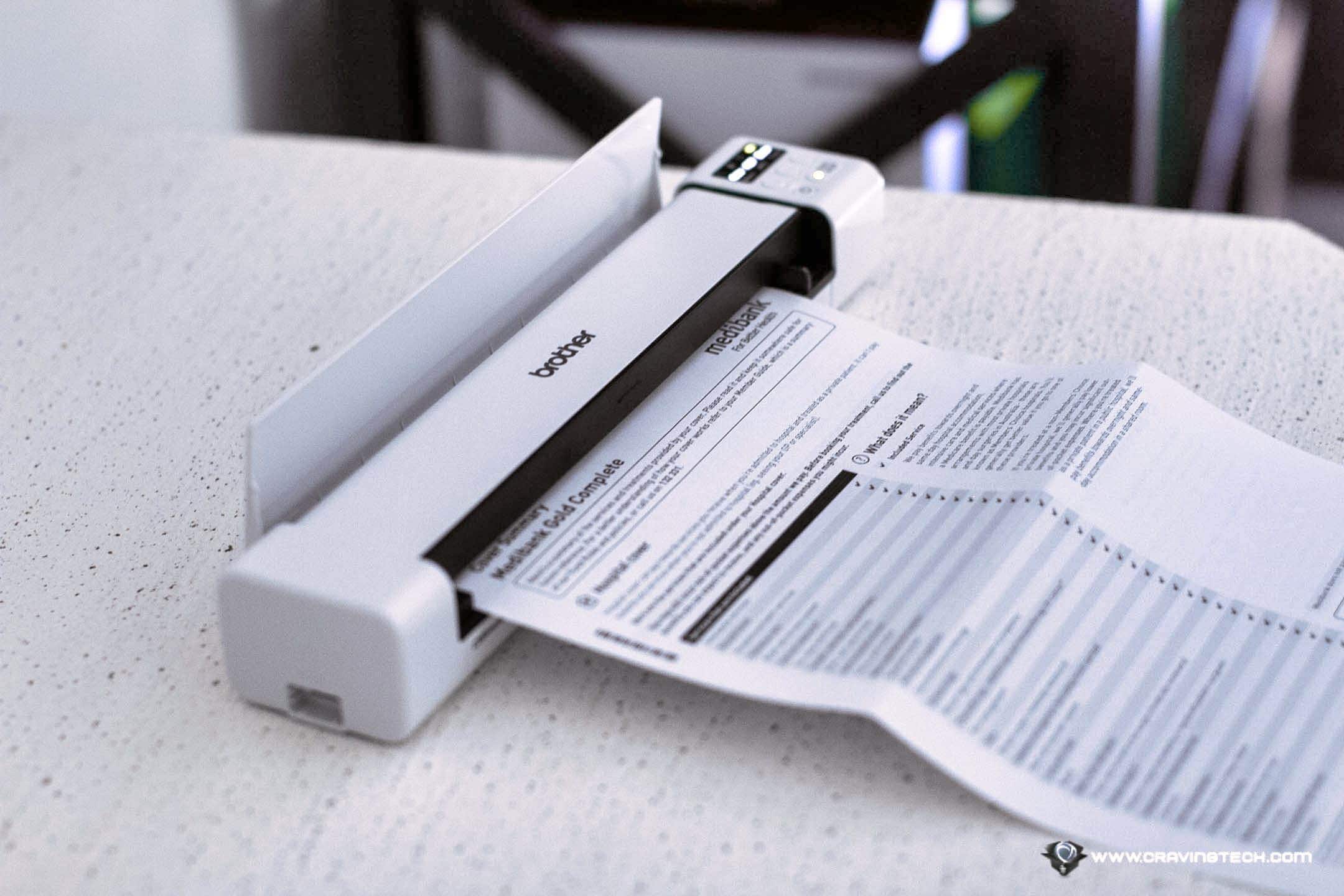 Brother Portable Document Scanner DS-940DW supports a variety of scan methods that will work in any situations you are in. At the office? Plug it to a computer and scan with advanced options & settings available in your hands. Commuting to a client's office and need to send documents quickly in the car? Use your phone to connect wirelessly to the scanner and attach the scanned documents to your email. Travelling but don't need the scans now? Just quick-scan them locally into a microSD card and process them after you get back to the office.
With plenty of scan options (Resolutions, Colour/B&W, PDF, etc) AND an amazing duplex scanning (without manually having to turn the page and re-feed the paper), Brother DS-940DW is definitely the ultimate portable document scanner you should grab for home, or the office!
Brother DS-940DW retails for AU$299 and available at retailers around Australia.
Disclosure: Brother DS-940DW review sample was supplied for reviewing but all opinions are mine and not paid.
Brother Portable Document Scanner DS-940DW Review
Summary
One of the most advanced portable scanners out there supporting multiple methods of scanning and output
Pros
Portable
Easy to use interface (both on-device and software)
Very good battery life
Supports scanning to local microSD, wireless, and USB
Supports continuous scanning, searchable & lockable PDFs, etc
Duplex ADF!
 
Cons
Different available settings on different scan methods may confuse some users