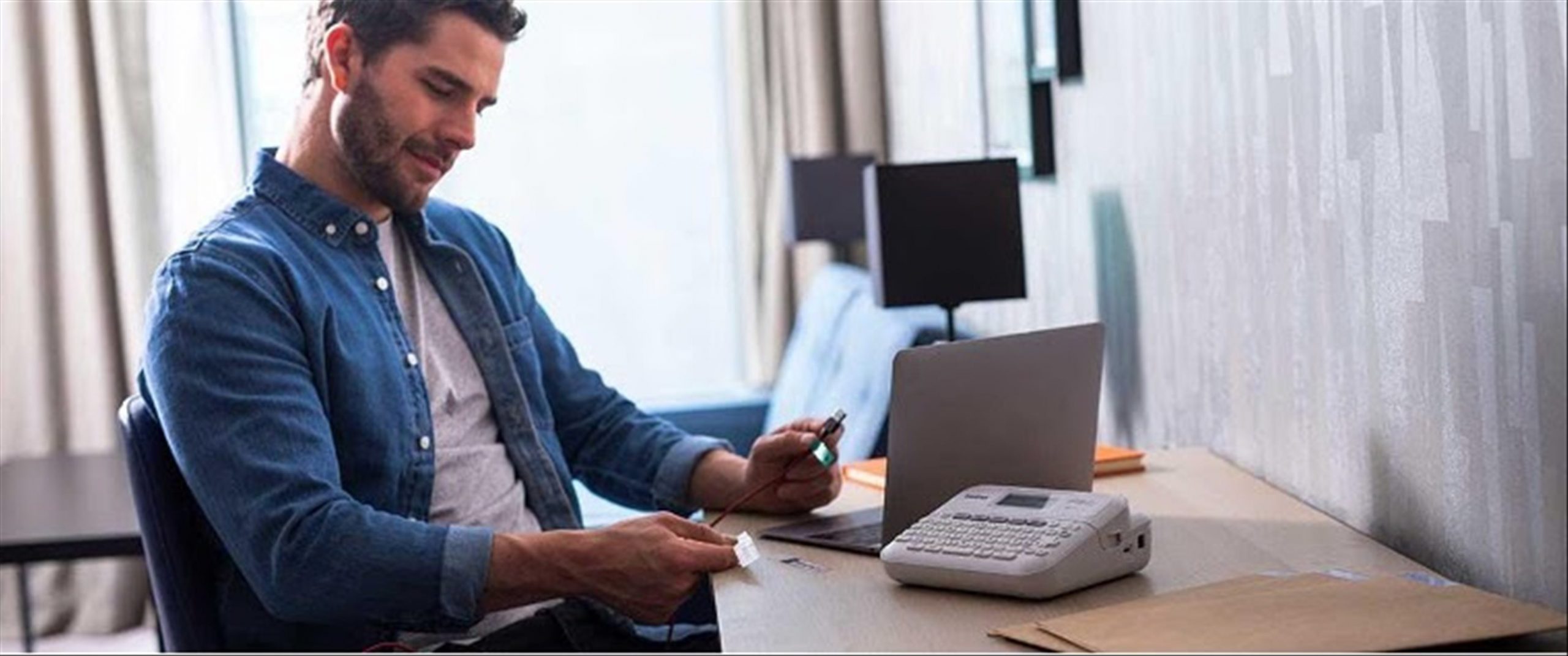 Brother International Australia announced three new P-touch desktop label printers for all your labelling needs: PT-D410, PT-D460BT, and PT-D610BT ranging from basic to advance use. The new label printers will support a variety of uses like organisation, personalisation, and identification.
All models are equipped with a built-in QWERTY keyboard, a large graphical display, and a built-in print preview. These will surely make it easy to create labels (from short to long) accurately and quickly.
They are preloaded with over 15 built-in fonts to choose from, 120+ decorative frames, and 700+ symbols. This creates plenty of creativity and personalisations whether you are going to use it for personal stuff, or professionally in a business environment.
And if you are like me who tends to find a power cable lying around and forgot which device it belongs to, fret not. These printers have barcode and cable labelling functionality – which I'll take advantage of for sure.
You can use these label printers on their own or hook them up to your PC or Mac. The models with "BT" tag on the name (which stands for Bluetooth) can also be used from your smartphones through Brother iPrint&Label app.
So here are the three new, label printers from Brother:
[1] Brother PT-D410 Compact Label Printer 
Available: September 2022
RRP: $94
Retailers: Exclusively available from Officeworks
Key features:
Use it as a portable, standalone device, or connect it to your PC via USB cable for more advanced features
Easy-to-read graphic display
Use P-touch Editor to create, edit and print your labels and easily connect to existing databases
Prints 3.5, 6, 9, 12 and 18mm labels
15 convenient built-in fonts, 120 frames and 700 symbols for complete customisation
Cable labelling functionality
QWERTY and numeric keyboard
Print labels from your PC or Mac
Easy to print and apply

[2] Brother PT-D460BT Versatile Label Printer
Available: September 2022
RRP:  $159
Retailers: Available via B2B channels and Amazon
Key features:
Use as a standalone label printer or connect to your smart device via Bluetooth for more advanced features
Use P-touch Editor to create, edit and print your labels and easily connect to existing databases
Full colour, high-resolution display with backlight
Prints 3.5, 6, 9, 12, 18 and 24mm labels
17 convenient built-in fonts, 160 frames and 900 symbols for complete customisation
Store up to 99 label templates and use the automatic tape cutter for quick reprinting
Cable labelling functionality
QWERTY and numeric keyboard
Print labels from your PC or Mac
Prints barcodes
[3] Brother PT-D610BT Versatile Label Printer
Available: September 2022
RRP: $189
Retailers: Available via B2B channels and Officeworks
Key features:
Use as a standalone label printer or connect to your smart device via Bluetooth for more advanced features
Use P-touch Editor to create, edit and print your labels and easily connect to existing databases
Full colour, high-resolution display with backlight
Prints 3.5, 6, 9, 12, 18 and 24mm labels
17 convenient built-in fonts, 160 frames and 900 symbols for complete customisation
Store up to 99 label templates and use the automatic tape cutter for quick reprinting
Cable labelling functionality
QWERTY and numeric keyboard
Print labels from your PC or Mac
Prints barcodes