Brother MFC-J5845DW Review – The Brother MFC-J5845DW is an MFC (Multi Function Center) printer designed for small businesses or home office, and it comes with an up to 2 years of ink supplied in-box!
We all know how frustrating it is when you've just bought a new printer and then having to purchase extra inks within weeks or months of using it.
On top of this generosity from Brother, the printer itself is very capable of printing in high quality, fast, and packed with a variety of network + cloud connectivity support.
Inside the packaging itself, we can see all the included supply of inks, including XL cartridges for each of the CMYK colour: Cyan, Magenta, Yellow, and Black.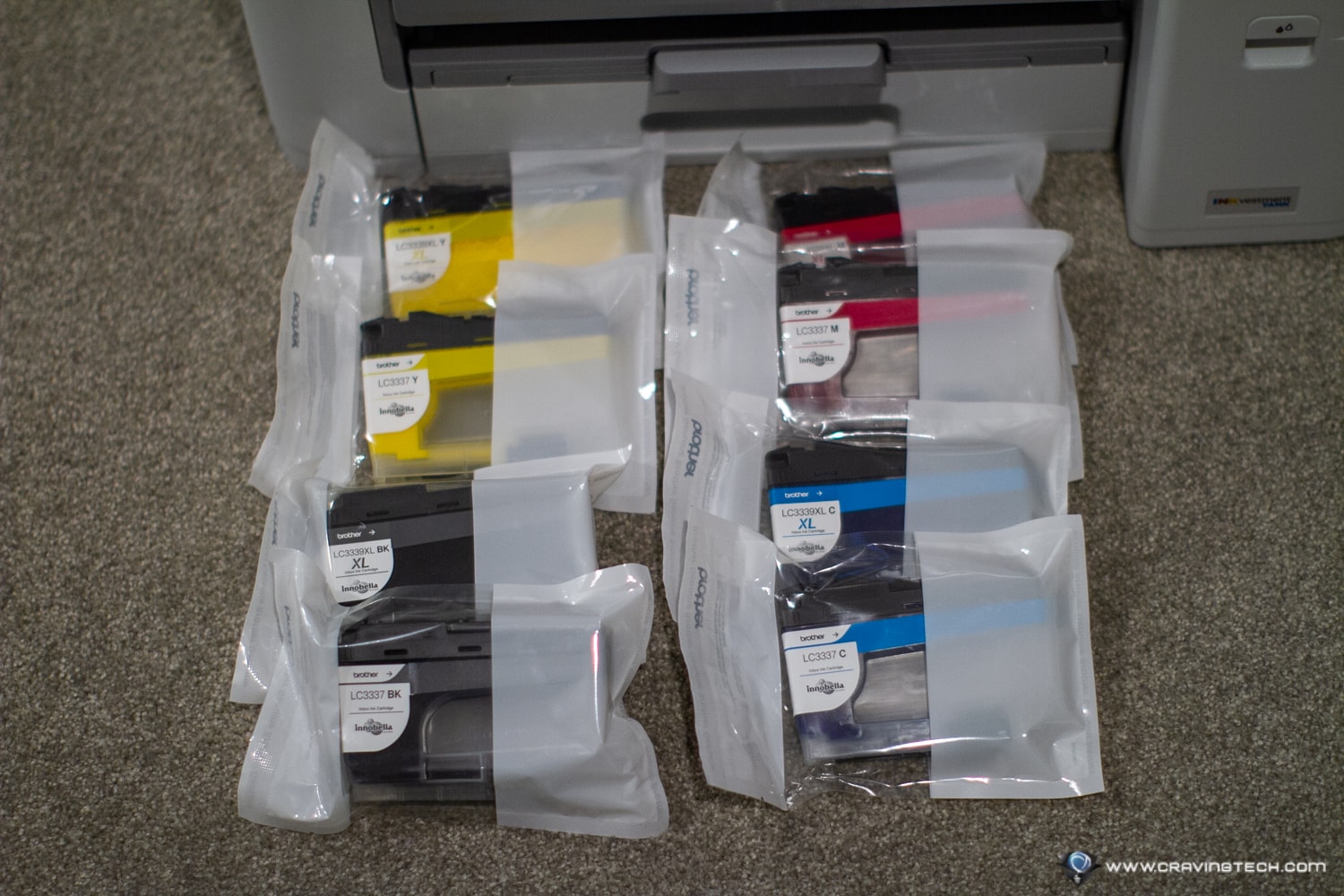 Installation & Setting Up
Setting up the printer is very simple as there are step by step instructions on the quick user guide and also on the printer's LCD screen itself. There were also not as many steps as I thought it'd be. The cool part is that the LCD screen panel itself can be tilted to make it easier to see when the printer is placed below your eye level.
The one that amazes me the most is how easy it is to install the ink cartridges. This was normally the part that scares me the most – what if I accidentally spill it on the carpet? And usually my fingers or hands would get a bit messy with traces of inks.
But to my surprise, installing Brother MFC-J5845DW ink cartridges is as easy as plugging a USB drive literally. Simply open the ink cartridge cover on the printer, plug the corresponding cartridge color until you hear a slight click, and that's it. There was no mess, no unsealing a part of the cartridge, nada!
Adding the printer to our home's Wi-Fi network was also pretty easy through the LCD touch screen. Simply tap on the network you want to connect, enter the password, and voila. There is also an option to connect with Wi-Fi Direct (i.e wireless connect directly to the printer) and to hook it up with an Ethernet cable.
If you have an iPhone or Android phone, Apple AirPrint and Google Cloud Print support make it easy to print your documents straight from your phone. For example, someone might send you a document to sign to your email. You can simply open your Gmail or Mail app, and send that document straight to the printer. Nothing to install (though more options can be accessed through the Brother app).
On my Windows 10 PC, simply go to https://support.brother.com/windows and download the latest driver to install.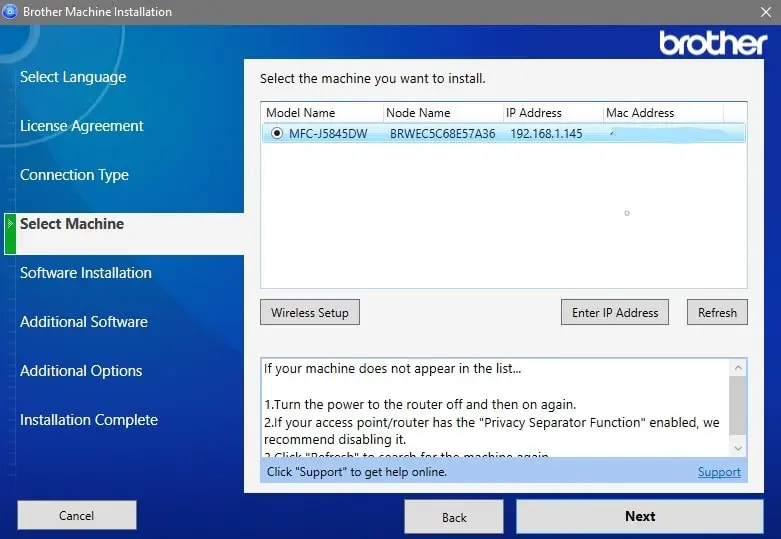 New firmware update surprisingly appears on the printer's LCD screen and you can just tap the notification to update the printer directly. Pretty nice touch here (usually has to be done from a PC).
Printing
The printer itself is big and heavy. If you are living on your own and having to carry this printer all the way up to a second floor, best of luck to you. However, I've never found a lightweight MFC printer which supports A3 printing among other multi-function things like duplex printing, automatic document feeder, fax, and scan so far.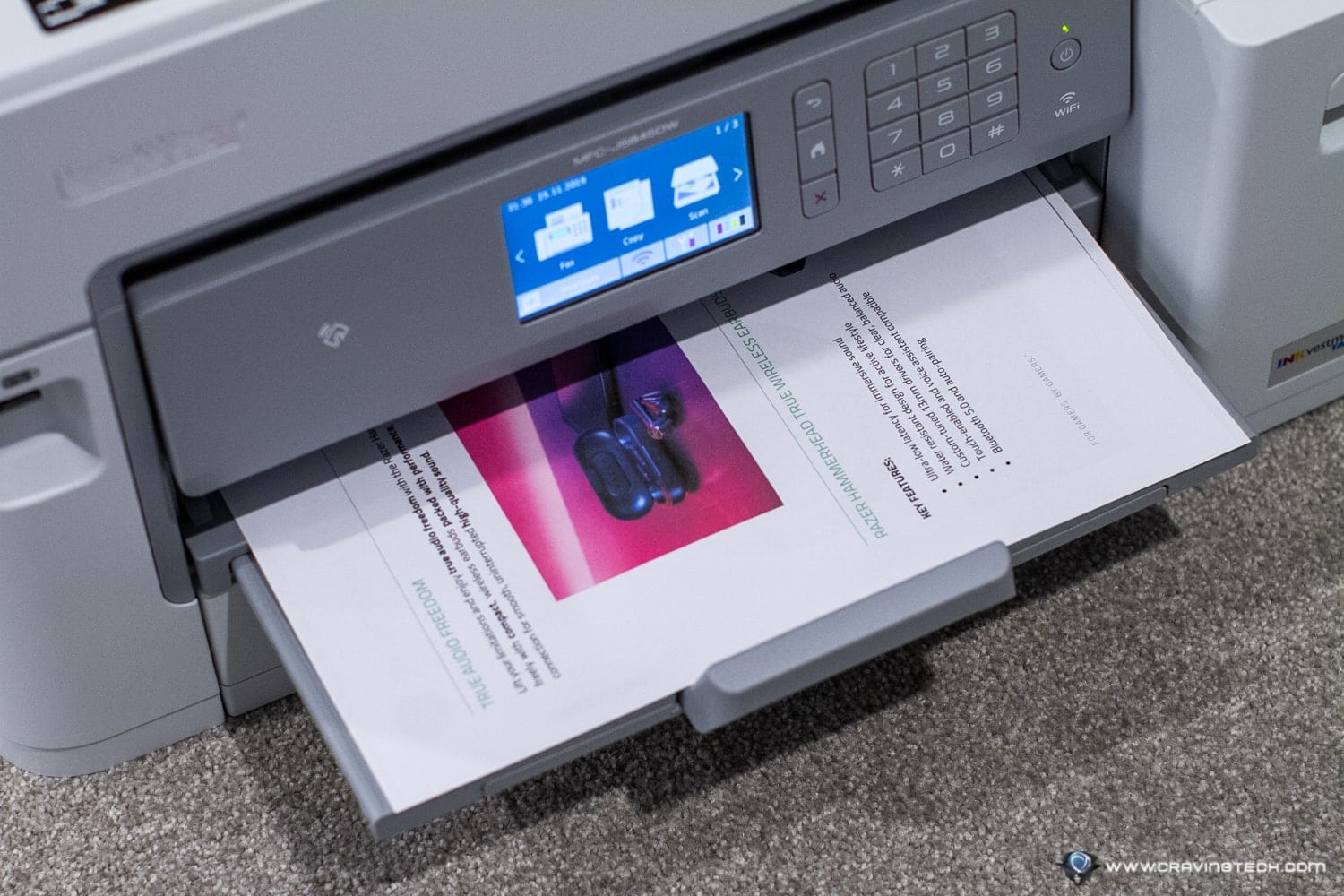 Specifications wise, the Brother MFC-J5845DW is pretty impressive. It can print up to 22ppm (pages per minute) in mono and 20ppm in colour. If you turn the fast printing option, it can do 35ppm in mono and 27ppm in colour.
But unlike some other MFC printers from other brands, you can still print in black and white / monochrome even when you are running out of a particular coulour ink. I don't remember it on top of my head but there was an MFC printer that I used before in the past and it blocked me from printing at all until I refilled an empty colour ink cartridge (even though I only wanted to print in black and white).
I was quite surprised to see how fast it prints and how efficient the ink usage is (you can check how many ink you have left, and also roughly how many pages of documents you can print before you have to buy a replacement cartridge).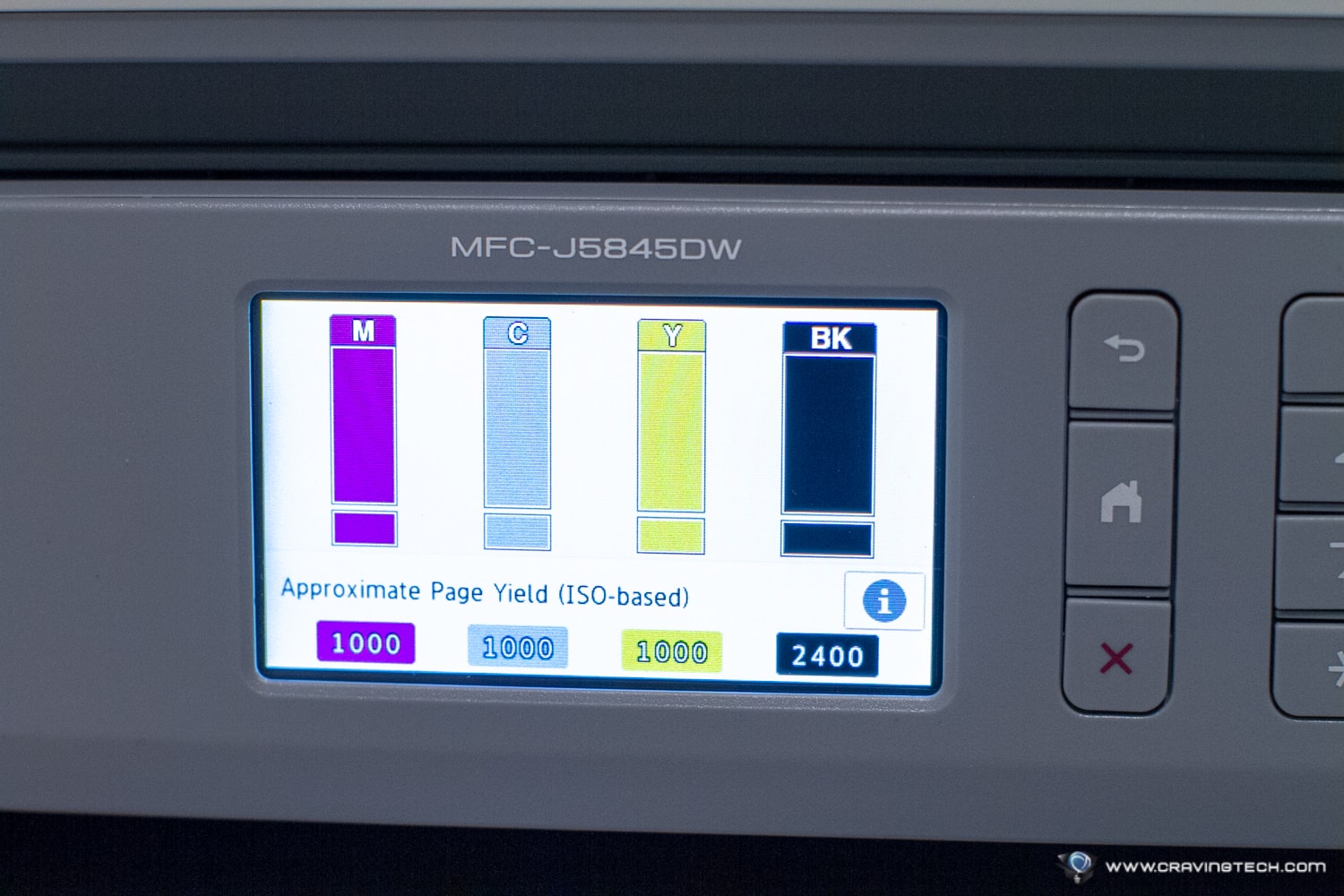 Note that this is pretty much an office printer and NOT a photo printer. If your business involves printing lots of photos and requires them to be of high quality, you may need to look elsewhere. However, I do find that the quality is pretty good when printing images on documents and stuffs.
Scanning
As business owners, you will scan many things: invoices, bills, contracts, documents, etc. The Brother MFC-J5845DW can handle these really well and you'll love how versatile the printer is.
It has an Automatic Document Feeder and supports up to 50 piece of documents (but one sided only). If you use the ADF, the printer will assume you just want to scan one sided so make sure to use the manual scanner if you want to scan double-sided documents.
The output of the scans can either be emailed directly to you, but the printer also supports many other services. For example, you can scan documents and upload the scan directly to your Evernote, Dropbox, Google Drive, OneNote, and many other. At its simplest, you can just plug a USB drive and choose to save the scans directly to your USB drive.
Text documents can be converted into searchable PDF files (OCR) too, which is really handy. For larger businesses, you'll also be pleased to see support for exporting scans to Network Folders, FTP, SFTP, and even SharePoint.
While it's a bit unfortunate that the printer's ADF does not support duplex scanning, you can at least use the manual scan and the printer helps you in scanning multiple pages easily.
Faxing
What? You still use a fax machine? Sorry, can't help you here as I haven't tested this feature yet on the printer.
Brother MFC-J5845DW Review Conclusion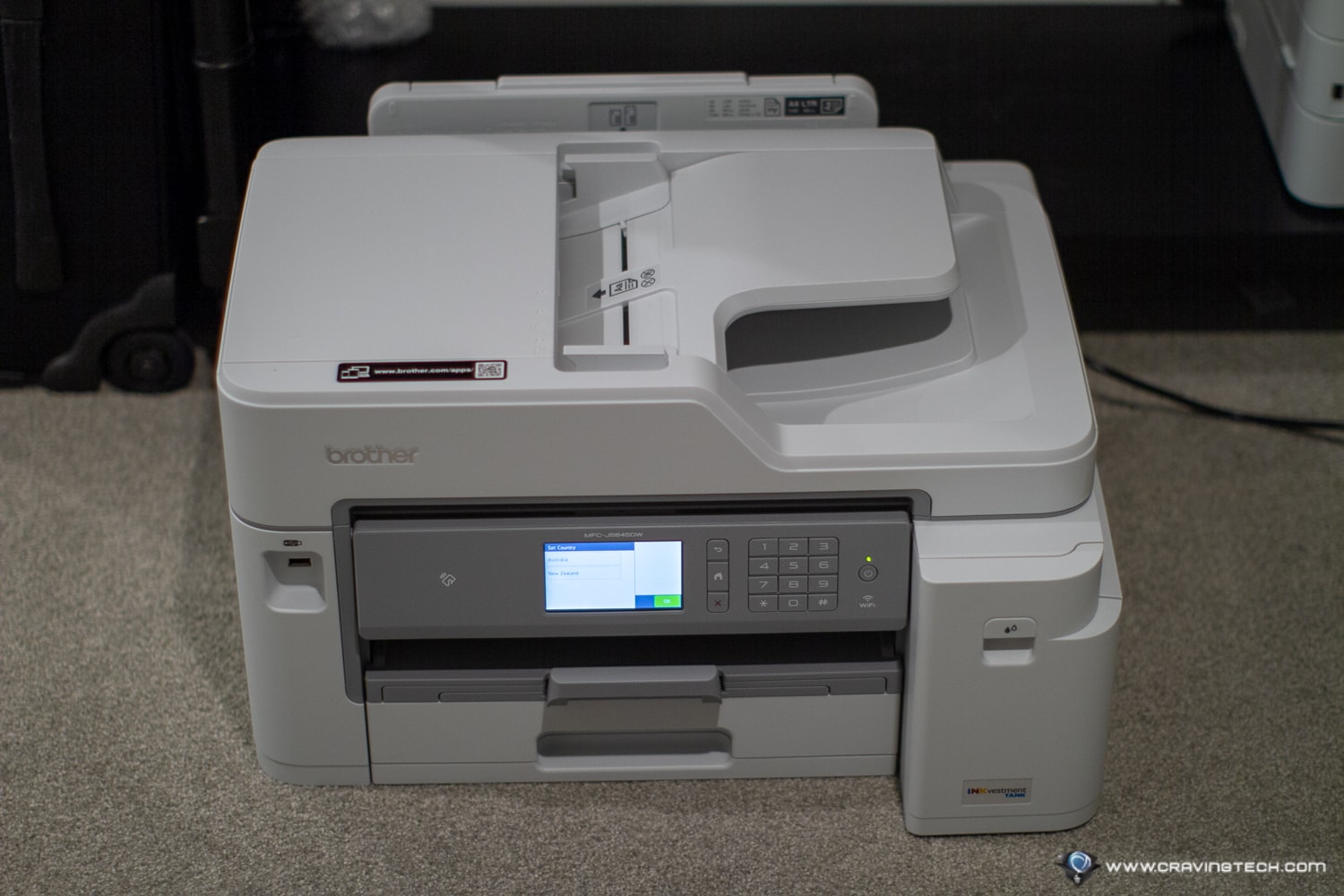 While there might be similar MFC printers out there with cheaper price, you should remember to factor in the price of having to buy extra cartridges after – and compare that to the Brother MFC-J5845DW. The included extra cartridges are generous and the printer prints really economically so far without sacrificing quality.
It prints fast, supports A3 and a variety of cloud services to send your scanned documents to, and have an automatic document feeder (ADF) so you can just chuck in your documents and leave the printer to scan them for you. Note that this works for one-sided page documents only.
Brother MFC-J5845DW can be purchased for A$699 at retail stores around Australia.
Disclosure: Brother MFC-J5845DW review sample was supplied for reviewing but all opinions are mine and not paid
Brother MFC-J5845DW Review
Summary
MFC printer from Brother which supports A3 printing, duplex, ADF, and even comes with generous ink supplies
Pros
Very good printing quality
Automatic Document Feeder
Supports A3
Smart functions like scanning and sending them to emails as PDF, Evernote, etc.
Generous ink supply included upon purchase
Easy to set up
Cons
ADF only supports one sided page
Bulky & heavy