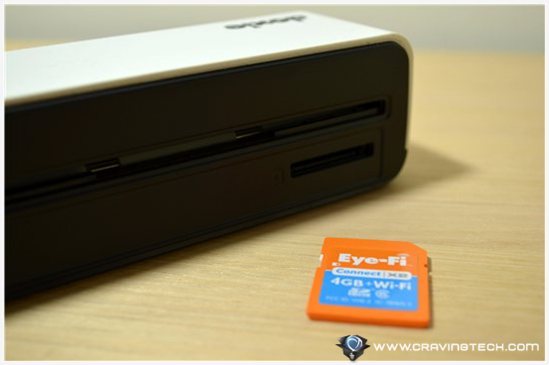 Eye-Fi Review – The Eye-Fi cards are wireless memory cards (SD type) with built-in Wi-Fi, so you can transfer photos from your digital camera wirelessly and effortlessly to your PC.
If you are getting frustrated of having to take your memory card out of your camera each time you want to transfer your photos to your PC, then you definitely want to have a look at getting this Eye-Fi card.
How does the Eye-Fi card work? Does it actually work?
The Eye-Fi card is a Class 6 SD memory card with a 4 GB or 8 GB capacity to choose from. There are different Eye-Fi versions such as the Eye-Fi Connect X2, Mobile X2, or the Pro X2.
Before you can start using the Eye-Fi card, you need to set-it up using the included Eye-Fi reader to be plugged into a USB slot on your computer. Run the software included inside the card to start setting the whole thing up. There are plenty of flexible options that you can set with the software, such as clearing the cards when a certain space threshold has been reached (as long as the files have been transferred across safely before), Direct Mode, etc.
You will be asked to set a folder inside your computer as the place where the Eye-Fi card will transfer the files into. It will auto create folders based on the date you take the pictures at (you can change customise this setting).
Once all has been set-up, it's time to use the Eye-Fi card like a regular memory card inside your devices (portable scanners, digital cameras, etc). I have been using the Eye-Fi card on my Nikon D5100 and also on my Doxie Go portable scanner. So far, the Eye-Fi card has been working flawlessly, though it only accepts transferring JPEG files (the one I have is the Eye-Fi Connect X2). So if you shoot in RAW, you need to get the Eye-Fi Pro X2 to be able to transfer RAW files from your DSLR to your PC wirelessly.
The Eye-Fi card will take the power from your device so make sure you leave it on while the files get transferred to your computer. It may take a while before the files get transferred and normally it'll take a few seconds to complete (depending on the file size).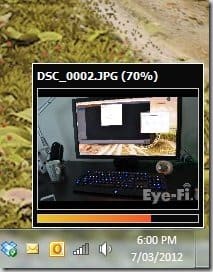 If you like, you can also set it up so that the files are transferred directly to an online service, such as Picasa, Flickr, YouTube, Evernote, and many others.
I really love the Eye-Fi card. Since I'm reviewing lots of products almost every day, I tend to take a few photos, transfer them to my computer, edit as necessary, and then write a post with the photos on it. As such, I take my memory card in and out daily and it can be quite cumbersome. Thanks to the Eye-Fi card, I'll never have to do this again (or at least not that often – if you take bunch of photos, it's still quicker to use a card reader to transfer them across).
The Eye-Fi card with built-in Wi-Fi is one of the greatest innovations out there and I'm sure it will just get better and better. The only problem is, it is not available worldwide just yet, so check the Eye-Fi FAQ whether it's available in your country.
Note: The Eye-Fi card was sponsored by Doxie to review Doxie Go, although there wasn't any requirement to review the Eye-Fi card itself.