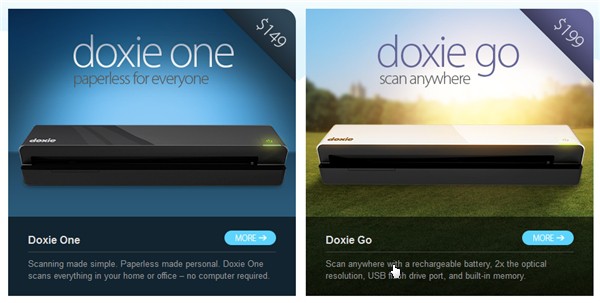 Remember Doxie, the original portable scanner that I reviewed long ago? Or perhaps you read the more recent one, Doxie Go, a wireless version of the Doxie portable scanner? Now, comes Doxie One – still a portable and cute scanner by Doxie but with a different approach.
Doxie One may look like a cut-down version of Doxie Go at first but it's hard to comment without reviewing it completely. I see Doxie One as going for a different direction as Doxie Go. It's still portable and wireless, but this time, it does not have a rechargeable battery and built-in memory. Though that may seem bad at first, it is not. Doxie One can be powered by wall power or with AAA batteries. This means Doxie One is much easier to use if you are always running around in different places (as you can carry AAA batteries with you as an "unlimited" supply of power). When you are near a power supply, you can just plug it directly to a wall socket.
Without a built-in memory, it simplifies the workflow process as you can use the SD card or directly sync the scanned documents to your computer, wireless.
Doxie One can sync to your PC or Mac. However, if you don't have them (for any reason – maybe you are traveling with your tablet), you can directly scan and sync it to your tablet (such as an iPad). Or you can sync your documents to the Cloud applications/services such as Evernote.
Should you want a traditional approach, you can always store your scanned documents into an SD Card (a 2GB SD Card is included with the purchase of Doxie One) and use a card reader to grab them.
Check out their official product page to find out more about what Doxie One can do. Meanwhile, I was promised to be sent a Doxie One review sample so stay tuned for the review at Craving Tech!