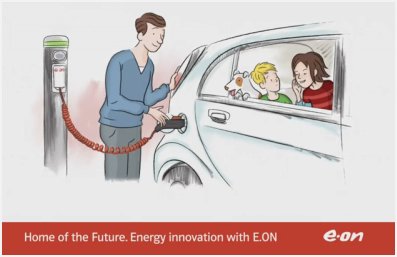 Back in February, I posted about a project called E.ON Innovation by E.ON, with the purpose of getting bright and innovative ideas from the community about future technology products and services, consisted of 5 challenges. These challenges coincide with episodes of the Channel 4 Show Home of the Future in the UK. The winner of the campaign will win a £10,000 worth home energy make over as the grand price.
Well, Home of The Future with E.ON ended on 11 March but you can still submit your ideas until the 9th of April, so you'll still have about a week away to submit your ideas and participate! There are already hundreds of interesting submissions such as motion sensitive street lights and intelligent freezer (a fridge that can auto-order my depleting milk supply? Bring it on!). Or think you can do better? Submit your idea and try to win!
Interesting things were also talked during the air of the episodes about the future (home technology and also lifestyle), such as 3D printing (which you may have heard elsewhere) and also how eating insects might be our way in the future. Eew? I've heard that they have lots of proteins, but I think I prefer to eat something else… Tell me if you've tried and liked them, though.

Soon we all might be eating these..yum..
A 3D chocolate printing sounds yummier, though!
The E.ON Innovation campaign from E.ON tries to get people to share and collaborate to present cool ideas of the future so that they and E.ON can work together to make that happen (even though the company already has 12,000 staff in the UK and more than 79,000 worldwide!). I thnk it's a great idea to involve the community so that we all can hope, support, and enjoy all innovation together as one big team in this planet.
Below is a video of the selected Top 5 tech from the Home of the Future
So if you want to participate to shape the future, come join the fun or vote for your favorite submission before the time runs out. If you are interested, you can also follow E.ON on Twitter @talkingenergy or use the hashtag #eoninnov.