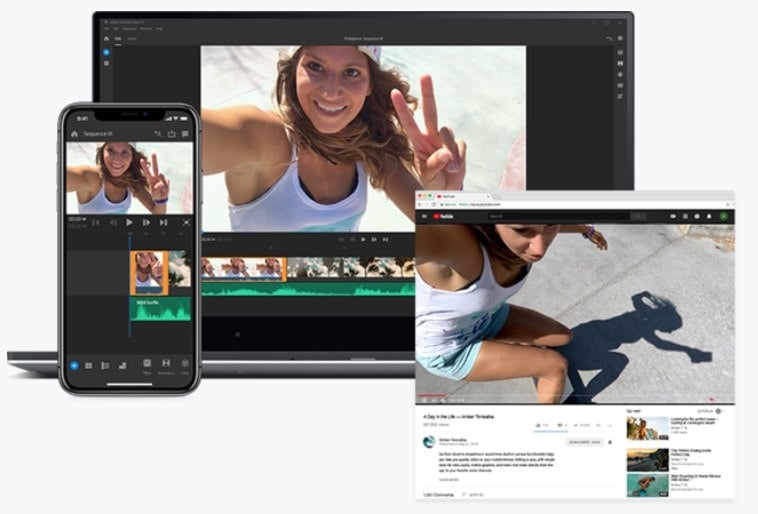 Adobe has just unveiled a new video editing app named Adobe Premiere Rush CC. That's right folks, Adobe Premiere is now on the mobile platform and it's also cross platform – meaning you can install Premiere Rush CC both on your PC and iPad. Your project will then auto sync with one another. It also supports Android and MacOS.
I myself have moved from Adobe Premiere Pro and now using the BlackMagic Design Davinci Resolve Studio for my movie editing & publishing needs, but if you want to give Adobe Premiere a try, this is a good timing.
As the name suggests (i.e "CC" or "Creative Cloud"), Premiere Rush CC is a subscription based of A$14.29/month and it's available on iOS, Android, Mac, and Windows. This means you can create a project on an iPad, edit things out and then continue on the iPhone, and publish from your PC. It definitely sounds promising!
Adobe Premiere Rush CC seems to have borrowed some power and features from Adobe Premiere Pro, After Effects, and Audition. With social media optimisations and publishing options directly from the application, it'll definitely be a gem for videographers and movie editors on the go.
It seems to be targeted to those who want to have the power of professional video editing software without being professional video editors.
The good news is, there is a free Starter plan that you can download and install with access to all Premiere Rush CC features, but you can only export up to three projects. It's more like a trial before you grab the Rush CC. Another good news for Premiere Pro single app plan user, Rush comes included.
The bad news is that Premiere Rush CC is not ready for Android yet but will be coming in 2019.