I've been trying to compile our Japan holiday trip in October but I made a "mistake" shooting them all in 4K, 60fps with my iPhone 11 Pro Max. I thought my PC is powerful enough that it can handle these 4K clips just fine.
Apparently, I was wrong. All video editing applications I have so far like Adobe Premiere Pro and DaVinci Resolve still stuttered when I tried to edit these 4K clips. I've given up and now waiting for my new PC setup with AMD Ryzen (which I hope will be powerfully enough).
But if you are in the same position as I am and can't afford a new PC, you can get away converting MOV to MP4 (i.e your source clips) with an HD video converter like this WinX HD Video Converter.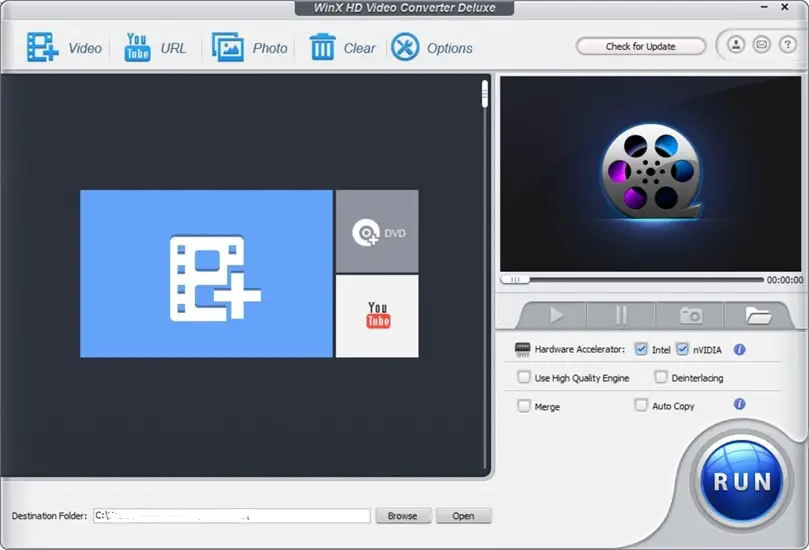 The software can decode, process and encode large 4K/1080p videos very fast as it can make use of your graphics card inside the computer to do the hard job. If you game on the desktop like I am, you should be able to make use of that beefy NVIDIA graphics card you have (I have a GTX 1080Ti).
You can also do a quick edit of your 4K Videos with the software such as trimming the clips, adding subtitles, cropping, and also merging.
Or if you have .MOV videos taken by your iPhone (or some DSLR cameras) like most of my Japan clips here, WinX HD Video Converter can solve your issues. MOVs are good but they are not usually recognised by some TVs or old media devices.
With this software, you can convert MOV to MP4, MOV in HEVC codec (i.e the new H.265 compression) to MP4 H.264 codec which is more widely supported, and compress 4K MOV videos to HD which should help you edit your clips faster.
How to convert MOV videos with WinX HD Video Converter
Simply open the application and drag and drop your MOV files.
You can then pick some pre-determined profiles for you to convert your MOV videos into. There is also an option to optimise the clips to the new H265 codec to compress your videos more without degrading image quality. But if you just want to lower the resolution of your 4K videos to 720p or 1080p, you also can.
Depending on how fast your computer and GPU is, you'll then get the output files after the process is completed.
Here is a sample 4K video clip converted from MOV (on the left) to MP4 (on the right), i.e with the same resolution (3840 x 2160 in 60 fps).

So I've tried recompiling the same 4K clip to 720p to make it easier to edit later on, and the job was completed without a hitch. Here are the file details compared (original 4K MOV file on the left vs 720p file on the right):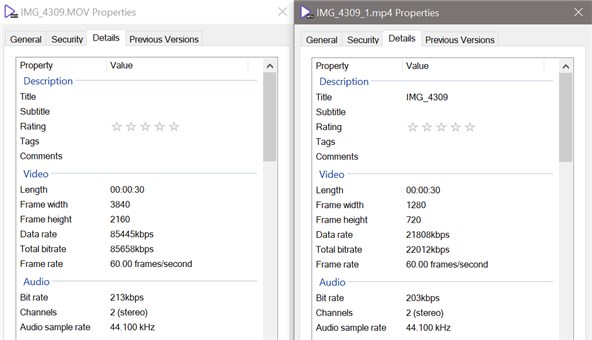 The original 4K MOV file is 306MB in size and the converted 720p is 78.7MB in size.
It has many more features that I haven't really had a chance to play around with. However, you can download the free trial version to see and test the application to see how it works (and if it works for your needs).
Feel free to download WinX HD Video Converter free trial & get special discounts if you decide to purchase it later. Note that it can also work on any video files (i.e not just limited to MOV), so it's always a handy software to keep around in case you ever need it someday for other purposes!
For this Christmas, there is a bonus premium DVD ripper software included.
At the moment, the software supports 370+ video format/codecs inputs & 420+ outputs incl. MOV, MP4, MKV, AVI, WMV, M2TS, HEVC/H.264, smartphone, tablet, action cam, drone, DSLR, camcorder, etc.
Download the free trial version to test and see it in action!