Razer Kraken Ultimate Review – Razer Kraken Ultimate is not wireless, and doesn't have a unique feature like Nari Ultimate's intelligent haptic technology.
However, it offers great gaming experience with what it's equipped with, and does it really well.
Razer Kraken Ultimate is a wired, USB gaming headset equipped with a clear microphone, good 50mm speaker drivers, and supports THX Spatial Audio (a feature that we saw firsthand in the Razer Nari).
Let's dig down into the details.
Razer Kraken Ultimate Packaging
Razer Kraken Ultimate Design & Features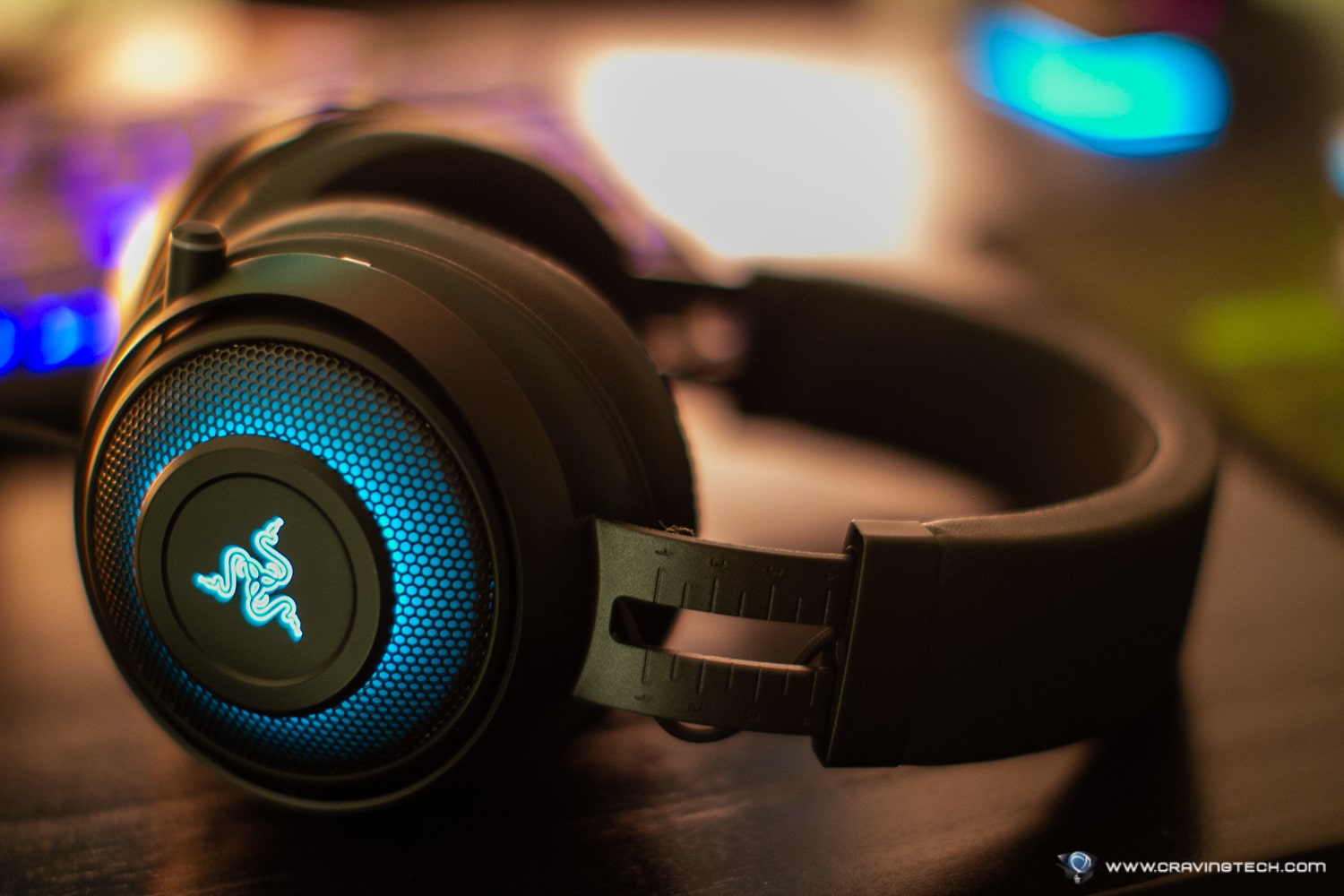 The Kraken Ultimate has a full-ear-cups design that covers my entire ears. Thanks to the cushioned ear cups, I quite find the headset comfortable to use. It has a tight feel but without squeezing my head. The ear cups are thick, yet comfortably foamy.
Even when things get hot in my Study area, I still find gaming with the Kraken Ultimate comfortable.
The whole headset looks durable and reminds me of the Razer Thresher 7.1 headset. It doesn't have any plastic-y feel, all thanks to the aluminium and steel construction. Some may consider Kraken Ultimate as bulky compared to a few other lighter headsets, but you'll appreciate the power that drives the speaker drivers and its construction.
When I wore the Kraken Ultimate for the first time, my friends were quite surprised to hear how loud I was on the microphone. I guess It's a good thing because I don't normally like having to speak louder when gaming (especially not to wake my wife up). Through Razer Synapse, I can tweak my microphone volume easily among other things like noise cancelling (yes, it has an active noise cancellation feature).
While the premise is good, I actually game in a quiet environment at home so when I tried enabling some of these features, my friends told me I sounded weird and muffled. I'm sure this will work wonderfully in a noisier environment though.
Microphone is retractable and will automatically turn itself on and off. You can also mute it manually by squeezing the mic head part and you'll see the red ring LED on top of the microphone so you know exactly when it's on mute.
The good thing about wired gaming headset is that you can have all the lighting turned on at max in their full glory without having to worry about battery life. Razer Kraken Ultimate is powered by Razer Chroma and has one of the best looks in Razer gaming headsets family.
You can adjust the volume through a volume dial control located below the headset, which is one of my most favourite features in the Kraken Ultimate.
I also love how I can adjust which applications run THX Spatial Audio with Razer Synapse. For example, I prefer using Stereo mode with in-built Dolby Atmos when playing Overwatch, but would love the Kraken Ultimate to switch to THX Spatial Audio when I watch movies on my web browser. This is great because I don't like having to turn it on and off manually like in most other gaming headsets.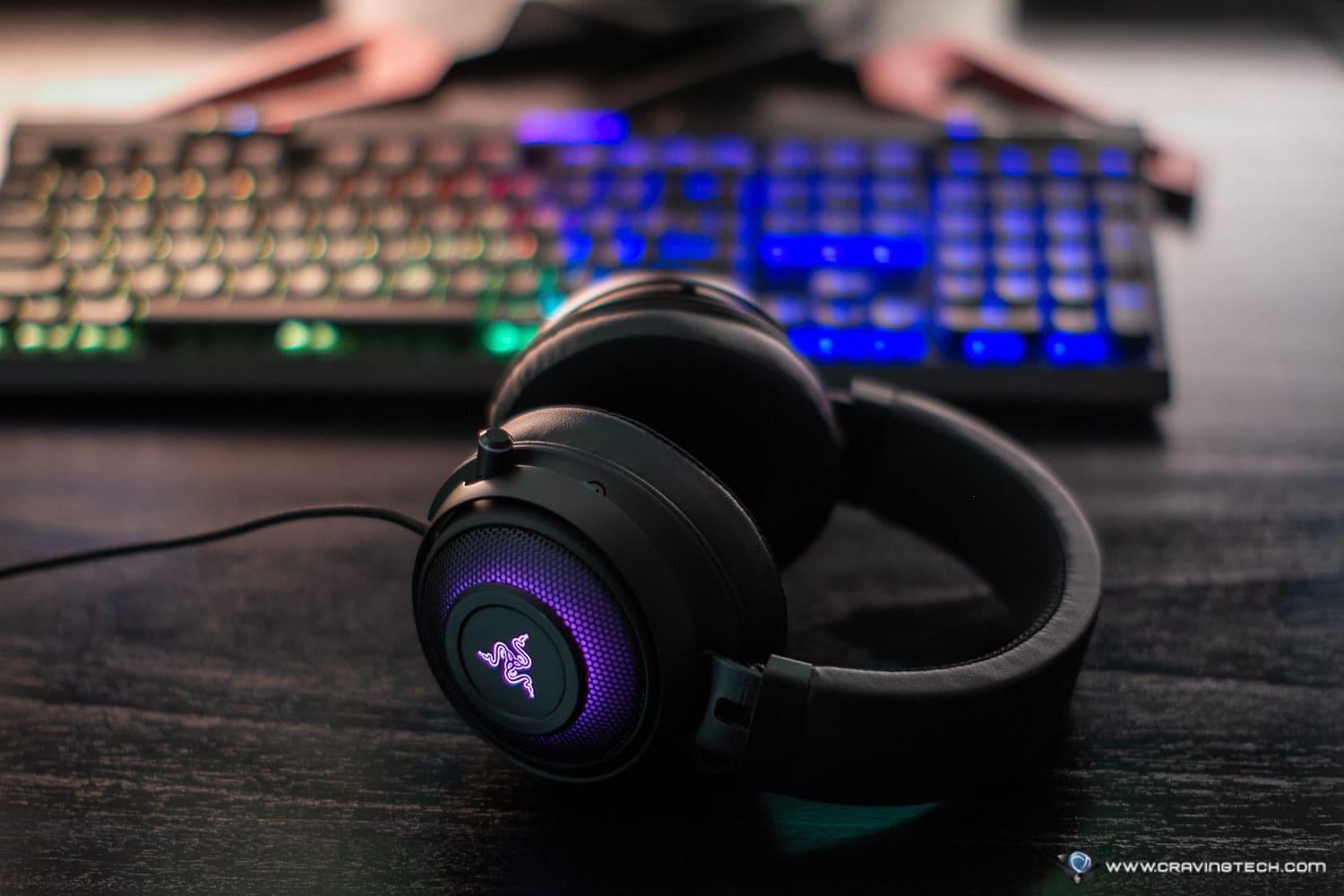 In terms of audio positioning, I have no complaints here. There were numerous occasions where I saved my team in Overwatch just by listening to audio cues alone. By knowing exactly where my enemies were, I could communicate that to my team as soon as I hear a threat coming. Or, take the matter into my own hands – which is often faster.
In these included clips, I reacted based on hearing audio cues alone and knowing exactly where the enemy positions were.
On the first clip, I heard the enemy's Doomfist charging his punch and quickly reacted to avoid sudden death. Even better, with the help of Razer Basilisk Ultimate gaming mouse, I ended his cheeky move.
On the second clip, after killing the enemy's Roadhog, I heard the enemy's Baptiste shooting above my team. After killing him, I then heard the enemy's McCree ultimate skill triggering. I exactly knew where he wasm based on audio positioning alone so I quickly turned towards him and ended him quickly. He did manage to get our healer down though.
In fast games like Overwatch, every second counts. Wasting one second trying to find where the enemy is might end badly for you and/or your team.
Razer Kraken Ultimate Review Conclusion
As a wired, USB gaming headset, Razer Kraken Ultimate offers great gaming experience: THX Spatial Audio, great microphone clarity and quality with active noise cancellation option, full RGB lighting, comfy thick cushion, and a good length of USB cable.
In games, the headset performs admirably in terms of sound power (i.e it can deliver volume, ambiance, and bass without any distortions), audio positioning (exactly know where your enemies are without seeing), and microphone clarity that makes you communicate more effectively with your teammates.
I do wish the headset has "one more thing" like a Hi-Res Audio found in CORSAIR VIRTUOSO – but the VIRTUOSO cost a hundred dollars more and it's probably unnecessary unless you are an audiophile or if you are just looking for a good headset for gaming.
Razer Kraken Ultimate retails for AU$218.95 and can be purchased at major retailers around Australia or Razer Australia Store website.
Disclosure: Razer Kraken Ultimate review sample was supplied for reviewing but all opinions are mine and not paid
Razer Kraken Ultimate
Summary
Razer Kraken Ultimate has a solid sound positioning, comfort, and sound quality for all around use
Pros
Good sound quality & sound positioning important in FPS games
Good microphone quality with adjustable settings like ANC (active noise cancellation)
Comfortable
Cons
Don't have that "one more thing" feature like a Hi-Res Audio, or something funky