Razer Nari Review – Razer Nari is Razer's next take on the wireless gaming headset line, along with their previous ManO'War and Kraken. Razer Nari gaming headset comes with THX Spatial Audio feature to bring you 360-degree positional sound for greater spatial awareness.
It's also more durable than the ManO'War, and its Ultimate version has an interesting intelligent haptic technology called Razer HyperSense (which hopefully will be reviewed at some point here at Craving Tech).
Razer Nari Review – Packaging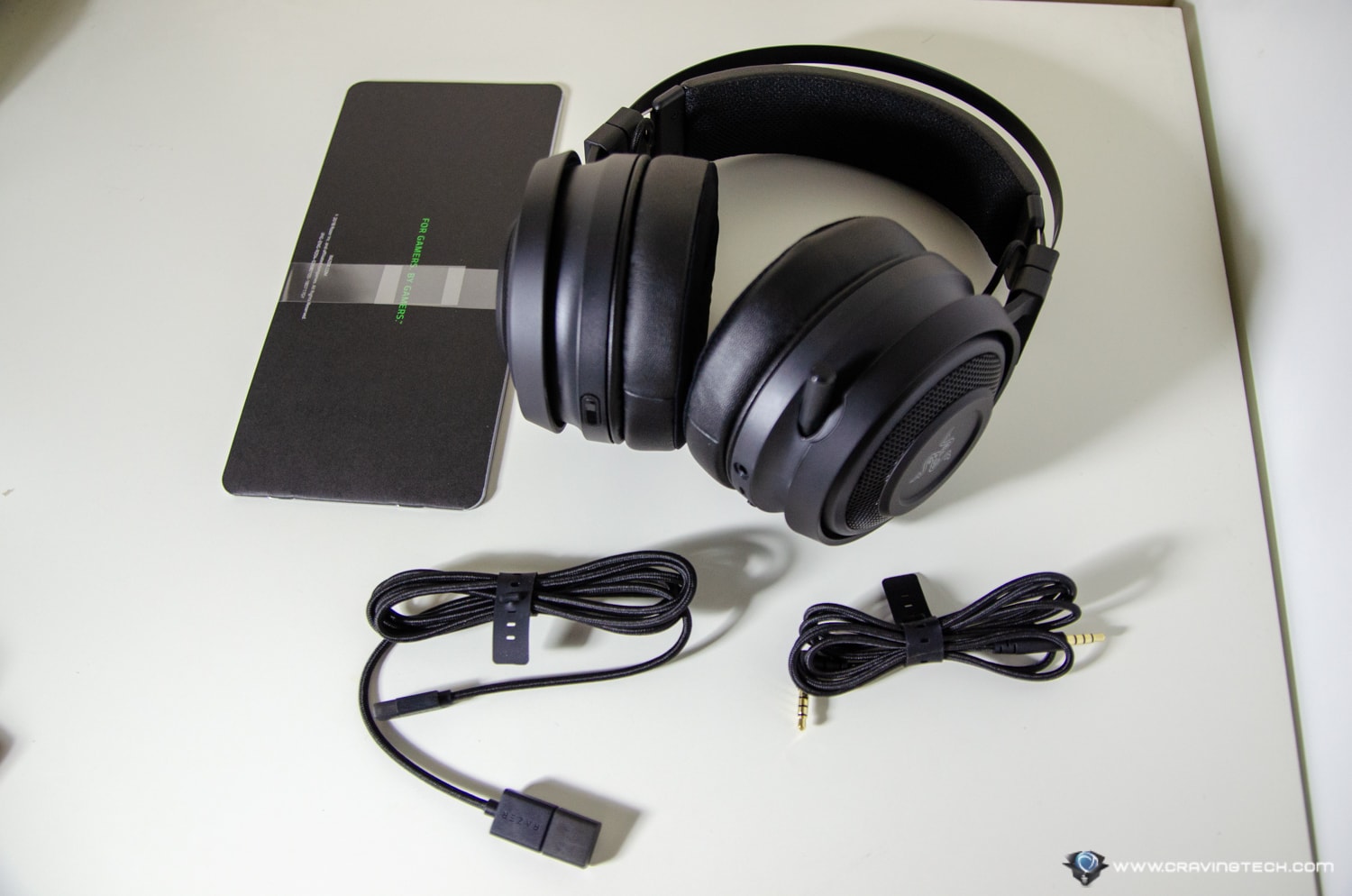 Razer Nari Review – Design & Features
Razer Nari does not look as compact as many other gaming headsets out there. In fact, it's ear cups are quite huge, but they come with super thick and fluffy leather padding. The ear cups are made up of memory foam with cooling gel-infused cushions which conforms to your head and reduces heat build-up during intense gaming sessions in Summer.
Now when I read about these "cooling gel-infused cushions", I was expecting the ear cups to be somewhat cold or icy. But when I tried them on, they feel just like any other and my ears still got warm after a few hours of play inside my tiny bedroom. My ears didn't really sweat though even when it was hot in the room, so the special cooling fabric might actually do its magic well behind the scene.
With full ear coverage, Razer Nari cushions offer good passive noise isolation so I could get immersed in my games and movies.
The headband is auto adjusting like a ski goggle band so it would adjust itself to many different head sizes. Combined with the swiveling earcups, Razer Nari tries to fit to every gamer head. While many gamers usually complained about the tightness of Razer headsets, the Nari doesn't feel tight or pressing on the head at all.
On the headset, you'll find the standard volume control dial but also a separate dial to adjust between in-game and chat audio (quite handy when you get chatty teammates).
Razer Nari can be charged via microUSB and the battery can last for 14-24 hours, depending on your Chroma lighting setting (i.e on/off and how bright). You can use the headset while having it charged as well. The wireless range is about 12 meters though I find the signal struggles a bit when I went to get a drink in the kitchen (which was usually okay with my other gaming headsets). You'll hear beeps to indicate that you are about to walk out of range with the receiver. Razer includes a wired option with 3.5mm too so you can use the Nari on other portable devices like Nintendo Switch, etc.
Through Razer Synapse, you can set which application to use of the awesome THX Spatial Audio processing (it'll auto detect as you open/use an app or game). Rather than having to remember to enable/disable the feature, this is more flexible and dynamic.
But how good does Razer Nari sound?
Razer Nari Review – Gaming and Sound Experience
I play Overwatch daily while watching Netflix movies and listen to music every now and then. In all of those mentioned activities, Razer Nari shines. Its 50mm speaker drivers offer full, rich sound that immerse me in whatever I do and there are settings to tweak if you are not happy with what you hear.
There is a Bass Boost mode if you want more "oomph" but I like how I can adjust the intensity as well (rather than just having an On and Off). Plus, there are other options you can adjust such as voice clarity, sound normalisation, and more.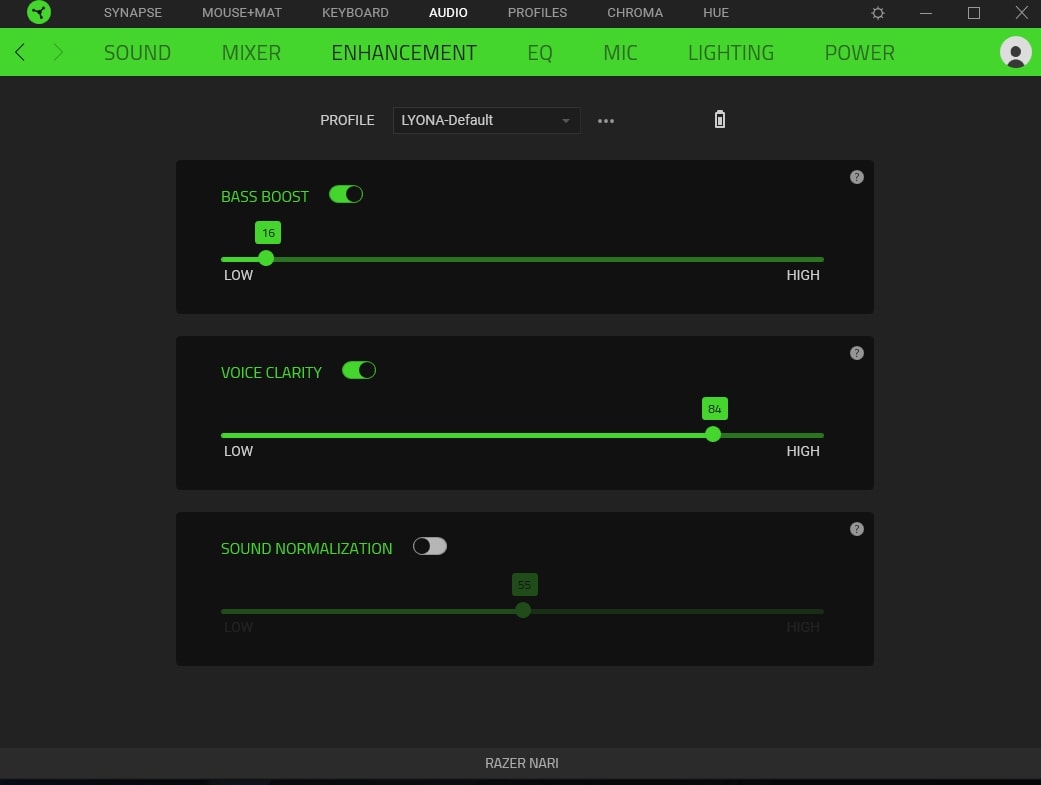 I turn the THX Spatial Audio off when I play Overwatch, but audio positioning through Dolby Atmos is still really good with Razer Nari. I had no problems whatsoever pinpointing enemies' footsteps and ultimates without actually looking. I always had an awareness of what's going on, and there were many occasions where I knew our healers were being harassed and offered my help.
On games that don't offer Dolby Atmos or just Surround Sound, however, THX Spatial Audio will give you more advantage and you'll notice it in game.
Razer Nari Review – Conclusion
Razer Nari is a great sounding wireless gaming headset from Razer with solid audio performance and clarity in games, movies, and music. The bass is deep and heavy (adjustable), audio positioning is top notch, and I had no problem using Razer Nari as my primary gaming headset for the past couple of weeks.
Thanks to the collaboration between THX and Razer, Razer Nari gets THX Spatial Audio which offers greater 360-degree spatial awarenes in games. Not only that, this has opened up more options and possibilities such as being able to tweak incoming chat volume while in-game, voice clarity, sensitivity, normalisation, and also noise reduction.
Razer Nari works on PC and PS4, and is available for purchase at $249.95 from Razer Store or at many major retailers around Australia.
Disclosure: Razer Nari review sample was supplied for reviewing but all opinions are mine and not paid