CORSAIR VIRTUOSO RGB Wireless Gaming Headset Review – The last CORSAIR's wireless gaming headset I reviewed was the VOID PRO SE (Special Edition) – which has a beautiful design and awesome sound quality.
CORSAIR is going big again this time with a new wireless gaming headset named the VIRTUOSO. With custom 50mm Neodymium drivers and support for a high-fidelity 24bit/96kHz audio (when running wired), CORSAIR VIRTUOSO doesn't want to forsake versatility and audio quality.
With roughly around 20 hours of battery life when used wireless, you still get more than enough of a gaming session and still be treated with awesome audio at 16bit/48kHz resolution.
CORSAIR VIRTUOSO Review – Packaging
A 3.5mm audio cable is included and the microphone is detachable, making the VIRTUOSO more portable and versatile as you can use it while commuting or plugged to other supported audio devices and gaming platform like Nintendo Switch.
CORSAIR VIRTUOSO Review – Design & Features
CORSAIR VIRTUOSO looks very sleek and professional. With a combination of metallic, matte, and premium foam look, the VIRTUOSO looks like a high-quality studio headphones. Thanks to the aluminium materials, the headset feels tough and durable.
And if you get the Special Edition, you'll get even more aluminium goodness – better looks, more durability, why not? Plus, the SE also has a better microphone.
Premium memory foam earpads offer comfort to both my ears and I've never felt the headset squeezing my head ever. The foam earpads are firm yet not stiff, and the padded headband also helps in the comfort area.
There is a quick toggle to switch between wired and wireless mode. If you are on the wireless mode, switching it to wired/USB will turn the headset off. You can charge the headset while using it a the same time, which is a plus.
But if you totally run your battery flat, it will take a few minutes before the headset can be turned on (like smartphones).I can't see the headset's battery indicator on CORSAIR iCUE softare, so hopefully CORSAIR can add it in some time in the future through an update.
A volume dial is within reach on the right ear cup. There's a slight delay when adjusting volume but it's not too big of a deal for me.
CORSAIR VIRTUOSO Review – Gaming Experience & Sound
CORSAIR VIRTUOSO is an awesome all around headset for both gaming and entertainment purposes (like music and movie watching). I played games like Borderlands 3 (which I'm reviewing at the moment), Left 4 Dead 2, and Overwatch while reviewing the headset.
As promised, audio quality is superb and I didn't have any issues identifying all sorts of things happening in a frantic battle with friends and competitively online. The headset supports both Stereo and 7.1 Surround so I tend to switch between them depending on the games and activities.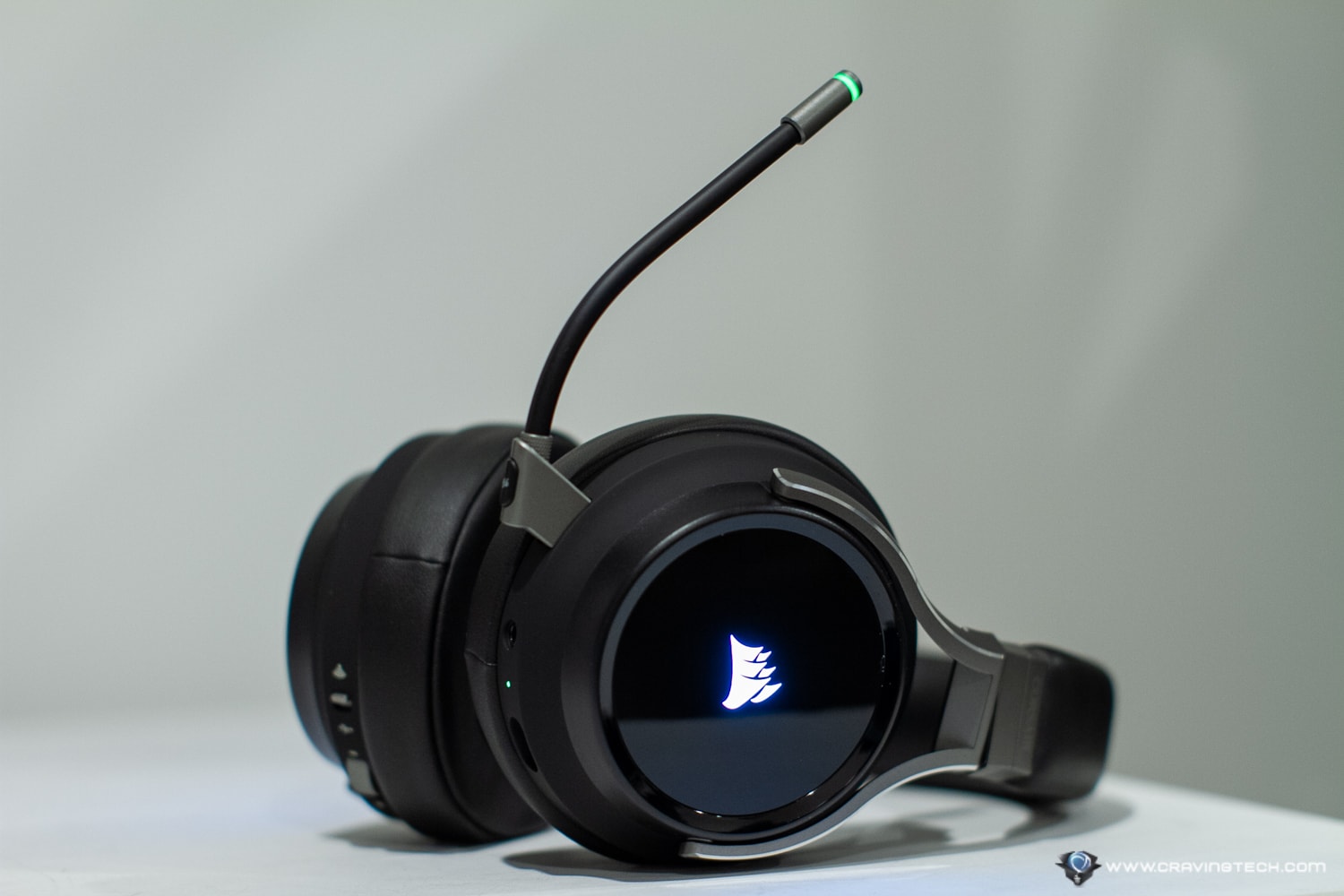 When playing Left 4 Dead 2, switching to 7.1 (both on the headset through iCUE and in-game settings) helps tremendously in anticipating attacks before they happen to the team. Enemies exact position when respawning can be identified as early as possible and communicated to the team through the also awesome microphone.
When playing Overwatch however, I prefer to switch the headset to Stereo and just use the in-game support for Dolby Atmos. Again, I could identify all sorts of different enemies based on their sound alone (the way they walk and shoot), which gave me all the information I need when playing support.
On its default sound profile, everything is balanced and flat, which may please audio purists but if you just game and want more "oomph", you can adjust the audio frequencies through iCUE software to bring the Bass up.
Wireless signal is strong as I could do toilet breaks while waiting for a game without having any signal cut-off.
The worst part of having a wireless gaming headset is usually when you have to plug it to charge. With VIRTUOSO, however, you actually get the better Hi-Res 24bit/96kHz audio resolution so it's a win-win situation, I guess? But whether you can hear the difference between the two different audio resolution will depend on how sensitive your ears are to sound. If you are listening to music, you should definitely feel the jump in audio quality.
There are many times where I got some jump scares because the headset has a very good passive, noise isolation. I couldn't even hear my wife coming home and going into our bedroom behind where I sit (oops).
CORSAIR VIRTUOSO Review Conclusion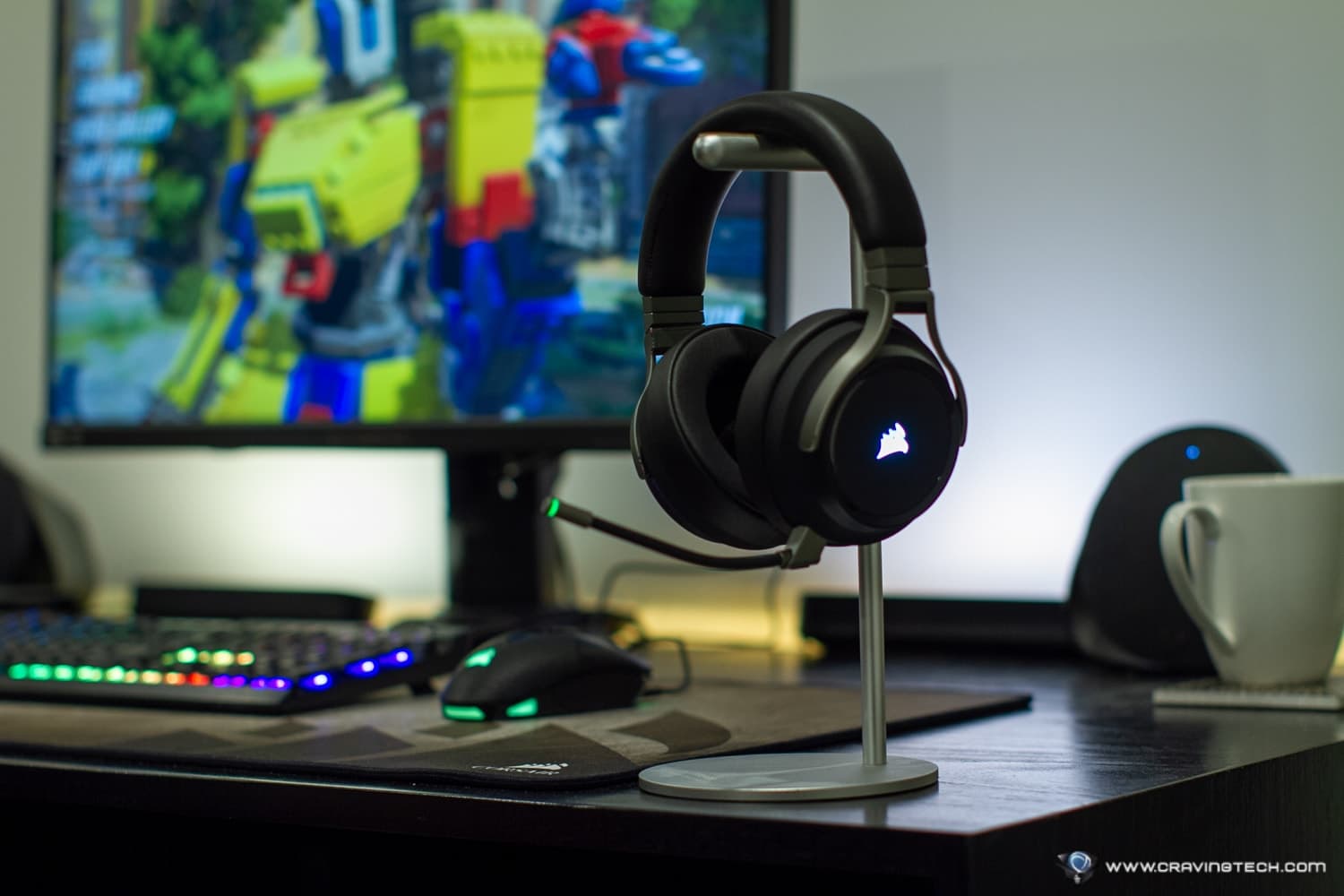 CORSAIR VIRTUOSO RGB Wireless Gaming Headset has a premium look and feel, durability, comfort, and great audio experience in both wired and wireless.
When used wireless, you have access to freedom in gaming without wires for up to 20 hours. While some other headsets have longer battery life, VIRTUOSO does not want to sacrifice audio quality so if you love listening to music and watching videos at the same time, you'd appreciate the VIRTUOSO more.
When used wired, the headset transforms into a higher audio powerhouse supporting 24bit/96kHz audio resolution. While it doesn't have its own DAC or amplifier like the Arctis Pro + GameDAC, CORSAIR VIRTUOSO has big sound on its own. I've listened to many of my favourite tunes through Apple Music and YouTube, and the audio quality is far from mediocre.
CORSAIR VIRTUOSO should be available at many retailers around Australia soon. PLE Computers have it sold at AU$349, but you can also get it at Amazon U.S.
Disclosure: CORSAIR VIRTUOSO review sample was supplied for reviewing but all opinions are mine and not paid
CORSAIR VIRTUOSO RGB Review